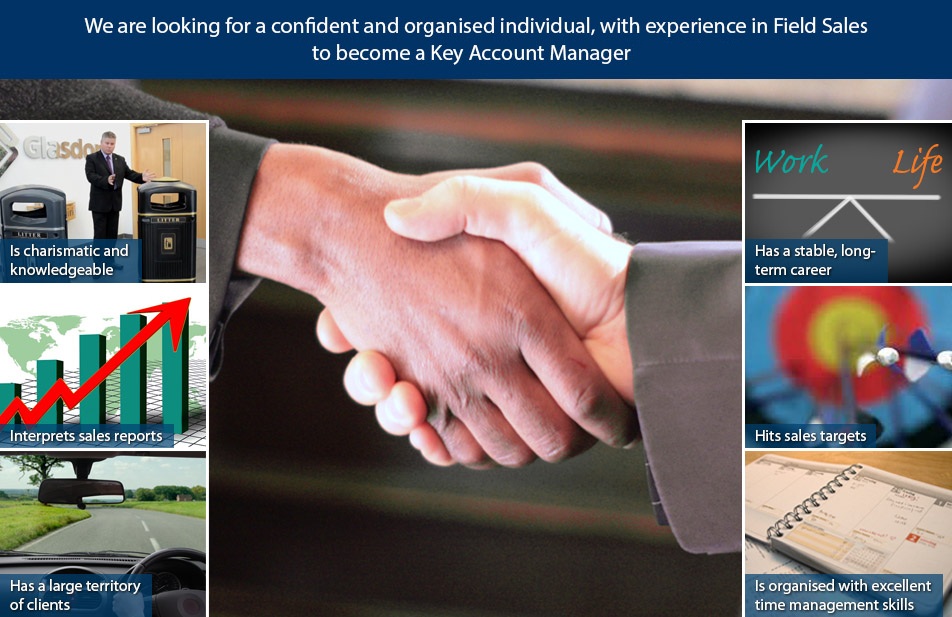 Glasdon UK Limited is part of the Glasdon Group with companies in Europe and the United States and is a market leader in the design, marketing, and supply of environmental and safety products.
We are looking for a confident and organised individual, with experience in Field Sales to become a Key Account Manager for our Commercial Division. This position requires you to work with a wide range of market sectors including Retail, Leisure, Petrol & Fast Food.
The role will be to manage key accounts via their Head Office. These accounts will be organisations with multiple outlets and therefore a high level of demand for our products. The role will be to develop sales to these existing customers by broadening the range of products they buy from us, including designing bespoke products for them.
This position covers a large geographical territory across the North of England and Scotland. Ideally, we would like you to be located in Lancashire or Greater Manchester (within one hour's drive of Blackpool).
If you have a genuine desire to succeed and wish to join a progressive company, with excellent opportunities, career development opportunities and benefits then look no further.
The successful candidate with be provided with full and comprehensive training.
Responsibilities
Following up and conversion of sales enquiries produced from our extensive marketing programme and also self generated by the Key Account Manager.
Working both in the field and from Glasdon UK Ltd offices to maintain contact with existing key accounts at head office level to develop their accounts.
Prospecting current non-user key accounts.
We manufacture a high-quality product, so the best sales aid is the product itself, which you will demonstrate to customers.
Be inquisitive to identify customers' needs and have the ability to offer informed solutions.
Assist in developing new concepts and bringing new products to market.
Be a credible and trusted source of industry and product information for customers.
Interpret sales reports and identify market and product opportunities.
Participate in team sales meetings and share product/market knowledge beneficial to the rest of the team.
Key Facts
Title: Key Account Manager
Salary: Competitive Salary + Quarterly Sales Bonus
Home Location: Ideally located Lancashire or Greater Manchester
Area Covered: COM - North of England and Scotland
Driving Licence: Essential
Full Time Permanent Position
What we can offer you:
A competitive commencing salary plus target bonus.
Company car.
33 days annual leave plus additional days linked to service.
Comprehensive training programme.
Company Final Salary Pension scheme after a minimum of two years' service.
Life insurance after a minimum of two years' service.
Pension through NEST within 3 months of start date.
Cycle to Work Scheme.
Long Service Awards.
Private health care scheme after a minimum of one years' service.
Subsidised on-site Café / social space.
Team building.
Paid charity days.
Ideal Candidate
Be formally sales trained.
Be commercially aware.
Have experience of working out on the field.
Have experience of doing product demonstrations and planning a territory.
Have a genuine desire to meet and surpass targets.
Have strong written and verbal communication skills.
Possess good administrative, organisational and time management skills.
Have a high level of self-motivation.
You may also have experience in;
Face to Face Sales, Product Demonstration, Customer Service, Business Studies, Sales Administration, Microsoft, Telesales, Negotiation, Sales Advisor, Customer Support, Call Centre, Territory Management, Account Management, Business Development, Commercial Awareness, Communication Skills.