Oxford University Hospitals is a world renowned centre of clinical excellence and one of the largest NHS teaching trusts in the UK. The trust is made up of four hospitals; the John Radcliffe Hospital, the Churchill Hospital, the Nuffield Orthopaedic Centre and the Horton General Hospital.
Problem Identified
Due to a lack of cycle parking, large numbers of staff bikes were being locked against the perimeter fences giving the main entrance of the Hospital an unpleasant appearance. The hospital were seeking a solution that didn't require any permanent ground fixings.

Solution
The Cyclone bicycle stand was seen as the ideal "non-permanent" solution as the customer would be able to move them at a later date if required.

Our Cyclone stand offers customers a flexible approach to cycle parking. The stand incorporates the most widely recognised type of stand, the Sheffield hoop which can accommodate any type of bicycle and stores two bikes on the same stand. It is an ideal bike stand for town and city centres, workplaces for public sector offices, private businesses, schools and universities.
Design features of Cyclone™ Cycle Stand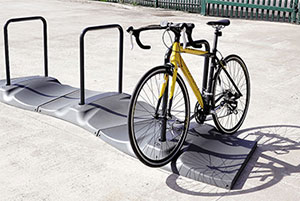 Self-coloured plinth made from Durapol®
Hoops fixings with space for 2 bicycles
Each plinth is filled with sand ballast to prevent movement
Plinth shape allows for the formation of various layouts
Tamper Resistant linking brackets
Talk to us Today
If you wish to discuss the best cycle stand options for you or your business contact us today by calling 01253 600410, by email on enquiries@glasdon-uk.co.uk or chat with our team using the live chat features below.