Leading UK manufacturer Glasdon, have premiered their latest range of products to help improve the waste sorting and recycling experience in the home.
Building on the launch of the Nexus® Stack stackable recycling bins in Autumn 2020, the Glasdon product design team have now seamlessly extended the range for domestic customers.
With a choice of new stylish colour finishes and the option to create a single, double or triple stack with multiple compartments, the attractive, space-saving Nexus Stack Home waste and recycling bins are ideal for use in the kitchen, study, utility room or other indoor environment.
Neil Gilkes, Sales Manager for Glasdon UK Limited said:
We're all so accustomed to sorting our waste ready for recycling, but I think many of us can relate to wanting to improve our recycling efforts and how we store recyclable waste before it goes into the main outdoor wheelie bins for collection. Seeing your paper waste, leaflets etc pile up at the end of a kitchen worktop or empty tins, cartons and bottles collecting on the draining board is a familiar sight in many homes!
As an industry leader in the manufacture of recycling bins, we just feel there is a far more efficient, hygienic and mindful way to organise recyclable waste in the home. Introducing a system like this will also help to increase the volume and quality of the recyclable material we generate.
With Nexus Stack Home, customers can create a waste sorting system that's ideal for their recycling needs, without taking up valuable indoor space.
The individual 30 litre stacks can be used to collect a single waste stream or can be divided into two 15 litre compartments for two separate waste streams. This versatility means the customer could create a double stack of two bins for two, three or four individual waste streams and so on, to match their household waste and recycling collection.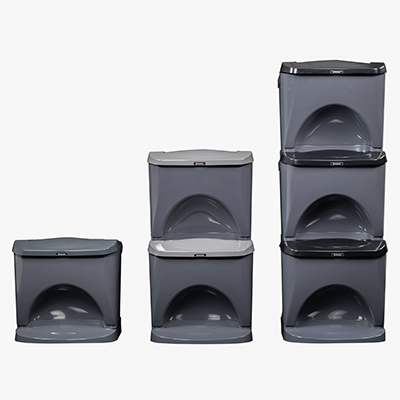 For example a customer may want to segregate mixed recycling and paper/cardboard packaging from general non-recyclable waste. For these 3 waste streams, the double Nexus Stack Home 60 with a single 30 litre stack for paper / cardboard and a duo stack splits into 2 15l compartments for mixed recycling and general waste, is ideal.
The Glasdon team have also designed Nexus Stack to minimise fuss and time when emptying and cleaning.
Each stacking unit contains a tilt bin which can be easily removed on its own, without the need to dismantle anything.
Each tilt bin includes an integrated liner and sack retention system which means they can be used with or without sacks.
Download our 'Nexus® Stack Home Recycling Bins Brochure' for more information.