By 2020, Purina aim to make 200 alliances with other businesses to make Pets at Work a reality for more people across Europe*.
With so many companies keen to explore the pawsitive effects of having Pets at Work, we compiled this guide to help you introduce pets into your workplace: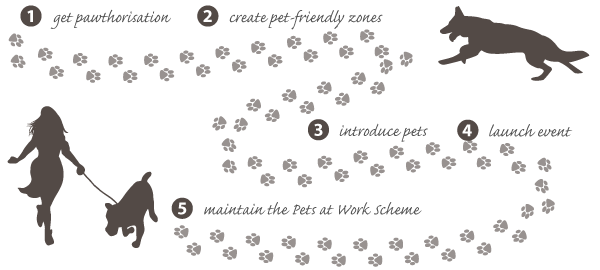 1. Get Pawthorisation for Pets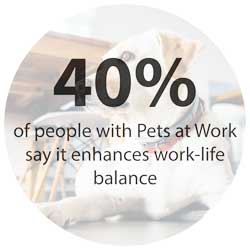 Before introducing pets into the workplace, you'll first need company approval.
Create a presentation showcasing the benefits of Pets at Work and your proposal for how it could work for your business.
The size and type of company you work at may affect the requirements of your Pets at Work policy. So make sure you understand these requirements before starting the scheme.
Before introducing Pets at Work, consider the following questions:
Do you have permission from the building owner?
Do you have company approval?
Can you handle employee queries or concerns?
Is your workplace dog-friendly?
Do you have an assessment process for dogs?
Will there be a Pets at Work team to maintain the scheme?
Having a Trial Pets at Work day followed by a questionnaire is a great way to test the scheme before introducing Pets at Work.
2. Create Pet Friendly Zones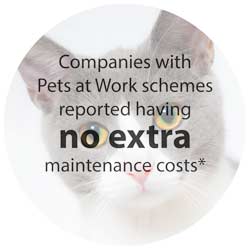 Companies with a Pets at Work scheme report having no extra maintenance costs*.
To help keep maintenance costs low, we recommend creating designated pet-safe areas.
Why not turn an enclosed outdoor area into a dog park where employees can take dogs for walkies in between working hard in the office?
Installing dog waste bins in these outdoor dog-friendly zones will ensure hygiene rates remain high for your business.
Suitable for post- or wall-mounting, Fido™ 25 dog waste bin is perfect for small outdoor spaces.
Retriever City™ is another popular choice that makes a subtle addition to any modern office building. This all-in-one dog waste container features an in-built sack dispenser and chute-system litter bin for the easy, hygienic collection of dog waste.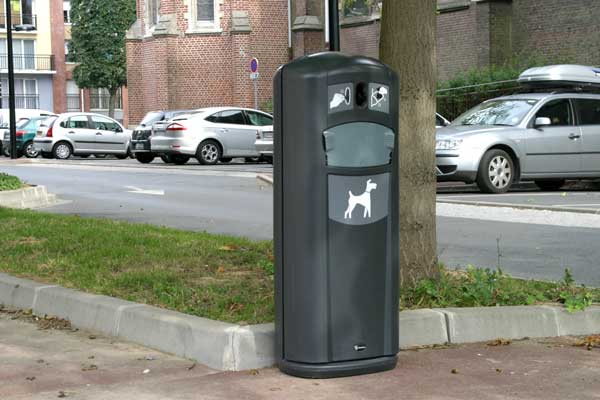 Indoors, we recommend having dog-free zones including food areas, toilets and certain meeting rooms, lifts and stairways. You could install signage to make employees aware of the dog-friendly and dog-free zones.
3. Introduce Pets with Ease
For the Pets at Work scheme to work effectively, it's important for dogs to be:
Calm
Socially mature
Toilet-trained
Obedient
Friendly
We recommend holding an assessment for pets wanting to join the scheme so you can make sure they'll be happy in the office.
Ease pets into the working environment and give them time to get used to their new surroundings.
Bring a doggy-bag of goodies including: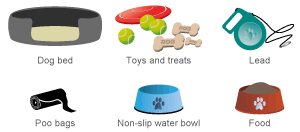 Toys
Water
Food and treats
Blankets and bed
Lead and collar



4. Hold a Launch Event to Celebrate Dogs at Work





Now you're ready to start your Pets at Work programme, why not hold a graduation ceremony for your pets? After all, it really is an occasion worth celebrating!

You could even follow in the paw-prints of Purina by having a Wall of Fame, Pet Open Day and more events throughout the year. This helped Purina gain some great PR exposure!

Purina also have a variety of downloadable material available - including this 'Welcome Ceremony' sign which is perfect for promoting your Pets at Work scheme and activities.




5. Maintain and Freshen Up the Scheme




Recruit a team of Pet Champions to maintain the scheme.

Your Pet Champions can conduct employee surveys to gauge opinions and make refinements where needed.

Adding the Pets at Work scheme to your corporate website and recruitment listings as an employee benefit is also a great way to attract new potential employees!

To maintain high cleanliness levels, we advise incorporating dog waste bins into your company waste management programme.

If you need advice on how to encourage employees to correctly dispose of waste, we compiled this office recycling guide to help organisations optimise their waste management programmes.

Recommended Pet Waste Bins for the Workplace:

Fido 25 Dog Waste Bin

Self-returning lid for increased hygiene
Removable moulded plastic liner for cleaning and emptying
Wall- or Post- fixing kits
Choice of colours
Optional sack dispenser

Find out more




Retriever City Dog Waste Bin

Integrated sack dispenser to encourage clean-up
Hygienic chute operating aperture
Robust construction for a long-service life
Choice of colours
Recognisable graphics to encourage use

Find out more

To learn more about our Dog Waste Bins or Waste Management Solutions for your Company – get in touch today via e-mail or on LiveChat!




Source:




*

https://www.purina.co.uk/pins/pets-at-work




Image credit:

https://www.freeimages.com/photo/after-an-exhausted-day-of-work-in-the-office-1-1391125