Roadside litter is not just unsightly. It harms wildlife, can cause road accidents and is dangerous and costly to remove. In fact, in the UK more than 200,000 sacks of rubbish are cleared from the motorways annually – costing a massive £6 million per year*.
To help minimise this cost and reduce roadside littering, Hubbub have partnered up with Aecom, Highways England, Costa Express, Shell and Roadchef, as well as various Kent Resource Partnership councils, to launch their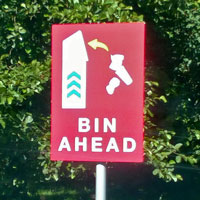 #DriveDownLitter campaign.
The campaign has been launched initially at service stations within Maidstone, Kent as a six-month trial to test different methods of reducing litter on the motorways. The movement includes the introduction of the first ever 'recycling reward' machines in the UK, a scheme which encourages users to trade 'trash for cash' by depositing coffee cups and plastic bottles in exchange for a 5p reward voucher.
As well as this, the #DriveDownLitter campaign also uses promotional signage and displays to point out litter bin locations and urge service station visitors to help create a 'litter free zone' in support of the campaign.
To increase awareness of the campaign and encourage customers to take the right action, Hubbub needed personalised outdoor litter bins to promote the #DriveDownLitter movement. We were proud to become part of this campaign by providing a selection of eye-catching Combo Delta™ Litter Bins.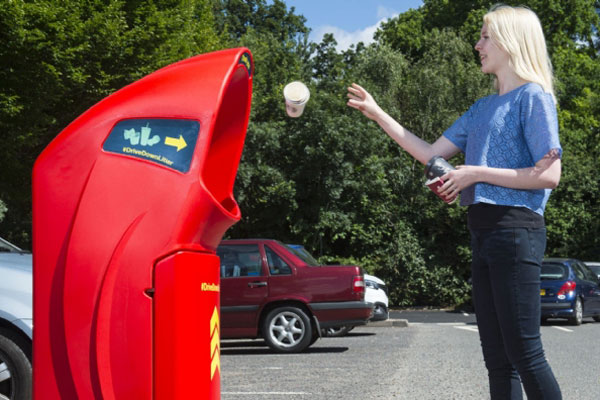 With a large open aperture to encourage waste disposal, the Combo Delta Litter Bin is the ideal solution for litter collection in car parks, service stations and drive-through restaurants.
The funnel opening allows users to throw waste into the bin from the comfort of their vehicles, and the 'target' graphic within the aperture helps to encourage use and guide waste into the container.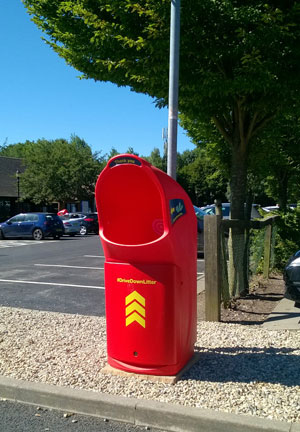 To promote the campaign, Hubbub contacted our personalisation service to create custom graphics on both the front and sides of the litter bin, sporting the campaign message '#DriveDownLitter'. After providing our personalisation team with the required artwork, we were able to quickly create and produce the required graphics.
Our free visualisation service enables customers to see and approve their custom graphics before ordering, by providing a visual of the product with the personalisation in place. For more information, view our guide to personalisation and branding.
Complete with a 'Thank You' graphic atop the aperture of the Combo Delta Litter Bin, Hubbub were able to ensure that their chosen litter bins were exactly what they wanted prior to purchase.
Manufactured from corrosion and vandal resistant Durapol® material, the Combo Delta Litter Bins combine maximum strength and durability with attractive styling. This hard-wearing material ensures a long service life that can withstand the elements all year-round with minimal maintenance required.
The large 140-litre capacity and integrated sack retention system minimises the frequent need to empty the container, without the risk of the contents overflowing.
To help meet the deadline of the #DriveDownLitter campaign start date, we were able to provide a quick turnaround on the production, customisation and delivery of the Combo Delta Litter Bins to the launch location in Maidstone, Kent.
Key features of the Combo Delta Litter Bins

Large 140-litre capacity
Wide, open funnel aperture to encourage use
Modern and attractive styling
Integrated sack retention system
'Target' graphic supplied as standard
Optional top and side graphics available
High-quality construction from Durpaol Material
Curved, sloping hood provides weather protection
Features areas for personalisation and branding
Available in black, red, light grey or deep green
Ideal for car parks, leisure sites and drive-through restaurants
Find out more
We're extremely proud to be supporting Hubbub and their various partners with the launch of their #DriveDownLitter campaign to help reduce roadside littering across the U.K!
For more information on how we can help you adapt your chosen outdoor litter bins for your organisation or campaign efforts, please contact us today!
Source:
*https://www.hubbub.org.uk/