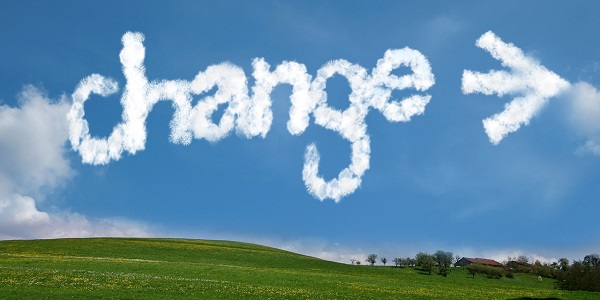 Right now we all want to get back to some kind of normal. For many of us, a huge part of this will be achieved through the return to offices, familiar faces, working and learning environments.
There's no escaping that many aspects of life have had to change and with change there are bound to be some concerns.
So, how can we help ensure that the transition back to workplaces or education is as smooth and stress-free as possible? And beyond this, are there opportunities to support employees or students in new holistic ways that benefit all parties and the environment?
We've compiled some potential considerations with practical solutions that can be implemented to aid a smoother return, along with ideas on how to create an even more environmentally friendly organisation in the 'new normal'.
1) Preparing the Physical Environment
With COVID-secure risk assessments completed, the physical environment with new health and safety procedures will undoubtedly be a key area of noticeable change for everyone.
In offices, desks may need to be totally reconfigured with team members returning to different places and rooms in some cases.
In other settings, the introduction of one-way systems or personal protective equipment (PPE) may be necessary to ensure areas of a business can continue to operate.
These changes are necessary, but what measures can we put in place to reassure everyone and help minimise any negative impact?
i. Communicating Changes Before The Return
Sharing changes with employees before their return day will definitely help them understand and visualise what to expect.
It will be necessary to provide copies of new health and safety procedures, but also incorporating photographic examples of your sanitiser points, one-way systems, PPE bins or room layouts will also help.
If desk moves or room moves are required due to social distancing requirements, it may help to make them aware of this before they arrive too.
Sharing your COVID-secure plan and control measures on your company website will also help to guide and reassure all parties. Placing it on your website also means it is extremely accessible to all at all times.
As an example, please take a look at our own COVID-19 Secure Workplace guidance for Glasdon employees.
ii. Clear Signs and Consistent Instructions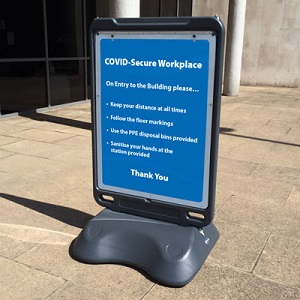 When we need to communicate something there can be a tendency to overface everyone with too many posters on walls and doors and generally too much information. There's also the challenge of getting people to notice!
The key to a smooth, effective transition, where new routines are adopted and adhered to, is keeping the message clear and consistent throughout. This also reassures everyone that control measures are in place and easy to follow.
Floor stickers are not only useful in supermarkets. Many of us will naturally look down before looking up and so floor stickers are a great way to catch attention and inform everyone of directional changes or as a reminder about social distancing.

Large format signs and portable poster displays are also effective in alerting larger numbers of people and can be easily moved around and positioned to suit your communication needs.
iii. Highly Visible and Accessible Sanitiser Points
One of the more noticeable changes in the physical environment and a 'new normal' routine that we are all required to adopt, is the increased frequency of hand washing and using hand sanitisers to help stop the spread of the virus.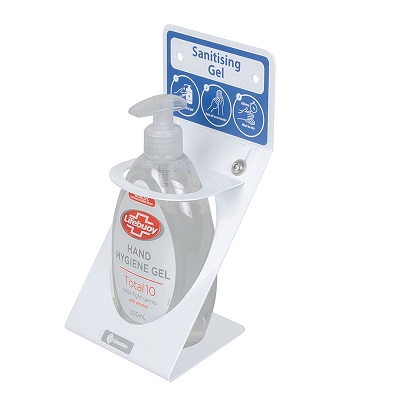 Providing everyone with their own sanitiser packs is one way to help. However a more inexpensive, manageable solution to building sanitising into daily routines is to provide accessible sanitiser points or stations.
Something as simple as a well-positioned, lockable wall bracket holding a hand gel bottle or sanitiser wipes, is really effective in reminding everyone to sanitise on entry, or en route throughout their day.
Lightweight hand sanitiser wall brackets can be easily fixed to a wall or solid surface in high-touch areas. Lockable brackets are also useful to prevent unauthorised removal of the sanitiser bottles.
iv. Encouraging Responsible Disposal of PPE, Used Face Masks
If travelling to work or study by public transport, your commuters will also be wearing face masks and coverings as part of their 'new normal' routines.
We've already begun to see an increase in PPE littering and this could be due to the wearer's confusion about how and where to dispose of PPE, face masks and coverings.
Providing a separate PPE waste bin for everyone to dispose of any used face masks, is an effective way to help everyone act responsibly, while ensuring this type of waste is not mistakenly discarded with recyclable waste.
2) Seizing the Moment for Positive Environmental Changes
Just prior to lockdown, GlobalData released survey figures taken from Dec 2019* which suggested that 45% of UK consumers were already actively buying environmentally and animal-friendly products. 41% kept environmental issues in mind when making purchasing decisions.
In June, they reported that almost 5% (1.3 million) of UK consumers had bought a bike since the beginning of the coronavirus crisis**.
Although the government's 2050 Net Zero target seems a world away, is there an opportunity to build on this momentum now by introducing environmental programmes that will support the organisation in a combined effort for positive change, much sooner?
i. Encouraging the New 'Active Travel' Mindset
The recent surge in demand for bicycles and the acceleration of government investment in temporary and permanent cycle lanes, suggests that more of us will be in a position to consider cycling for more than leisure purposes in the future. And commuters are not just limited to their push bike. Electric bikes and e-scooters are becoming more popular as viable, environmentally friendly travel alternatives.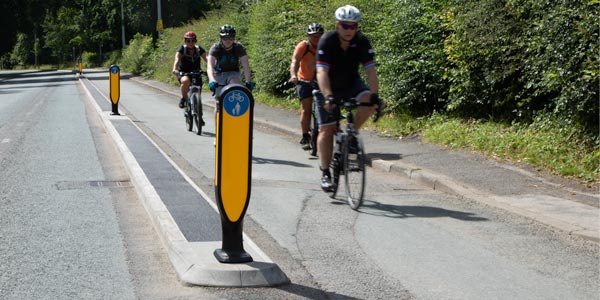 Encouraging the organisation to explore these alternatives through Active Travel now, will surely begin to have a positive impact and help lower Scope 3. Commuter Emissions, sooner rather than later.

Here are some ways to help move mindsets from consideration to action:
Start the Conversation with One Question
What has stopped you from commuting by bike (or other eco-friendly mode of transport) in the past?
The answers to this question can help form the basis of the organisation's Active Travel plan. In understanding the barriers, which may be surprising, there will be solutions that can encourage changes for some, right now.
Identify Your Active Travel Advocates
A potential barrier for someone might be that they just can't visualise how it could work for them.
This is where identifying an Active Travel Advocate, someone who commutes by bike and who is not necessarily an avid cyclist, could really help to demonstrate how it can be done. They could assist by explaining their before and after commuter routine, how it makes them feel and help sell the benefits to others.
Provide Secure Parking and Storage
Another barrier can be due to a lack of suitable storage or secure parking for bikes on or near to the organisation's premises.
There are many cost-effective solutions for providing secure cycle storage for all sizes of organisation including individual Sheffield Hoops, 8 and 10 place bike shelters and fully enclosed cycle compounds.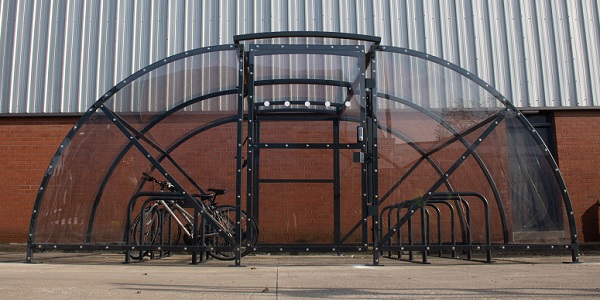 For more help and advice, take a look at our Guide to Specifying Cycle Parking.
Create Active Travel Route Plans
At this stage, it may just not be possible for some to commute by bike due to the sheer distance they need to travel. For others who live within zero to four miles of the their destination, they may just be nervous to try it, not knowing the best, most timely routes to take.
Creating a set of route plans detailing cycle routes from within a 4 mile radius could help to nudge some commuters in the right direction.
Incentivise Active Travel
Aside from the cycle to work schemes are there any other ways to incentivise active travel?
Competition among departments or cohorts is a great way to motivate individuals into participating in new forms of physical activity cycling, walking, running etc. accruing points and receiving rewards such as restaurant vouchers.
ii. Re-fresh & Personalise Recycling Programmes
If recycling rates had started to fall below your targets prior to lockdown, now might be the perfect time to re-fresh existing or introduce new recycling programmes.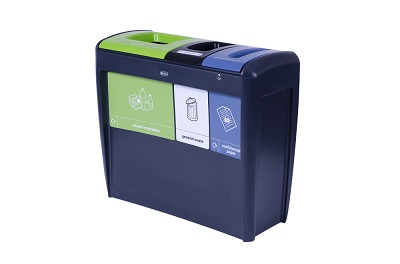 We've seen a recent trend among our customers towards multi-stream recycling stations with two, three and four separate compartments for collecting and segregating different types of recyclable waste.
This type of solution is ideal for organisations where floor space is limited or where there is a need to create centralised hubs for recycling across the site and facilities.
Personalising internal recycling bins with company branding or eye-catching graphics is also a great way to attract attention and improve the success of your recycling programme.
iii. Create Some Eco-Friendly Outdoor Breathing Space
If there's one thing we've all enjoyed over the recent months its been spending time outdoors in the fresh air.
Creating an attractive outdoor space for everyone to enjoy on breaks and lunches is a great way to encourage them to log-off, move away from screens, get some air and re-charge.
By simply providing a designated area to sit, where space allows, there is an opportunity for colleagues to spend a little time outdoors during the working day, maintaining some of the indoor / outdoor life balance they've been benefitting from.
Choose eco-friendly traditional park bench style seats or picnic tables made from recycled materials.
If the space is lacking in natural scenery, add some shrubs, plants or flower displays. Do you have any keen gardeners? Would a team of staff enjoy designing and nurturing the space? This kind of project is a great opportunity to bring in changes that can benefit all parties.
If you would like to discuss how we can help with practical and sustainable solutions for the workplace environment, please don't hesitate to Live Chat with us online or Request a Call Back today.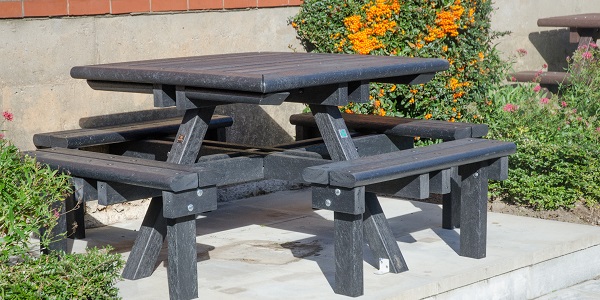 Sources:
*https://www.globaldata.com/uk-events-should-address-environmental-impact-to-connect-with-45-of-consumers-that-seek-environmentally-friendly-products-says-globaldata/
https://www.globaldata.com/1-3-million-uk-consumers-have-bought-a-bike-since-covid-19-hit/