In January 2020, we launched a new initiative for all staff members to have one day per year, paid, where they can undertake volunteer work for a local charity.
Remembering this, Allan Thompson, Customer Support Office Manager for Glasdon UK Limited, requested to take part in the initiative in November to help his local food bank and community project, Fleetwood Together.
Of course, Allan's request was granted and he joined other local volunteers on Thursday 26th November to help them deliver their vital support in the community.
Fleetwood Together is a community partnership of local charities and representatives from local groups. The partnership was formed right at the start of the pandemic and together they acted quickly to ensure the local community would know who they can turn to for help and support.
Allan explained:
"Fleetwood Together helps and supports vulnerable and disadvantaged people across Wyre throughout the pandemic. I helped out at the food bank which is located at Marine Hall, packing and preparing deliveries which would be then sent out to the local community.
"Everything was COVID secure, as you are required to wear gloves and facemasks at all times. Social distancing measures are in place and every 30 minutes a buzzer goes off for you to re-sanitise your hands due to handling goods that are being send out to people."
Allan also confirmed that on an average week the food bank helps around 200 families, which really brings it home just what a vital means of support it is for those in crisis.
He added:
"I found the experience really rewarding and it has inspired me to want to volunteer more and help those in need. If anyone would like to donate some of their time they are crying out for volunteers as well as donations of food/toiletries etc."
Thank you for volunteering Allan and sharing your story.
Any staff who would like to find out more about how you can volunteer through the staff Charity Days initiative please get in contact with the Glasdon Personnel Department.
For more information about how you can help or donate, you can visit the Fleetwood Together website or visit their Facebook page: www.facebook.com/FleetwoodTogether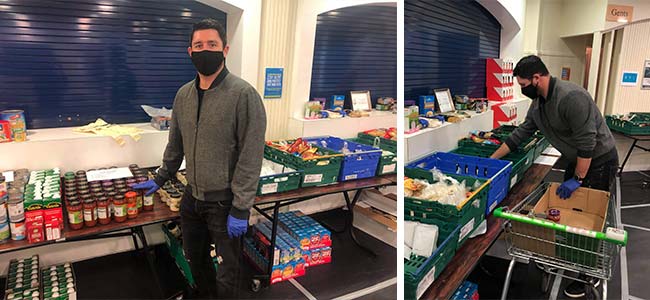 Wednesday, February 10, 2021