The provision of a seat dedicated to a lost loved one is a thoughtful way to pay tribute and benefits the whole community.
The majority of Glasdon seats can be supplied with a stainless steel plaque that is laser etched with any dedication you would like. The plaques are usually 150mm wide and 50mm high (plaques on the Stanford Seat are limited to 40mm high), though 200mm long plaques can be used if needed. Laser etching allows much greater flexibility for your message - alternative engraving methods are generally stuck to a fixed font and a maximum number of characters, but with laser etching we can even include simple graphics. We can even fit multiple plaques to the same seat if needed.
Some local authorities run their own schemes for the centralised purchase of memorial seats. If you would like your seat to be located on public land (such as parks, beachfronts, or cemeteries/memorial gardens), you should always contact your council to discuss whether your idea is permitted. Many authorities require specific Glasdon seats to be used - popular choices are the Stanford Seat or the Phoenix Seat, which are extremely hard-wearing and require almost no maintenance. Local authorities will frequently handle the ordering process for you, arranging to receive delivery and install the seat at your agreed location.
When you order your memorial seat from Glasdon, we will take the wording and produce a computer visual that will be posted or e-mailed to you before we produce the plaque to make sure it is exactly what you want. When it is, sign the approval sheet and send it back to us, and we will have the plaque engraved as quickly as possible. The ordering process usually takes 4-6 weeks from beginning to end.
The Glasdon seats available for use with memorial plaques are made from attractive and durable materials. Our hardwood outdoor seats carry FSC® Chain of Custody Certification, which ensures that all the wood we use has been produced ethically and sustainably. A large number of our seats are made from recycled materials - Enviropol® Material is a self-coloured premium polymer that never needs any painting or surface treatment. Timberpol® Material is a sustainable option, made from 95% recycled and sustainably sourced raw materials. The composite is made up of 55% wood (reclaimed sawdust) and 40% polymer (post-consumer HDPE). Timberpol is made from UK-sourced recycled polymers and manufactured in the UK it is also environmentally friendly with a reduced carbon footprint. The natural wood content of Timberpol Material means its finish will "weather" slightly over its life like a hardwood seat, but no painting or varnishing will ever be required.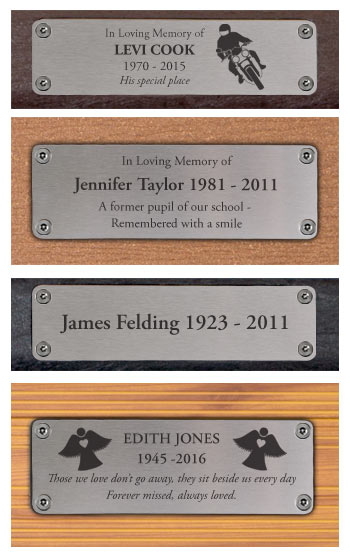 To discuss your memorial seating requirements, please telephone our sales office on (01253) 600 410 or email seating@glasdon-uk.co.uk .