Reducing food waste is vital to improving the environmental sustainability of food systems and enhancing food security globally; one place where this can begin to take effect is in the workplace.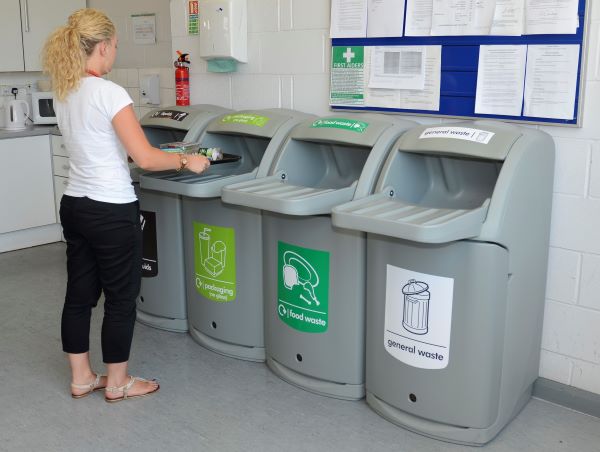 Unfortunately, without efficient disposal methods, a large percentage of food waste will find its way into landfill. In landfills, food of course rots and, one of the major by-products of rotting food in landfills is the production of methane – the second most contributing greenhouse gas to climate change that increases the rate of global warming 80 times faster than CO2*.
Did You Know? - Estimates suggest that 8-10% of global greenhouse gas emissions are associated with food that is not consumed*.
To help prevent such damaging consequences, it should be essential that local authorities, small businesses, public services and corporations do their best to implement adequate food waste preventatives in aspiration to become an eco-friendly organisation.
In this article, we will explore some tips and techniques to help reduce food waste in the workplace and change your organisation's relationship with food.
1. Create a Food Hub:
To start, set up an area solely designated to supply, consume and dispose of food. Many businesses may already have such facilities as a cafeteria or canteen in place but, they might not be so effective if staff are ultimately choosing to eat elsewhere. Ensure these locations are maintained in tip-top condition and can accommodate a welcoming setting where staff want to eat, socialise and most importantly; be educated on recycling their food waste through using dedicated food waste bins.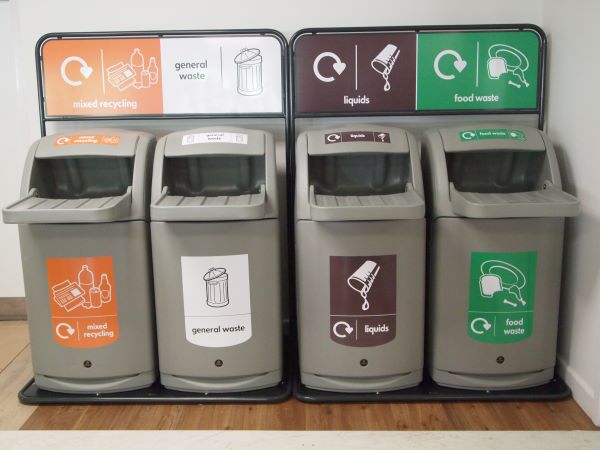 Did You Know? – Food waste accounts for 38% of the total energy usage in the global food system?*
2. Implement the Right Solutions:
Dedicated Food Recycling Bins and Cafeteria Bins are vital to the task at hand. However, with so many available on the market to choose from, each with different designs and features, it can be a challenging choice to make. Whilst we recommend choosing something with hygiene and practicality at the forefront of its design, there are many more aspects to consider.
Modern designs and advancements in polymer technology mean food waste bins can be flexibly moulded into various shapes and styles. Choose a design that will suit your company's ethos, catch the eye of your employees and one that will durably last.
As leading manufacturers of Litter Bins and indoor & outdoor Recycling Bins, our purposely designed solutions for food waste are produced from high-quality materials that offer low levels of maintenance and long service life for use in almost any environment. In addition, our designs are purposely and carefully crafted to encourage use and excel in the job they're required for.
Clear and adequate signage used on or around a bin promotes recycling and encourages its use. Implementing visually bright graphics adds to the function, simplifies the process and in turn, also minimises the damaging effects of cross-contamination for waste. Incorporate logos, messages and themes to truly make your bin a unique and easily identifiable point for food recycling.
See how our advanced personalisation service can Turn Words into Action, and help your workplace create a positive message on your product.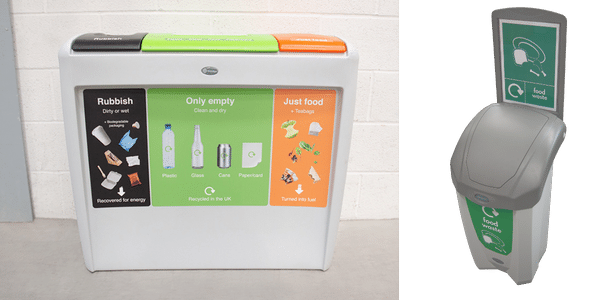 3. Raise Awareness: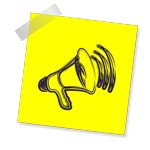 Educating staff on disposal and recycling, just like with any other form of waste, can be a crucial part of the waste reduction process. Provide as much up-to-date information as possible, explain processes for disposal and encourage people to do it correctly. To reiterate this awareness, posters & infographics to visualise the benefits or group training exercises can allow teamwork to flourish and highlight the benefits of an adequate food recycling programme within the workplace.
Did You Know? – reducing food waste is the 3rd most effective way to address climate change*?
4. Compost:
Instead of letting food scraps go to waste, organisations should opt to compost organics to create nutrient-rich, healthy soil that other businesses can use for their own agricultural purposes like fertiliser or animal feed. Such things as raw or cooked vegetables and fruits and, coffee grounds and tea bags are all able to be turned into compost. It's a renewable method of disposal and should always take priority over other methods like landfill or incineration.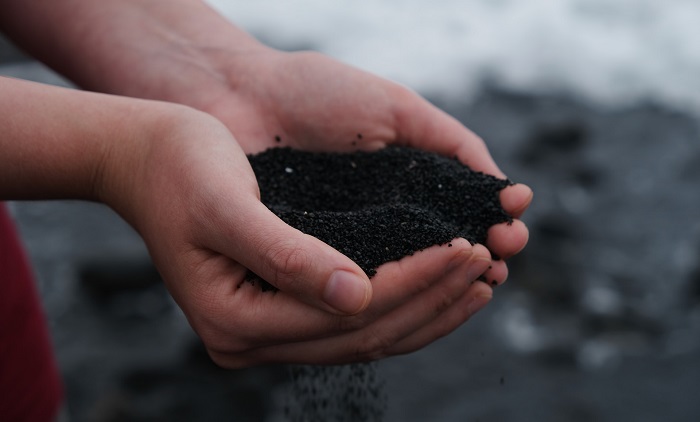 If you would like to learn more about how Glasdon can help with your waste management, please talk to us today.
References
*https://www.edf.org/climate/methane-crucial-opportunity-climate-fight
*https://www.unep.org/resources/report/unep-food-waste-index-report-2021
*https://www.un.org/en/observances/end-food-waste-day
*https://www.ozharvest.org/food-waste-facts/