It is a legal requirement to illuminate the Diagram 606 signface on a roundabout chevron installation.
Schedule 3, part 4 (1.) of the Traffic Signs Regulations and General Directions 2016 (TSRGD)* states the illumination requirements for prescribed signs that are placed on a road subject to a speed greater than 20 mph and within 50 metres of any lamp which forms part of a system of street-lighting.
Out of Sight, Peace of Mind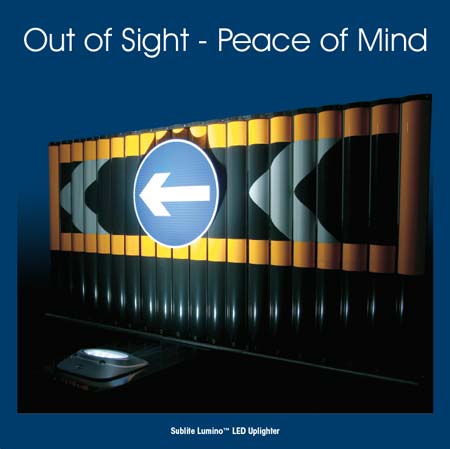 The Glasdon Sublite Lumino™ LED Uplighter is designed to light signfaces up to 1200mm in diameter on chevron board systems, providing excellent, efficient levels of illumination without compromising safety.
Safety and Resilience
Safety first: the flush ground uplighter removes the potential impact hazard created by a traditional post-mounted downlighter.
Highly resilient: made of extremely robust Durapol® material it is designed to withstand accidental drive-over while the Sublite underground box is IP68 rated to prevent dust and water ingress.
Efficiency and Sustainability
Low energy solution: only 12w power consumption. A phototransistor ensures the unit is only illuminated during the hours of darkness and draws minimal standby power.
Low maintenance: the LED's have a minimum life span of 50,000 hours. Equating to approximately 10 years when operated with the built–in Photocell or with a CMS device.
Sublite underground base box is made of 100% recycled Durapol® Material.
Combine with Glasdon Chevroflex Ultra™ Sign System
Glasdon Chevroflex Ultra™ chevron boards are a passively safe solution for highlighting roundabouts and hazards on rural roads.

Cut costs, prevent accidents and ensure chevron schemes are passively safe.
Chevroflex Ultra outperforms traditional chevron signs through:
Improved drive through performance – certified passively safe to performance standard NE3/100, motorcycle friendly and passively safe street furniture.
New Impactaflex™ material has been specially developed to offer superior rigidity and resilience combined with class-leading recovery performance after a drive-through collision.
Highly visible wall effect – offer a clear indication ahead of a bend or hazard in the road.
Easy to install socket for quick and easy sign replacement.
Versatile configuration options to suit your requirements.
Improve the safety and efficiency of roundabout chevron schemes with the Sublite Lumino™ LED Uplighter and Chevroflex Ultra™ Sign System.