Foreign object debris (FOD), has the potential to cause millions of pounds worth of damage in the aviation industry, as well as long delays and disruptions.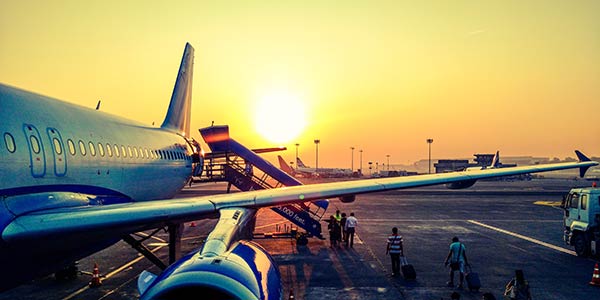 By implementing appropriate, on-site airport FOD bins, the potential financial implications, as well as the wider risks to airport personnel, can be significantly minimised.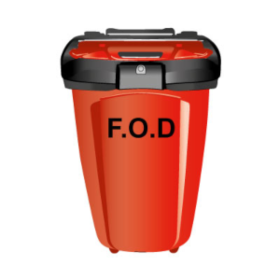 What is FOD?
Broadly speaking, FOD can be classified as any object which could injure staff members, carrier personnel, or damage aircraft and equipment.
When focusing on a FOD aviation definition, some of the most common contributors are; rocks, sand, loose vegetation, tools and loose hardware, building materials, paper, paper clips, pens, coins, badges, baggage tags and pieces of luggage - including pieces of clothing / footwear.
Even something as small, and seemingly insignificant, as undisposed litter has the potential to cause huge amounts of damage. A disregarded soda can or candy wrapper may not seem like a big deal to an 400,000 kilogram Boeing 747-400, but such waste has the potential to cause a variety of problems.
How is FOD detected?
Whether you operate a small private airfield or run one of the world's busiest international airports, dealing with foreign object debris is a concern which affects aviation as a whole – as well as many other fields, such as; the military, shipping, and manufacturing.
In order to detect FOD, advanced radar technology and human observation is normally the order of the day. Once FOD has been detected, it should be collected and logged by a member of staff, and stored in a dedicated FOD bin, usually located near the airport apron.
FOD solutions:
Regardless of which method you use to detect and remove unwanted objects from your runway or airfield, having a dedicated FOD bin will allow you to dispose of your unwanted debris quickly, efficiently, and before the potential hazard escalates to causing harm or damage.
At Glasdon, we provide a range of designated FOD bins, which are well suited to a variety of needs.
Whether you're looking for a solution to FOD prevention in manufacturing, reducing FOD in aviation maintenance, or anything else in-between, Glasdon FOD control products are here to help. Ranging from a compact 50 litre FOD Bin, right up to an extra-large 140 litre FOD bin, our FOD receptacles are built to be durable, effective, and highly-visible.
And it's worth noting, if appropriate FOD control products aren't in place, potential risks can include. . .
FOD airside effects:
There's a whole host of airside effects that can result from mismanaged FOD, including; damaged aircraft engines if ingested, cut aircraft tyres and the obstruction of ground vehicles, propelled debris from jet engines can harm airport personnel/passengers, and debris can also become lodged in an aircraft's components, thus preventing it from operating safely.
FOD landside effects:
Landside effects of FOD can also be far-reaching; FOD can result in costly flight delays and cancellations - which could also lose future customers, there can also be schedule disruptions caused by the need to reposition airplanes and crews, as well as the potential liability due to injury and additional work for airport management and staff.
For further guidance, view our range of products suitable for airports, or talk to a member of the Glasdon team today for more information.
Monday, February 24, 2020