Broadly speaking, there are three main types of disposable cup – paper, plastic and foam. We say broadly speaking because as you can guess there's a lot more to it than that.
The confusing part for us as consumers is that we hear paper and plastic used interchangeably when referring to takeaway coffee cups.
If you're in the catering business, own a coffee shop or manage facilities... you've got a lot to choose from!
The Traditional Foam Cup
Made from petroleum, polystyrene foam cups are used for hot and cold drinks.
They are generally selected because the polystyrene makes the cup sturdy and lightweight while providing a high level of insulation.
However, if you're looking for an environmentally friendly cup solution then you should avoid using these cups altogether.
Very few recycling plants have the technology to process single-use polystyrene foam cups (including used polystyrene foam food containers) and it is estimated that it takes hundreds of years to decompose in landfill and then it only breaks down into smaller particles.
Types of Plastic Cup
As well as a takeaway solution, cold drinks tend to be served in plastic cups at large public events and outdoor venues.
These cups are generally manufactured with polystyrene plastic, recyclable PET (polyethylene terephthalate) plastic or recyclable PP (polypropylene). Compostable cold cups made with PLA (polylactic acid) corn plastic are also available.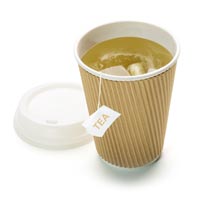 Types of Paper Cup
Paper cups, also referred to as 'paper hot cups' are more commonly used for takeaway coffee and hot drinks today.
Although they can be used to serve cold drinks too.
Air Pocket Insulated Cups: These cups are typically designed with an inner and an outer ridged layer. Air is trapped between the layers for improved insulation and prevents the heat from transferring to your hand.
Poly-coated Paper Cups: Featuring a polymer coating for additional insulation along with a polymer lining to keep liquid inside the cup, while protecting the outside of the cup from weakening.
Post-consumer Paper Cups: As the name suggests, these cups are made using a high percentage of recycled paper and therefore using less virgin material.
Sustainable Paper Cups: Compostable and biodegradable cups are now also widely available, where the whole cup is produced with natural renewable resources.
Wax Coated Paper – Paper Cold Cups: And for cold takeaway drinks, the wax coated paper cup operates similarly to the poly-coated in that it offers extra rigidity and protection from leaks and absorption, as well as an added layer of insulation.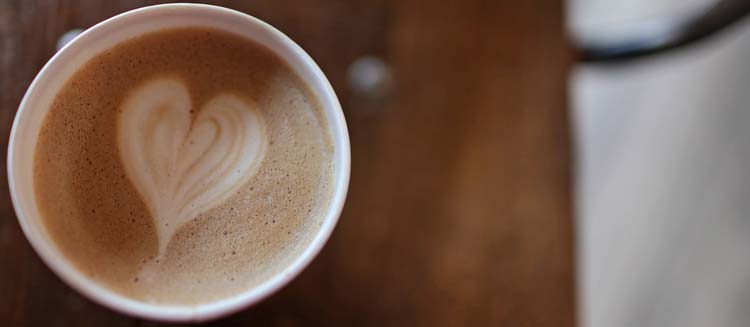 The Bottom Liner...
Whether you are using a paper cup for a hot or a cold drink, all paper cups feature a lining inside them to prevent liquid from leaking through the paper layers, while helping the cup retain its rigid form.
This is where a polymer (plastic) or a wax lining may be used.
Common linings include PE (polyethylene) plastic, PLA (polylactic acid) bioplastic and paraffin wax.
PE: The most widely used plastic in the world, polyethylene is light and versatile and can be used in the production of clear food films and wrappings, detergent bottles and vehicle fuel tanks! PE can be recycled.
PLA: Polylactic acid is referred to as a bioplastic as it is made from organic sources like corn starch or sugar cane. PLA, like paper, is compostable and biodegradable.
Paraffin Wax: Obtained from petroleum, paraffin wax is used in candles, polishes, cosmetics and electrical insulators. For cup linings, paraffin wax is oxidised and turned into a soap with aqueous solutions to create the wax dispersion for waterproofing paper. Paraffin wax cannot be recycled.
It's the cup lining and how they are bonded to the inside of the cup which really makes the difference when it comes to the ease with which takeaway coffee cups can be recycled or disposed of in an environmentally friendly way.
Learn more about how to recycle disposable cups with our downloadable eBook: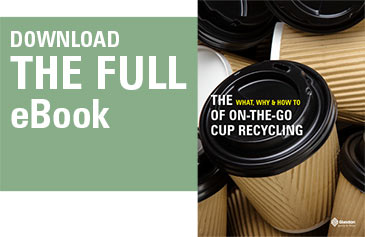 Sources:
*https://www.webstaurantstore.com/guide/610/types-of-disposable-cups.html
**https://www.britannica.com/science/polyethylene
***https://www.britannica.com/science/paraffin-wax
****http://millikenchemical.com/why-polypropylene
Wednesday, August 15, 2018