We aim to manufacture products of the highest possible standard using the best materials available – and our seating range is no exception. From the slats down to the seat ends, our benches are manufactured from specially selected materials that can stand up to heavy use and maintain a high quality throughout their product life.
Enviropol is predominantly produced from post consumer polyethylene and polypropylene, made up of carrier bags, pots, tubs and trays, a large majority of which are single use plastics.
As an example, the Enviropol slats of our Pembridge™ Picnic Table could contain as many as 102,420 recycled bottle caps*.
Enviropol is 100% recyclable at the end of its life cycle. There are many benefits of using Enviropol for outdoor seating and we offer the option to select Enviropol slats on many of our seats and benches.
The density, strength and weather-resistance of Enviropol will ensure a long, virtually maintenance-free service life. It is self-coloured (available in either brown or black) and needs no painting or surface treatment.
The material is resistant to chemical attack and impervious to water, frost and most corrosive substances.
By choosing a product that uses recycled materials there is a direct reduction in emissions. This translates to a reduction of 1.3-2.8 tonne CO2e per tonne of plastic produced from recycled material compared to virgin materials (depending on plastic resin type**). Therefore, by choosing a recycled material product there is a significantly smaller carbon footprint.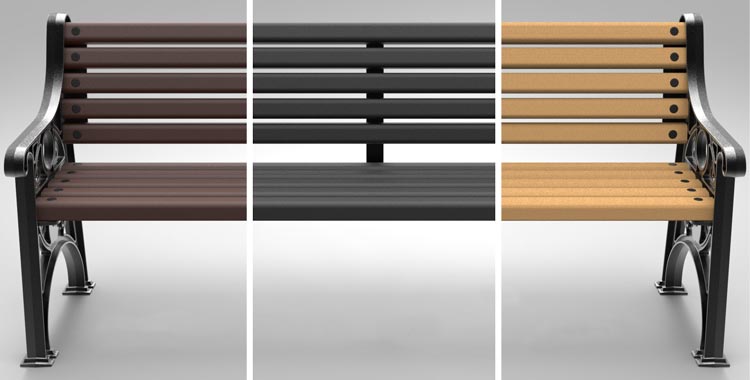 [L - R: Brown Enviropol, Black Enviropol, Timberpol Slats for the Lowther™ Seat]
Timberpol offers a wood effect appearance, but does not possess any of the usual drawbacks of wood as it will not rot or splinter and is knot-free.
Like Enviropol, it is a sustainable option, made from 95% recycled and sustainably sourced raw materials. The composite is made up of 55% wood (reclaimed sawdust) and 40% polymer (post-consumer HDPE). Timberpol is made from UK-sourced recycled polymers and manufactured in the UK it is also environmentally friendly with a reduced carbon footprint.
As with all products containing natural timber, a small amount of natural colour fading will occur initially, but as Timberpol is self-coloured, it does not require any additional painting or varnishing.
It is a remarkably versatile, durable and strong material, making it an ideal option for seating.
Durapol is a tough, durable and robust polymer, formulated to withstand extreme temperatures. This high-quality material is available in a variety of self-coloured options which will not chip or rust and will never need painting.
Durapol is used for a selection of the Glasdon childrens seating range, including the Munchy™ the Caterpillar Seat.
Combining weather and corrosion resistance with excellent strength, this material is perfect for outdoor use all year round with minimal maintenance required. Durapol is also fully recyclable at the end of its long service life.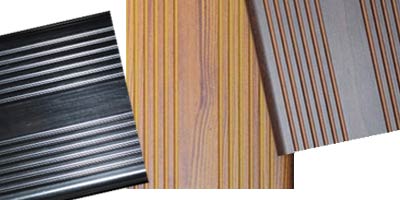 Vandalex is an aluminium alloy that has excellent fire resistance and increased impact (shock) absorption properties. This means that Vandalex slats are less likely to be damaged over time due to various weights being applied.
Vandalex is available in a variety of colours (light wood, dark wood and black) and has an anodised finish which means that it will never need painting, will not rust and is easy to clean.
The Forest Stewardship Council (FSC®) is an international organisation dedicated to promoting responsible management of the world's forests.
All of our hardwood seating products originate from FSC®-certified plantations, ensuring that the hardwood we use has been sourced from a forest in an environmentally appropriate, socially beneficial and economically viable manner.
Used for the seat ends on the Elwood™ Recycled Material Seat, Everwood material combines the visual appeal of wood with the durability and low maintenance of a polymer.
Everwood is a specially formulated blend of Durapol material, which emphasises the grain-like appearance of timber. Unlike timber, it requires no regular surface treatments such as staining or painting and the material will be unaffected by brine, bacteria, rot, mould and insects.
Designed to withstand extreme temperatures, Everwood is easy to clean, requires minimal maintenance and can be recycled at the end of its long life.
Grade 316 Stainless Steel
A highly durable and robust material, Grade 316 Stainless Steel offers a premium, high-quality finish for your chosen seat or bench. Stainless steel features weather resistance properties, minimising the risk of the material being degraded from corrsion or rust.
Glasdon seats and benches are designed to withstand all weather. We use a variety of durable materials for the seat ends and framework and where a mild steel or cast aluminium is used, we supplement its performance with an Armortec coating finish.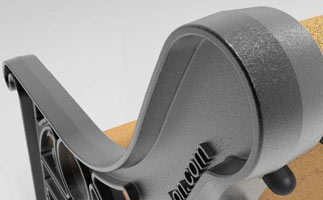 Find out more about the benefits of cast aluminium over cast iron for seat ends here.
Armortec is a corrosion resistant coating, which is specially formulated to extend the life of Glasdon metal products and components used externally.
To demonstrate the performance of the Armortec coating, a test was undertaken by our Quality Assurance team, pitting mild steel coated in a standard black metal paint against mild steel coated in Armortec. This was done by repeatedly impacting the samples with a hammer in order to chip away at the finish, and then placing them in a salt spray cabinet (an extremely aggressive tool used to simulate years of environmental damage in coastal environments) for six months.
The end results showed that not only had the standard sample been ruined by rust spreading under the paint and the finish flaking away, but the structural stability of the steel was also compromised. The Armortec coated sample, however, showed minimal signs of corrosion at the exposed points, and unlike the standard sample, the rust did not spread.
The Armortec Coating also lasted 5 times longer than the standard metal paint finish used for this test.
For a greater insight into how we test our products and materials, have a look at the product testing video of the Elwood™ Seat below or feel free to browse our YouTube Channel.
If you have any questions on the materials we use, or would like more information on the seats and benches we offer, take a look at our website or contact us today!
Email us enquiries@glasdon-uk.co.uk | Call us on (01253) 600410 | Live chat with us on our website
*Enviropol is made of mixed polyethylene and polypropylene, and therefore would not contain all the same recycled product, the example shown is for reference only.
**2016 World Economic Forum report "The new Plastic Economy – Rethinking the future of plastics" and 2015 Deloitte report.
Originally posted: 11.12.17.
Wednesday, March 27, 2019