In the autumn and winter months, the combined darker, wetter and colder conditions present additional risk factors which can contribute to an increase in slips and trips around the workplace.
According to the Health and Safety Executive, 30% (the largest proportion) of all specified non-fatal workplace injuries are attributed to a slip, trip or fall. With each individual case resulting in up to 7 lost working days.*
Take a look at this 5 point checklist and feel confident that you, your staff and site
are prepared for the colder months ahead.


1. Revisit Risk Areas
Identify all outdoor areas used by pedestrians across your site and facilities and highlight those priority routes that could be affected by ice, frost and snow.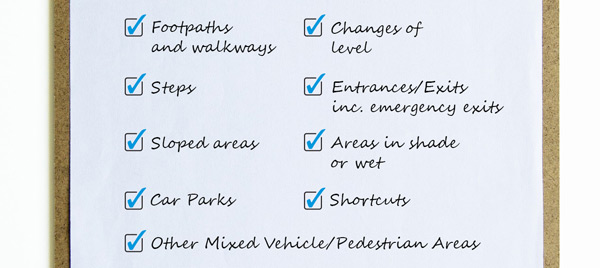 Questions?
When was the last visual site inspection?
Are there any new outdoor areas or changes to entrances or exits to include in this year's winter plan?
Will diversion routes need to change as a consequence?

2. Roles and Responsibilities
The approved code of practice for Regulation 12 of the Health, Safety and Welfare Regulations 1992 (Condition of Floors and Traffic Routes) item 116 states: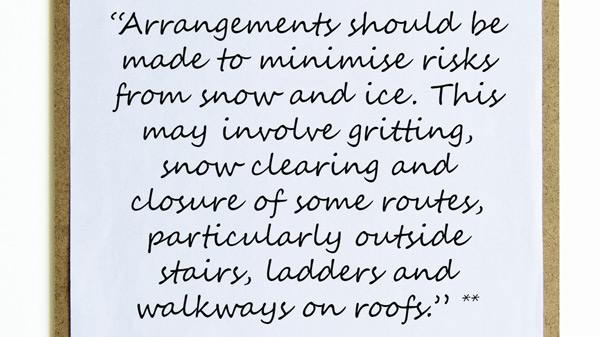 View the full Regulation 12 here.
Questions?
Who assists in putting your winter plan into action when the time comes?
Is your contact list and their working hours or availability up to date and are they aware of their duties?
When was the last winter briefing held or update communicated?

3. Winter Safety Equipment
The time to check winter safety equipment and assess grit salt stock levels is now.

Questions?
Which gritting solution will you use? Ice melt or rock salt?
Are your grit bins still accessible and located in or near to priority areas?
Could a manual or towable grit spreader help provide faster coverage and reduce manual handling issues this season?
Does the team require any new PPE clothing or additional safety accessories for their footwear such as Ice Grips?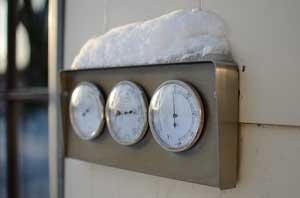 4. Weather Checks
The only way to stay ahead and prevent icy surfaces from forming is to monitor temperatures, keep up with the latest weather forecasts and take action accordingly when temperatures fall to 2.2°C (36°F) and below.
Questions?
Can you make any improvements to your procedure for monitoring temperatures?
Could a mobile app or smart weather station device help?

5. Winter Safety Tips
Subscribe for Met Office Weather Warnings affecting your area.
Don't wait for 0°C or below temperatures before taking action. Clear skies during a still, cold night can lead to ground frost even when the air temperature is above 0°C.
Grit salt doesn't work instantly and needs sufficient time to dissolve for it to work. Therefore, the best times to grit are early in the evening before frost settles and/or early in the morning well before employees and visitors arrive.
Prioritise any outdoor footbridges or overpasses on site as they are more likely to freeze first.
When gritting give slopes, steps and uneven routes, extra attention.
If it has snowed, divert pedestrian traffic to cleared routes and spread grit on the first layer of snow.

Sources:
*http://www.hse.gov.uk/statistics/causinj/kinds-of-accident.pdf?pdf=kinds-of-accident – Page 4
**http://www.hse.gov.uk/pUbns/priced/l24.pdf
Originally posted: Tuesday, September 19, 2017
Monday, November 18, 2019