The need for clear and highly visible information has never been as critical as it is now.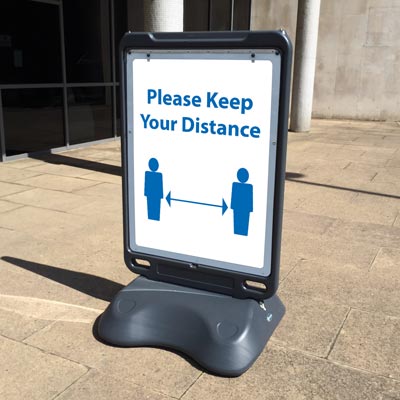 The Advocate™ Poster Display Signs by Glasdon have always been a versatile and cost-effective advertising solution for companies to make an impact with their message, however as the nation begins to move into a new way of life and business operations are adapted with new health and safety procedures, the Advocate is helping employees, customers and visitors remain alert to the risks of COVID-19 and maintain social distancing measures.
Learn more about how the Advocate floor standing and wall mounted poster display signs can support the business' operations during and after the pandemic.
Advocate™ Floor Standing Poster Display Sign
This large, free-standing outdoor poster display unit holds a billboard (2 sheet) size posters of 30 (w) x 40 (h) inch / 762 x 1016mm, which instantly produces an outstanding visual impact.
With the option of placing posters on one side of the frame or on both sides, the Advocate is ideal for alerting people who may approach from different directions.
Changing the posters is easy and integrated wheels in the base make it easy to move around to attract attention where you need to.
We can also supply the posters you need to go inside the unit with the option of specially designed posters for PPE disposal, social distancing signage and more.
Alternatively our graphics team are on hand to create a poster and message of your choice with your company brand. Contact us for more details.
Wind tunnel tested to hurricane force...
As a popular solution for outdoor advertising and signage, the Advocate can experience some extreme weather conditions.
We tested the Advocate™ Floor Standing Poster Display Sign to safely withstand hurricane force winds of up to 129km/h - so it's safe to say it should be ok!
The large, curved ballast base of the floor standing Advocate provides high levels of stability, and can be filled with sand/water to minimise the risk of the unit blowing over.
Please note: the base must be ballasted with 170lbs of sand/water, in order to withstand high wind speeds.
Not convinced? See it for yourself, here's how Advocate holds up in 129km/h winds:
Advocate™ Wall Mounted Poster Display Sign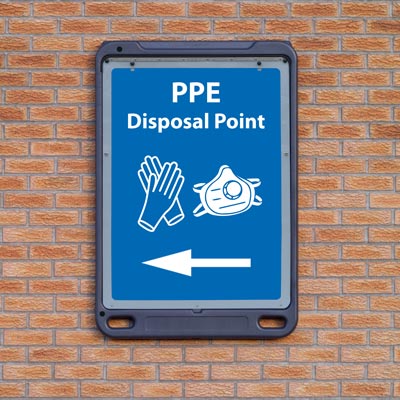 Where floor space is limited but you still need to get your message across loud and clear, the wall mounted model of the Advocate is ideal.
With the same large, 2 sheet format as the floor standing model, the wall mounted unit takes posters of 30 (w) x 40 (h) inch / 762 x 1016mm.
Posters can be easily changed at the snap of the buttons which keep the transparent polycarbonate protection in place at the top of the frame. Then simply lift the polycarbonate front to quickly and easily replace the poster inside. It is sealed with magnetic strips, which keeps the poster protected from the weather.
Due to the changing nature of operations across all industries, Glasdon are committed to helping you by tailoring our products to your business needs.
We now offer a wide range of PPE Disposal Bins and if you can't find what you are looking for please don't hesitate to speak to us on Live Chat or contact our team today.