14.7% of the UK population smoke*, equating to approximately 7.2 million people.
Although there has been a statistically significant decline in smokers of more than 5 percentage points since 2011*, businesses still need to continue to ensure that health and safety considerations for smoking on their premises remain a top priority for the comfort and safety of employees, patrons and visitors.
Creating a safer environment
An improperly discarded cigarette stub can quickly become a fire hazard, which is why correct disposal is so important.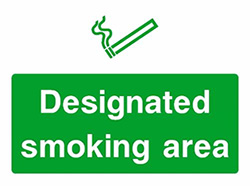 A simple way to reduce this risk is to provide employees or customers with a designated area where they can smoke and then safely dispose of ash and cigarette butts in purpose-designed bins.
Additional safeguards can be added in the form of smoke dampening devices such as SmokeGuard™.
A selection of Glasdon cigarette bins feature SmokeGuard to effectively minimise the risk of a fire propagating throughout the receptacle as well as reducing the amount of smoke released.
Creating a cleaner and more effective smoking area
Choosing the correct receptacle is key to keeping the area clean.
Wall mounted ashtrays are the perfect choice for outside a pub or restaurant. These can also be attached to posts inside Glasdon smoking shelters.
Free standing bins such as the Ashguard SG® are ideal for a dedicated smoking area in a place of employment.
Alternatively, multi-purpose bins such as the popular Integro™ City are also available. It combines a 35 litre litter bin with a smoking bin, which is an ideal solution for outside the entrances to public buildings and receptions.
Ashmount SG™

Holds up to 1,050 cigarette butts
Wall, post or glass mounting kits available
Anodised aluminium domed top
Robust weather-resistant outer

<Find out more

Integro City™

Holds up to 1,750 cigarette butts
2 in 1 form factor, combining cigarette and litter bin
2 cigarette bins for accessibility
Streamlined shape and small footprint

Find out more

Ashguard SG™

Holds up to 3,500 cigarette butts
SmokeGuard smoke dampening device
Robust and weather resistant Durapol construction
Security cables to prevent un-authorised removal of door
Ground fixing supplied as standard

Find out more
If you would like free, professional advice on selecting the right bin, please get in touch with us today.You can call us on 01253 600410 or email enquiries@glasdon-uk.co.uk.

Alternatively, you can use the Live Chat feature at the bottom of this page.
Originally posted: 22.05.2017
*https://www.ons.gov.uk/peoplepopulationandcommunity/healthandsocialcare/healthandlifeexpectancies/bulletins/adultsmokinghabitsingreatbritain/2018