Canvey Island is a reclaimed island which lies off the South Coast of Essex in the Thames Estuary.
The Island is below sea level and until the 20th century its seven square miles were mainly made up of agricultural land. Then between 1911 and 1951 it became the fastest growing seaside resort in Britain.
In 1953 a North Sea tidal surge hit the Island causing a devastating flood which led to loss of life and the evacuation of 13,000 inhabitants at the time. Following this 14 miles of high sea wall defences were built to protect the islanders.
The sea wall today is an important focal point, which attracts thousands of residents and visitors.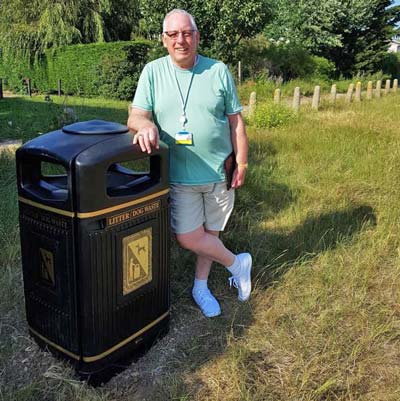 In response to resident and councillor feedback, Castle Point Council recently installed new dual purpose Glasdon Jubilee 110 bins along the sea wall.
The new scheme was kick started by Canvey East Ward Councillor Chas Mumford (pictured), who worked in conjunction with officers at Castle Point Council to deliver the project.

Councillor Mumford said:
"Following complaints from residents about litter and dog waste along the sea wall, I have been successful in getting several new bins installed.
"The sea wall is a popular destination for walkers and it is important that we make sure it is kept looking clean and tidy."
The new Glasdon Jubilee 110 litter and dog waste bins are stationed along the popular route and are clearly sign posted to encourage the correct disposal of litter and dog waste.
This model, as with many Glasdon litter and recycling bins, can be personalised with a variety of text and graphics to meet the specific waste collection needs of local communities.
Talk to us today about your requirements.
Monday, September 25, 2017