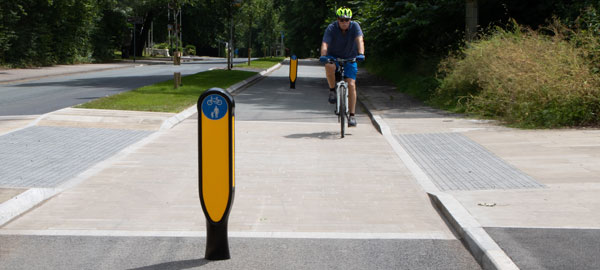 In recent years there has been a significant increase in the volume and scale of infrastructure schemes aimed at providing safer routes for cycling and walking to promote active travel. An effective way cycle lanes or shared use pavements have been segregated to make them safer, has been to physically separate more vulnerable road users from dangerous conflict areas.
With these infrastructure changes, a new generation of bollards are necessary that have the capability to display highly visible information, such as warnings, direction and instruction to cyclists and road users.
Glasdon have launched a new bollard ideal for marking cycle routes with its highly visible display signs.
The Cyclemaster™ Bollard is a cycle route marking bollard that features sign-carrying and directional faces providing visual conspicuity of cycle lanes.
These signs are designed to warn, inform and protect cyclists and pedestrians, with the double-sided bollard able to offer a large sign area on the front and rear so directions are visible from both directions.
The bollard is able to display up to 6 sign faces, which include 150mm roundels or 125 x 210mm cycle route information signs.
For optimum visibility, the sign area features a large fluorescent yellow retroreflective panel as standard, where sign faces can be displayed on top of this panel, or on their own. To protect the retroreflective panels and signs, the sign area is recessed to avoid vandalism and minimise damage in the event of a collision.
Featuring a slim footprint, the Cyclemaster is designed so it can be situated in narrow spaces such as pavements, segregated cycle islands, or bolted into a concrete foundation without taking up valuable space for cyclists or pedestrians.
The Cyclemaster is available for fitting into concrete with ground fixing bolts or fixed/adjustable depth concrete-in ground anchors, or a socket mounting option is available to allow the bollard to be removed and replaced. Alternatively, the bollard can be installed directly into concrete.
Available in either rigid Durapol® or flexible Impactapol® materials, the Cyclemaster bollard offers a long service life and is easy to maintain.
John Cookson, Customer Support Manager for the Glasdon Highways Team said:
"The new Cyclemaster is packed full of important features to meet the needs of urban and city centre cycle route infrastructure. Multiple sign faces allow for up to 6 signs to be displayed which is ideal for junctions or crossing points.
The high visibility panels optimise conspicuity both day and night. This makes Cyclemaster ideal for hazard marking cycle lane entry and exit points, or as a lane delineator to benefit drivers and cyclists alike and help improve safety levels.
Urban schemes and in-carriageway cycle lanes can be short of space, so the Cyclemasters slim line design and small foot footprint makes it ideal for use where space is limited. The Bolt down fixing is available for ease of bollard removal or replacement, and the Cyclemaster also comes with the option of a slim line socket."
View the new Cyclemaster™ Bollard here, or talk to a member of the Glasdon team today for more information (01253) 600410.