No matter the challenge, our buildings, housings, enclosures and shelters can meet the demands of any brief, fitting any environment, be it big or small.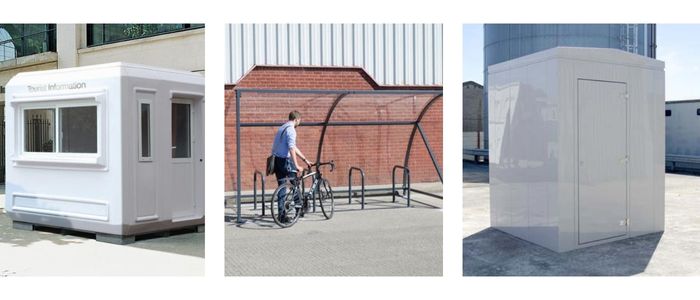 We know that space is often at a premium for some of our customers. Regardless of this they still require solutions that will meet the demands of often complex applications. Thankfully we're on hand with adaptable designs that are perfect for the job.
Whether it's to ensure important locations such as car parks and emergency exits remain clear or to keep facilities out of public sight, accommodating the ability to implement new constructions into smaller or more unconventional areas can prove to be a useful and practical factor when choosing a product.
We take pride in our ability to work closely with the customer to achieve their desired requests; in some cases, that can be challenging. Below are some examples of customer sales that demonstrate how our products have been effectively sited into areas where others may struggle to fit the tight brief.
External Housing for Restricted Area
For areas of limited space that require housing or storage, look no further than the Element™ GRP Housing Unit. A cost-effective housing designed for a wide variety of applications due to its modular panels for multiple sizes.
Ideal for multiple types of external environments and industrial applications, a highly versatile and adaptable addition for businesses. Typical applications include: electrical and switchgear enclosures, communication network housing, valve and transformer housing, monitoring and control room, or generator and power supply rooms.
With Element, customers can choose from 10 standard sizes, ranging from 1x2m to 5x3m with a 2.5m clear internal height. Meanwhile, you can complete the product with a selection of doors, handles and locks, vents, gland plates and electrical kits.
Recently we installed a 3x2x2.5m Element complete with a convector heater kit for Hockley Building Services to serve as a gas booster set housing. With a versatile choice of sizes available, the customer had no issue siting the building in between an existing external building and fencing.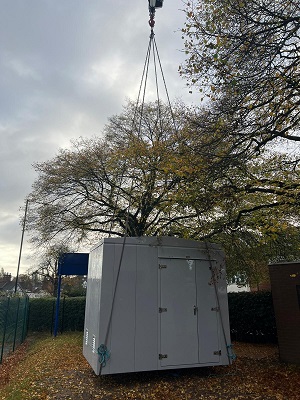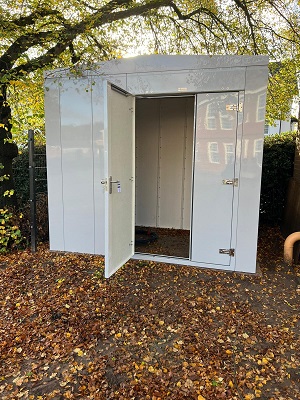 If you need assistance in deciding what type of GRP enclosure is best suited for the task at hand, take a look at our Guide to Specifying a GRP Enclosure.
Cycle Storage in Limited Space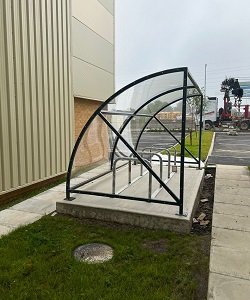 Cycle Storage is an ideal example of a facility that can sometimes be required to be sited in areas that are out of view or in areas with limited space. Our Echelon™ Cycle Shelters are a state-of-the-art, cost-effective and pre-assembled storage solution, offering the ability to keep up to 10 cycles with your choice of Glasdon Cycle Toast Rack as an optional extra.
If you're looking for cycle storage with more space available at hand, consider the Echelon™ Corral Cycle Compound, which features a lockable gated entrance to secure up to 20 bicycles. See how our new range of cycle shelters, the Cadence and the Strada can also be used to Maximise Space and Cut Maintenance Requirements.
Recently, we installed an Echelon™ cycle shelter next to a busy car park, squeezing it in between two large-sized warehouses. With such limited space, many other types of cycle shelters would find it an arduous task to fit, let alone allow users to simultaneously access it with ease.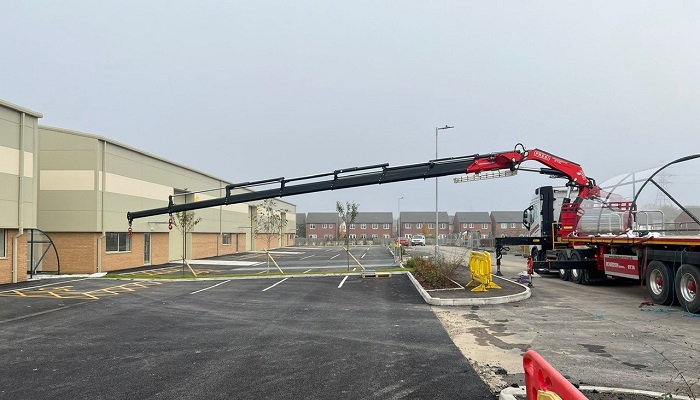 With space still available for footpath access, this newly established cycle shelter means cyclists can access the shelter from either side. For cycle storage, this is a highly valuable asset, especially if it proves to be an in-demand storage facility. Additionally, installing the storage away from the car park means more space for cars, but more importantly, less chance of accidents occurring.
If you're in need of cycle storage but are unsure what will suit your business, please visit our informative Glasdon Guide to Specifying Cycle Parking.
Outdoor Applications for all Types of Territory
The Genesis™ GRP Kiosk and Gatehouse Range are fibre-reinforced polyester buildings ideal for a large variety of outdoor applications such as ticket kiosks, information points, toll booths and security cabins. Available in six standard models with a wide choice of options, they're an economical solution that can fit the budget and demands of multiple types of projects.
Demonstrating its excellence in weather resistance, a Genesis 2.3 x 1.5m Kiosk was installed on the docks of Solent Rib Charter, Europe's largest fleet of Ribs. Requiring a versatile and weather-resistant portable building solution to house and protect equipment from water and cold temperatures.
With limited space available on the dock walkway, they required a building with a limited footprint for a restricted area so users can access it easily and safely.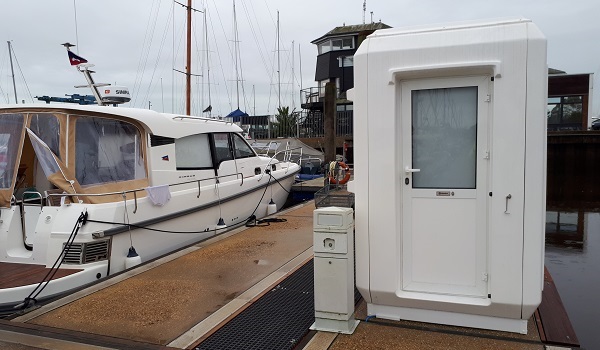 For more information on this robust, sturdy and adaptable range, see our Complete Guide to Genesis GRP Kiosks.
As you can see, we take pride in our ability to work closely with the customers to achieve their desired requests, and in some cases, that can be a challenging task. But, no matter the request, location or space, our products are able to fit the brief required of them.
For more information on our full range of products, please do not hesitate to Contact Us or use the LiveChat service to talk to a friendly member of the Glasdon team today.
Wednesday, February 1, 2023