The Glasdon Group of Companies has achieved Gold accreditation in the Cycle Friendly Employer Scheme, a prestigious award recognising employers that have gone above and beyond to create a cycling-friendly workplace.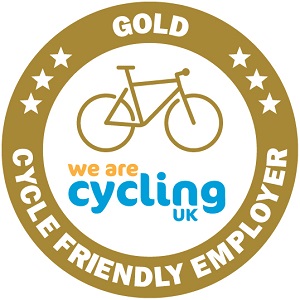 The Cycle Friendly Employer (CFE) accreditation scheme is the European benchmark for active travel culture and infrastructure in the workplace. The certification shows that your business is making significant progress towards becoming a climate-friendly organisation and one that values staff well-being by promoting active travel within the workplace.
The scheme also reinforces the vast benefits companies could receive from passing the certification process, such as the reduction of sickness, cost savings on infrastructure and the reduction of traffic on and off-site.
What Makes an Employer "Cycle Friendly"?
Creating a thriving culture that promotes cycling. This can be achieved through various initiatives, such as organising events and workplace challenges to build enthusiasm. This could involve hosting a bike-to-work day, a cycling festival, or a charity ride.
Installing dedicated infrastructure to accommodate cycling. A business should guarantee that buildings and facilities which accommodate bicycles are always available and are of high quality. These features should include secure cycling parking facilities, lockers and showers.
Implementing strong policies that encourage cycling. Policies that make cycling to work more rewarding or easier can provide that extra incentive. Such things as a Cycle to Work Scheme to save employees money or offering flexible working hours to make cycling on quieter roads possible.
How is a Business Judged?
The first step to becoming a cycle friendly employer is a self-audit that evaluates and measures six action categories which influence cycling to employees, visitors, customers and suppliers.
Following a successful self-assessment, eligible businesses will undergo an onsite audit. Expert auditors will visit and assess the workplace facilities against the self-assessment answers.
The evaluation is measured against the six action fields as seen below.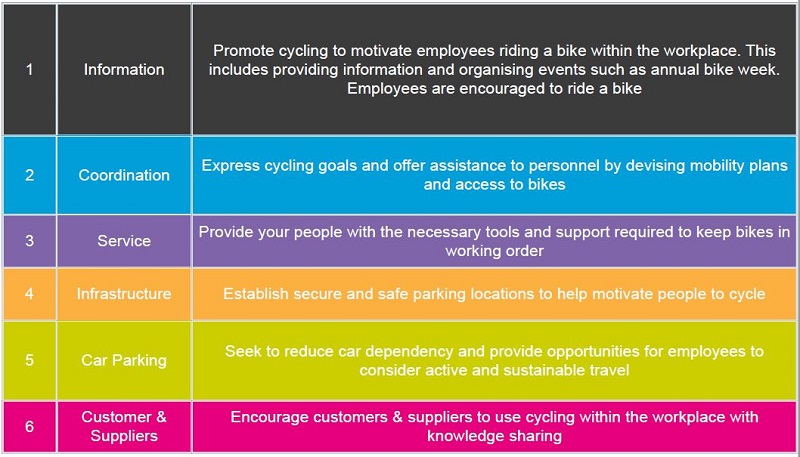 How Did We Achieve It?
After successfully meeting all of the mandatory criteria for the accreditation, such as providing quality bicycle parking spaces, we further created a Travel Mobility Plan, supplied readily available tools for cycle maintenance and delivered in-depth answers for the self-audit element of the scheme.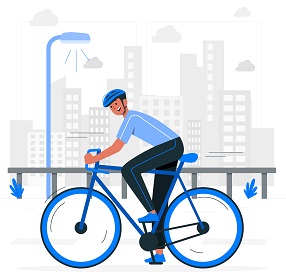 Pleasingly, our efforts were recognised and we were awarded gold status.
A Travel Mobility Plan is a set of measures aimed at optimising travel for business activities, including home-to-work trips, transportation of goods, business trips, etc.
We are delighted to have reached this landmark, joining the small number of organisations that have attained gold accreditation in the scheme. This momentous event showcases our organisation's pledge to reduce carbon footprint and enhance employee health and well-being.
A Mutual Benefit
As a Company that sells Road Safety products and Cycle Shelters, any employer holding the Cycle Friendly Employer Accreditation will receive a discount code to purchase our specific cycle products, providing an extra benefit to fellow members of the scheme.
For more information about the accreditation, please visit www.cyclinguk.org/cycle-friendly-employer