Shelters are more than just buildings. Shelters can be a point of refuge, a sanctum of security and a guard against inclement weather.

Glasdon specialises in manufacturing Prefabricated Canopies and Shelters for various settings and environments, successfully supplying them globally for over 30 years. From parks and high streets to bus stops and businesses, our contemporary styled shelters and enclosed steel-framed compounds are revolutionising how we utilise our open-air areas.
Whether protecting us from unpredictable weather or creating a secure containment to protect valuable bikes amidst bustling city life, these innovative structures are designed with functionality and style in mind.
This article is intended to help you navigate the complexities of investing in this type of product so that you can make an informed decision.
Cycle Shelters
Glasdon is a leading supplier of cycle shelters in the UK, with an extensive array of designs, styles and sizes. Our shelters come with multiple accessories and security components to take advantage of space in any area – whether a new or established location. Our cycle shelters offer dependable protection and security for both bikes and motorbikes, preventing the possibility of theft or damage from the elements.
Echelon's design is both modern and functional, as well as providing excellent value for money. Its resilient Armortec® coated mild steel frame can withstand corrosion and vandalism, while the UV-protected, curved, clear polycarbonate panels offer great coverage overhead. Low upkeep requirements are made possible with these quality components, guaranteeing a long service life.
Also available as a Compound alternative for extra protection and security, conjoined by a roof, rear wall panel and a lockable gated entrance. Able to provide storage for up to 20 bicycles.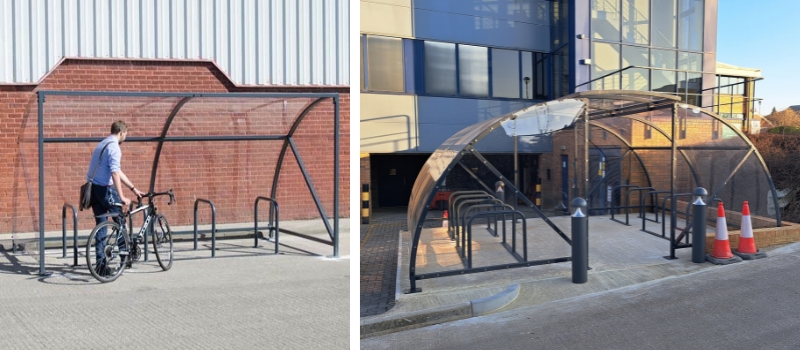 Strada and Cadence are modern cycle shelters that offer an attractive and hassle-free solution for storing up to 10 bicycles. Their sleek designs, which perfectly complement urban architecture, coupled with durable construction make for a cost-effective choice with minimal upkeep required.
Both versions utilise an angled design roof to prevent rain and snow from accumulating on the shelter.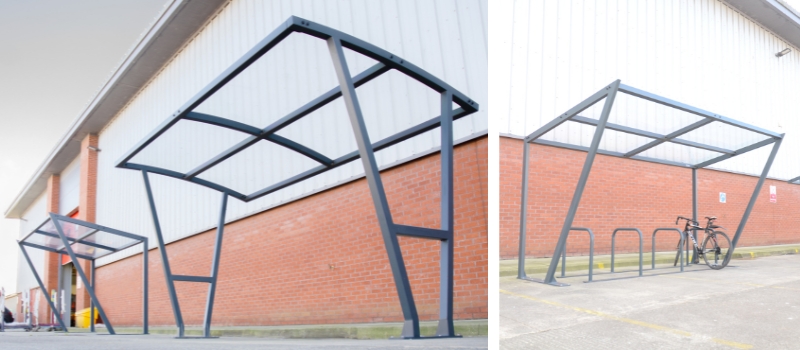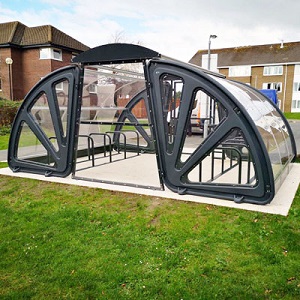 This model combines two Aero Cycle Shelters together with a strong framework, roof panels, a back wall panel, and a lockable gate. It is designed to give full coverage in any kind of weather, providing additional cover for users and bikes.
The secure compound provides storage for up to 20 bikes with the option of 4, 6, 8 or 10 place cycle toast racks and 8 or 10 single Sheffield hoop cycle stands.
If you're seeking help setting up a cycle storage facility, our free Ebook to Specifying Cycle Storage provides valuable information that may prove beneficial. In it, we explain the advantages of cycling for businesses and their employees, the criteria that should be met before installing a storage facility and; what types of facilities are available.
Waiting Shelters & Canopies
The ideal solution to providing all-year-round weather protection at bus stops, on train platforms and in workplace environments. These shelters can be tailored to apply a notice board for important timetable information or advertising.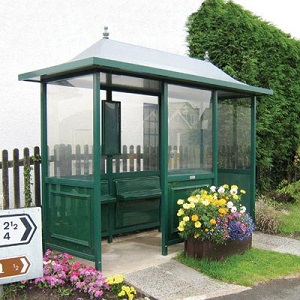 This traditionally designed waiting shelter is crafted from modern materials and coordinates perfectly with British street furniture and architecture. An ideal choice for passenger waiting applications, particularly for transport such as buses, trams, or train platform stops. Additional features can be acquired to adapt the application further, such as integrated timetable boards and perch seating.
This durable, double-skinned waiting shelter is perfect for when space or budget are restrictive. Crafted with Durapol® Materials for its roof and Ecoboard Material side panels, this product is classed as a multi-purpose shelter for its ability to fit multiple applications and budgets. Public transportation stops and costly machinery protection are but two ways this product can be used.
If you're curious to learn more about the multi-practical Modus Shelter, view our FAQ to see Which Modus™ Shelter is Right for Your Installation

Smoking Shelters
Designating a smoking area on your premises is essential for keeping the air clean and everyone's safety intact. Each smoking shelter can include a Cigarette Bin to capture cigarette waste at the source; or a perch seat for additional comfort.
The Carleton 50 is designed to fulfil all requirements of the UK Smoke Free legislation with its short-height glazing panels. Its robust aluminium construction and natural anodised finish ensure durability while providing a canopy above each roof type. As such, it's an ideal solution for any business wanting to tackle cigarette waste.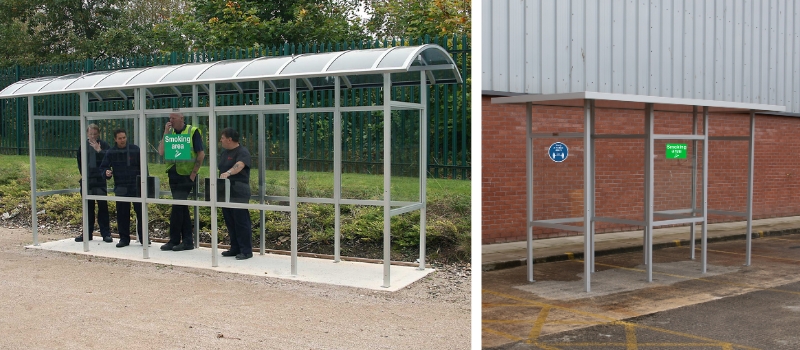 The Eclipse design is economical and minimal, our most cost-effective option for a smoking shelter. Its curved structure is simple, stylish and convenient, offering the right amount of protection from the elements.
Available as either a wall-mounted or a back-to-back canopy.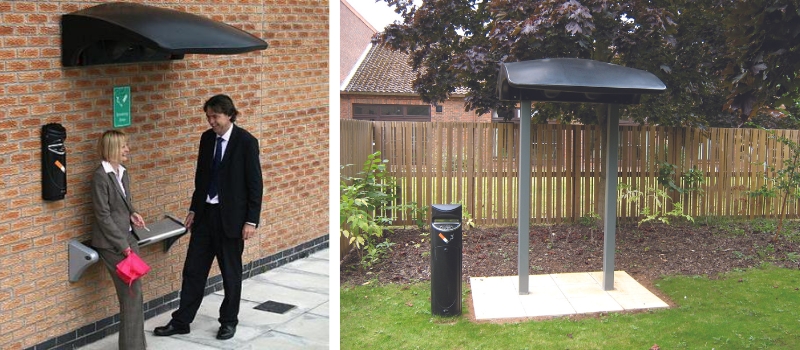 If you want further advice about anything featured in this article or want to discuss how you can make your choice of shelter suit your own specific type of brief, please don't hesitate to Contact our team today.