Lilleker Bros Ltd, founded in 1919, began as a local electrical business, selling and servicing electrical appliances from premises in Rotherham town centre.
Today, Lilleker Bros Ltd is an electrical, mechanical and control panel manufacturer. They operate nationally and internationally in the steel, food and quarry industries and in the local government, hospital, university and private development sectors.*
Nigeria's First Monorail in Tinapa Goes Live
Lilleker Bros associate company in Nigeria - Lilleker Brothers Nigeria, were awarded the contract to install the electrical control equipment for Nigeria's first monorail which would connect the CICC (Calabar International Convention Centre) with Tinapa Business and Leisure Resort.
Works on this large scale project commenced in September 2013 through to early 2016.
Lilleker Bros Ltd approached Glasdon UK for equipment housing solutions required to securely protect the electrical control equipment along the route.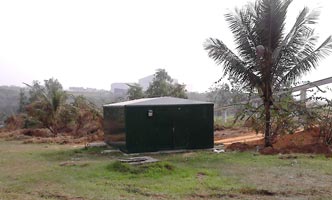 Lilleker required a versatile, tough and highly durable solution which could be supplied in a range of sizes to meet the different specifications of each equipment station.
The Garrison™ GRP Modular Housing was selected as the ideal solution.
The Garrison™ - Built to Last
Designed to provide all round protection for sensitive equipment in hostile environments, the Garrison™ has been the number one choice of GRP Modular Housing for industrial, energy, public sector, communications and rail transport companies across the world for more than 30 years.
Manufactured from tough and durable GRP (glassfibre reinforced polyester), its modular construction allows for modification and easy relocation in the future if required.
The Garrison™ is available in standard heights of 1m up to 3.5m and layouts from 1 x 0.5m to 6 x 20m. A wide range of optional features including lighting, heating, ventilation, glazing and explosion relief roofing are also available.
The Garrison™ can be delivered fully assembled and off loaded by crane and alternatively it can be supplied in panel-form to overcome site restrictions or shipping issues.
The Garrison™ GRP Modular Housings were supplied to Lilleker Bros in panel form and assembled by their team on arrival in Tinapa, Nigeria.
To talk to us about our innovative, cost-effective range of modular buildings and equipment housings, call (01253) 600 418, email enquiries@glasdon-uk.co.uk, or use the Live Chat feature on this website.
*Source: Lilleker Bros website