Unveiled for the first time at Traffex 22 in Birmingham, the new Neopolitan™ Delineator Post by leading UK bollard manufacturer Glasdon is shaping up to be the most versatile delineator on the market.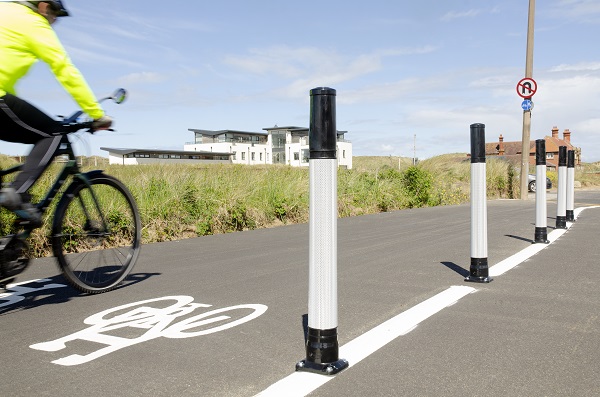 Manufactured from Reflexapol® material, a highly durable but flexible polymer that offers passive safety in the event of vehicle or cyclist impact, the new delineator post is available with TSRGD compliant retroreflective banding if required, along with the option to choose one of two different base fixings for the benefit of numerous highways applications and other schemes.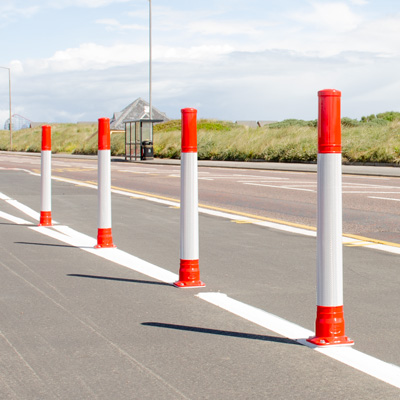 Compliant to BS EN 12767:2019 and crash tested to 100km/h, the Neopolitan Delineator Post is reboundable and returns to its upright position following a collision or emergency vehicle access.
The flexible fixing options also means that it can be quickly surface mounted into a variety of substrates with a simple bolt down fixing, which is ideal for use in temporary or permanent schemes including contraflow systems, roadworks or for pedestrian and cycle lane segregation.
Alternatively, when coupled with the LockFast™ Mini Socket and Quick Release Socket Adaptor, the hazard marker post becomes a removable solution, to enable authorised access where required or easy replacement in permanent schemes.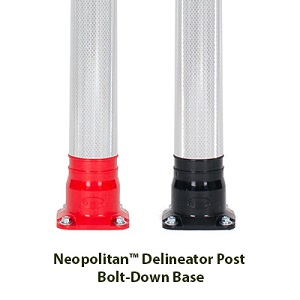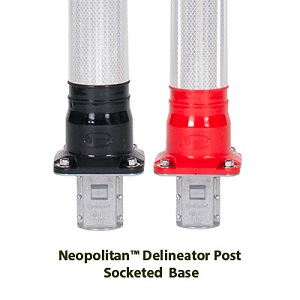 John Cookson, Customer Support Manager for the Glasdon Highways Team said:
"We are really excited about the launch of this new delineator solution. Not only do the fixing options offer the flexibility required to meet the changing demands our customers are so often faced with, the range of retroreflective banding options also makes it versatile for increasing the visibility of traffic changes and potential hazards in temporary and permanent schemes."
Neopolitan Delineator Posts are available in high visibility red or black with a choice of 6 banding combinations. It's sleek contemporary design lends well to urban environments along with a wide variety of applications.

Key Features and Benefits
Compliant to BS EN 12767 : 2019 - Passed at 100km/h, achieving 100-NE-A-NR


Manufactured from Reflexapol material to deliver high durability and advanced resistance to impact damage.


Compact square base means installation is easy and requires minimal floor space.


Galvanised M10 self-tapping ground bolts can be used for simple installation into a variety of substrates such as tarmac.


The LockFast Mini Socket means the post can be inserted and removed with ease. In combination with the Quick-Release Socket Adapter, a key is required to prevent unauthorised removal or tampering.


A choice of retroreflective banding combinations including 600mm TSRGD compliant (Diagram 7103) configuration suitable for direct use on the highways.


Microprismatic retroflectors (RA2) provide excellent night and daytime visibility.


Banding recesses to protect retroreflective banding from extreme weathering.


Available in either Red or Black to suit different applications.
For more information about the new Neopolitan Delineator Post please talk to the Glasdon Highways Team today.