Problem Identified
GE Healthcare's broad range of products and services enable healthcare providers to better diagnose and treat cancer, heart disease, neurological diseases and other conditions earlier. Worldwide, GE Healthcare employs more than 43,000 people committed to serving healthcare professionals and their patients in more than 100 countries. At the Maynard Centre in Cardiff, the company employs around 450 people. The Maynard Centre supplies materials to customers across the globe, ranging from multinational pharmaceutical companies to individual research institutes and universities.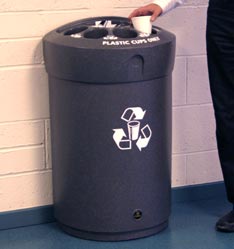 Staff at the Maynard Centre in Cardiff were keen to help meet the target Wales had been set, to ensure that by 2010, 40% of its waste should be recycled. A recycling programme was required for cans, cups, plastic bottles, paper and cardboard. The chosen recycling banks would then be located around the site, and site notices and posters would also be used to help encourage participation by staff.
In order to launch a recycling initiative they required an effective way of segregating the different types of waste. They also wanted to remove the current bins to reduce non recycling within the company. They needed to locate recycling collection points where the units could be easily accessed, plus others in areas where a high volume of waste was produced, for example extra paper banks at photocopiers. The recycling units needed to be operationally efficient, user friendly and aesthetically pleasing. For every ton of aluminium GE Healthcare recycle, it was decided that £500 would be donated to their charity of the year.
Solution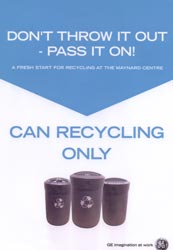 A specially trained Glasdon Representative visited the Maynard Centre and demonstrated the Envoy Range. This was subsequently chosen to meet the needs of the recycling initiative because of the unique features and choice of options available.
The management team at GE Healthcare liked the versatility of the Envoytm Recycling bank, with its choice of options for collecting a variety of materials. Its aesthetics and large capacity also added to the appeal. GE Healthcare chose Envoy units in Millstone colour for collecting paper, aluminium cans, plastic bottles and general litter, and also the Envoy Cup Bank which collects plastic cups and stores waste liquid separately and hygienically.
Resulting benefits
The enhanced recycling initiative has been a great success for GE Healthcare proving how such a scheme can work effectively on a large site. The collection of aluminium has helped the company with their charitable giving.
The Envoy is easy to maintain and user friendly.
GE Healthcare designed their own posters, for use in conjunction with the bins, to promote their commitment to recycling cans, cups, plastic bottles, paper and cardboard.
The organisation also found that keeping staff informed with notices and posters encouraged positive participation by everybody.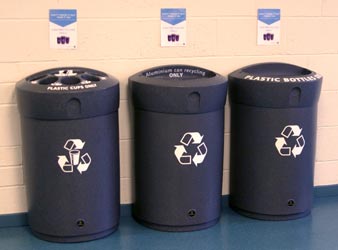 What the customer says
"To maximize the recycling of everyday waste, our new recycling bins have been in use since November 2004. The Envoy banks have been well received by staff – they make recycling so easy! We are thrilled to be making our contribution to helping the environment. Everyone at the site is keen to make a difference and support this new recycling initiative."
Ritta Cooper, Facilities Manager, The Maynard Centre.