Glasdon have expanded the Rebound Signmaster Ultra Bollard range with the launch of two universal base fixings for new and existing schemes.

Photograph: Rebound Signmaster Ultra Bollard with NEW Rebound Signmaster Ultra 50 and NEW Rebound Signmaster Ultra Compact

A new compact bolt down fixing base and 50 x 50mm retention socket base are now available as alternatives to the bollard's original Impactapol® material bolt down base.

Rebound Signmaster Ultra Bollard is a high performance, non-illuminated RSRB made from Durapol® material. It features a unique bollard-to-base design that optimises its rebound performance while eliminating the need for internal mechanical parts.
Since 2016 when the TSRGD relaxed the regulations around mandatory illumination of traffic street signs, many highways in the UK have begun to see a rise in the use of RSRBs.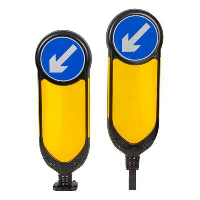 Switching to de-illuminated schemes holds the benefit of eliminating on-going electricity costs altogether. And with the bollards high-grade reflectivity, provided by 3M retroreflective patches on the bollard front and sides, switching to or maintaining a non-illuminated scheme has never been easier.
The bases have been specifically designed to provide flexibility when siting the bollards. Whether it's replacing an old bollard or siting on new ground, these two new additions have got all bases covered.
The new Rebound Signmaster Ultra Compact Bollard features a compact bolt down base with adjustable fixing points of 105mm up to 120mm fixing points. This specially designed base not only provides versatility when installing on a new site or where space is tight, but also eliminates the need for any additional groundworks when replacing old bollards.
The Rebound Signmaster Ultra 50 Bollard utilises a compact 50 x 50mm fixing stem that allows it to be easily installed into new and existing retention sockets. Cast iron sockets are a popular choice for installation of roadside furniture due to their long life-time guarantees (99 years) and universal compatibility with RSRB's. This makes the Rebound Signmaster Ultra 50 Bollard an ideal choice for your highway needs.
Just like their original model, both new Rebound Signmaster Ultra Bollards have been performance tested and are compliant with BS EN 8442:2022 and the Passive Safety Standard: BS EN 12767:2019.
John Cookson, Customer Support Manager for the Glasdon Highways Team said:
"The launch of the new universal fixings has allowed us to expand the range so we now have all bases covered for our customers. The bollard's unique design with the option of the Impactapol bolt down base, new retention socket or compact fixing solution, means that de-illumination and on-going efficiencies are now even more achievable and sustainable."
Talk to us today about your scheme's requirements or alternatively view the full Rebound Signmaster Bollard Range.
.