With up to 16%* of Brits admitting to eating chocolate on a daily basis, it's safe to say we're a nation of chocoholics!
Confectionary giant Cadbury has been catering to the sweet tooth of the U.K. population for nearly 200 years and has long since reached global success. With an ever-expanding line of chocolate products, from chocolate bars to biscuits, Cadbury even has its own fun-filled, family attraction Cadbury World, based in Bourneville, Birmingham.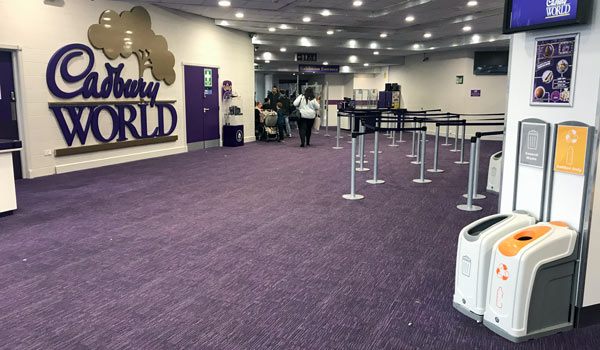 At Cadbury World, you can discover all about the history of the confectionary brand, experience Cadbury chocolate-making classes and jump aboard the 'Cadabra' ride for an interactive journey on their very own Cocoa 'Beanmobiles'. With the world's biggest Cadbury shop** within reach, it really is a crowd-pleasing event for all ages.
To help keep their premises free from litter and maintain high standards of cleanliness throughout the tour and in the chocolate shop, Cadbury needed high-quality, slimline recycling bins to collect litter and recyclables along the way. With a narrow footprint and a sleek, stylish design, our Nexus® 50 Recycling Bins were the perfect choice.
The Nexus 50 recycling bins are constructed from robust and durable materials for increased performance and long service life. Dedicated apertures and colour co-ordinated graphics ensure that cross-contamination levels between waste streams are minimised. Smooth surfaces and a front-opening removable door ensures ease of use for the operator when cleaning and emptying.
Cadbury World needed multiple recycling containers with small footprints to maximise space throughout their premises. The Nexus 50 range of indoor recycling bins are perfect for areas where space is limited and can be sited easily next to vending machines, against walls and side-by-side to form a recycling station. Cadbury World stationed their Nexus 50 bins near to queues and waiting lines, to help combat litter in high-traffic areas throughout the tour.
Find out more on how to become the ringmaster of queues and improve your visitor experience.
To help increase recycling rates, as well as provide a litter outlet for their visitors, Cadbury World selected recycling bins for the collection of both plastic bottles and general waste. A huge 13 billion plastic bottles are used yearly in the U.K***. When sent to landfill, these plastic bottles do not decompose, often resulting in plastic bottles entering the wider environment such as our oceans. Recycling plastic bottles can help to minimise this waste stream, whilst contributing to a more circular economy and giving used plastics a new lease of life.
Cadbury World decided to personalise their Nexus 50 recycling containers with non-standard colours and custom graphics on the front of their bins using our personalisation service. They also chose to enhance their recycling containers with an optional A4 Sign Kit, to increase visibility of the bins for their visitors and encourage correct waste disposal.
Key features of the Nexus® 50 Recycling Bins

Small, space-saving design with a narrow footprint
50-litre capacity
Modern and attractive styling
Dedicated apertures and waste stream graphics
Robust construction from high-quality materials
Removable door minimises risk of strenuous lifting
Integrated sack retention system
Non-marking Durapol® feet
Smooth surfaces for operator ease when cleaning
Can be sited side-by-side to form a recycling station
Optional A4 Sign Kit
Personalisation options available

Find out more
For more information on the selection of indoor recycling bins we offer, please feel free to browse our range or connect with us via LiveChat today!
Source:
* http://www.mintel.com/press-centre/food-and-drink/nation-of-chocoholics-eight-million-brits-eat-chocolate-every-day
**https://www.cadburyworld.co.uk/plan-your-visit/shop
***https://publications.parliament.uk/pa/cm201719/cmselect/cmenvaud/339/33905.htm