Multinational company Shell, who are supporting on-the-go recycling as part of their 'Go Well Campaign', looked to Glasdon for a tailored recycling solution to help make a brighter tomorrow.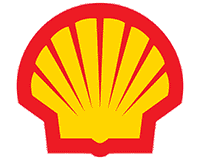 The integrated energy company aims to meet the world's growing demand for energy, whilst remaining economically, environmentally and socially responsible.
Sustainability is integral to Shell, so it fits well that the bins chosen and supplied by Glasdon for their recycling programmes are made from materials which are 100% recyclable for a reduced impact on the environment.
The
Electra™ 170 Duo Recycling Bin
and
Electra™ 85 Recycling Bin
are large capacity containers designed to blend into the modern environment with their unique, sleek design.
Its anodised and polished appearance against the umbra grey steel frame adds contrast, creating a refined and attractive appearance.
Not only do they look aesthetically pleasing, they are also strong, durable and corrosion resistant, with a framework made from Armortec® Coated Steel, which can last 5 times longer than standard metal paint finish.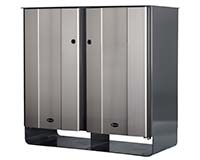 The Electra design allows you to style the recycling containers how you desire, with the choice to add aperture graphics for identifying waste streams.
There is also the option to personalise your Electra recycling containers with our free visualisation service. Our in-house design team can create individual stickers through to full wrap around graphics with your chosen branding and imagery. Need ideas and inspiration? Take a look at our Guide to Personalisation.
Shell required personalised graphics to match their branding.
Requesting graphics to be wrapped around their bins, they provided our in-house design team with imagery, and in only a short amount of time, their Electra bins were ready with the graphics which had been personalised to their recycling messages and with a design unique to them.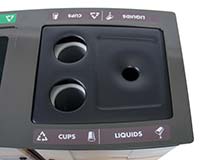 They also chose standard and customised aperture graphics which were applied to the top of the bin to reinforce their chosen waste streams.
With the importance of tackling coffee cup waste, Shell also had their bins tailored to integrate a cup recycling solution within the unit where recyclable cups can be emptied and placed once finished.
Two cup stackers were placed on the left for used cups, with a liquid reservoir for the emptying of cup waste fixed to the right.

Electra™ 85 Recycling Bin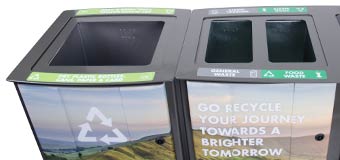 Dry Plastic Bottles
Cans
Paper
Card
Electra™ 170 Duo Recycling Bin
General Waste
Food Waste
Cups + Liquid

Open-top design for ease of use
Co-ordinates with the original Electra litter bin models
Variety of personalisation options are available to help identify waste streams
Optional aperture printing is available to order in a wide range of colours to create colour-coded waste streams
Slim profile design provides flexible siting options
Manufactured from Vandal, corrosion and weather resistant Armortec
100% Recyclable Extruded Vandalex® panels are strong, durable and corrosion resistant
Choice of freestanding base for environments where ground fixings are not suitable
Choice of solid metal liners or sack retention system


Find out more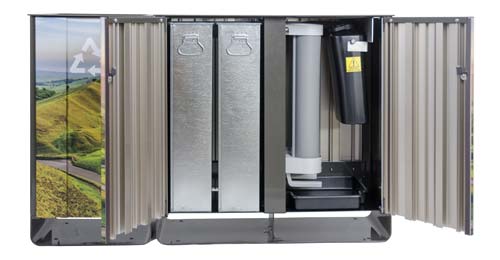 If you wish to find out more about the graphic options available for the Electra Recycling range or would like to see how your chosen product would look with custom graphics before ordering, please request a quote today.
To find out more about our Recycling Solutions and the Electra range - contact us today or speak to one of our friendly advisors on LiveChat.
Friday, September 14, 2018