The Electric Vehicle (EV) market is booming, and the figures speak for themselves. According to Zapmap, over 1,325,000 plug-in cars are now on UK roads.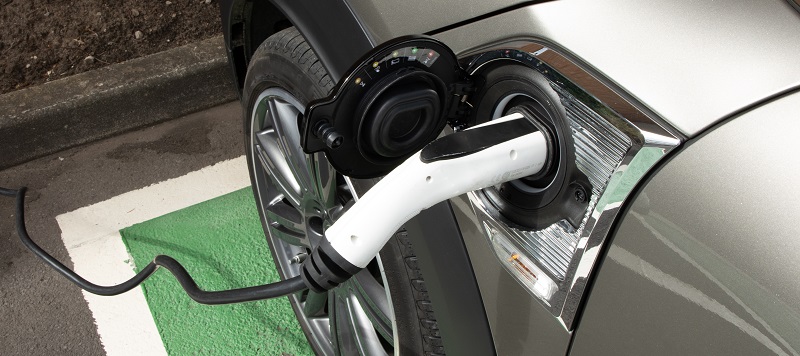 In 2022 alone, there was a monumental 40% increase in registrations compared to the previous year - an impressive 265,000 electric cars joining the nation's fleet.* The exponential rise and demand for electric cars can be attributed to multiple factors. Chief amongst them is the ban on sales of new petrol and diesel cars from 2035, a step taken by the UK in aiding the bid to reach net zero carbon emissions by 2050.* Similarly, they have become more affordable, trendier and accessible compared to before. In addition, electric vehicles evidently offer enormous environmental benefits such as improved air quality due to zero tailpipe emissions, backed by a decreased reliance on conventional engines running on fossil fuels.
To ensure the country can make the switch, a dedicated charging infrastructure is essential, and lots of it. Retailers and EV manufacturers are now rapidly installing charging points up and down the country in service stations and dedicated EV charging hubs. Zapmap's data shows that there has been a 36% increase since 2022, reaching a total of 44,408 charging points at 25,521 locations.* This may sound like a substantial upgrade to the country's infrastructure, but is it enough to satiate the demand?
The Current Challenges to Powering the Future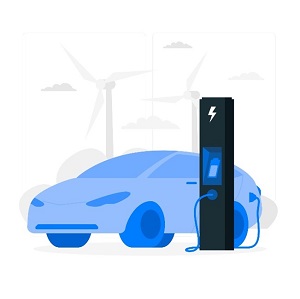 To meet the 2035 ban and the eventual demand it will bring for electric vehicles, ministers aim to install 300,000 public charging points across Britain. However, according to figures from the Department for Transport, only 3,870 chargers were installed in the three months leading up to July 2023.
Another speedbump: charging times. Time to charge can vary from connecter type, power output, and type of electric vehicle. Typically, public "rapid chargers" will take a minimum of 30 minutes to 1 hour for a full charge. This is a considerably lengthy amount of dwell time compared to traditional petrol filling. However, this issue can be improved with the addition of some straightforward comforts and services that enhance the waiting experience.
Although there are undoubtedly challenges ahead, we trust that the benefits will outnumber any drawbacks. With the eco-friendly goals set by the government and a joint determination to enhance our habitat, charging stations are already becoming a reality which offers drivers and businesses a host of new opportunities.
From improving accessibility to creating potential growth for companies, here are some of the ideas that are helping to super-charge the EV station experience right now...
Time to Wait, Time to Clean
With drivers facing time to dwell, it can be an invaluable service to give drivers the opportunity for them to rid their cars of some lingering litter! Allow drivers to maximise their time and charging satisfaction by investing in an effective disposal programme with reliable Litter bins.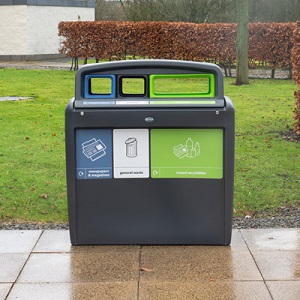 It's also worth noting that charging stations should have waste management solutions aligned with the values of the vehicle owners that arrive there. As electric vehicle owners become increasingly mindful of the environment, dedicated Recycling bins with separate waste streams might be more suited to the clientele. This could include plastic bottles, scrap paper and cans.
A valuable provision to adhere to this is the Nexus® Evolution City Recycling Bin. High-quality, hooded, versatile external recycling bins capable of capturing multiple waste streams at once. Alternatively, a popular addition for petrol stations; the Topsy 2000™ Litter Bin - a bin that has been engineered for swift and effortless emptying without the need for strenuous lifting. The whole bin body can be lifted from the base liner in one short movement.
Glasdon bins are highly sought after for their Personalisation capabilities, offering ample advertising possibilities or a reminder of the advantages that electric vehicles provide to our planet. See how the Topsy Royale™ Litter Bin below has been personalised for use in EG Groups EV charging stations.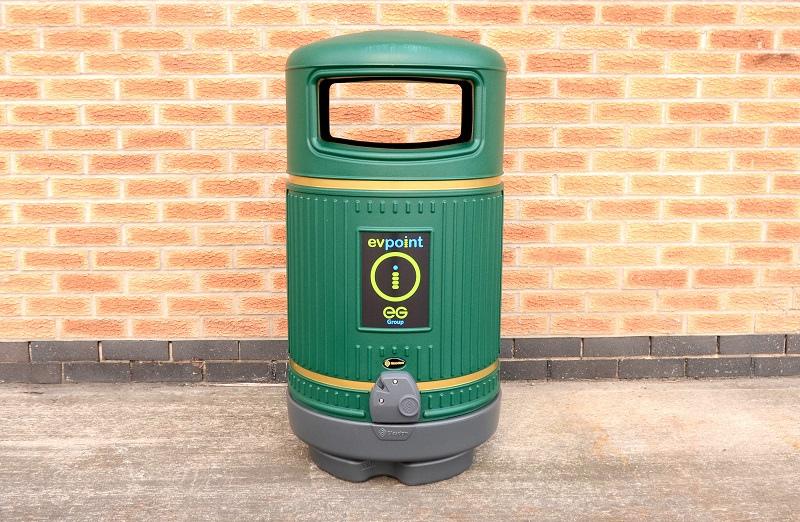 Retail Opportunities
Another great way for drivers to spend their dwell time is to shop. An opportunity to see what's on the shelves, grab a few items to make the journey more pleasant, or even get something for the children.
For more than a decade, Glasdon has been supplying Petrol Station Forecourts with specialised products designed to boost sales. These items are still valuable components in EV station forecourts, playing a vital role in business and delivering customer care.
For example, the Advocate™ poster display sign is a perfect way to inform drivers about retail opportunities and advertise. It is strong and requires very little upkeep, making it a great option for enhancing sales and spreading awareness throughout the year. Meanwhile, the Orion™ Storage Unit has been engineered to sit against the front of a retail point so goods can be conveniently accessed. Visiting drivers can rest assured that important items such as screenwash are readily available.
What's more, a hospitable station isn't complete without points to purchase food and beverage, especially for those drivers facing a long journey and in need of vital nourishment. Just ensure food waste has a place to go by implementing dedicated Food Waste Recycling Bins, and the many coffee cups sold have been responsibly disposed of in Cup Recycling Bins.
A Point of Rest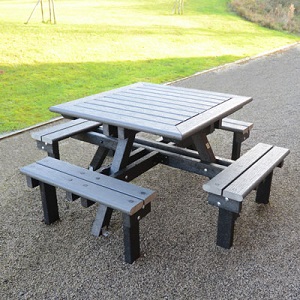 Once their car is plugged in and parked, drivers can relax in a cosy lounge that you've provided for them, complete with amenities such as free Wi-Fi, workstations, and spotless bathrooms. Having these luxuries could be a great way to make the charging process more enjoyable.
Offering this opportunity for your customers to unwind will require comfortable Indoor and Outdoor Seating. Glasdon manufacture and supply a vast selection of commercial seating and outdoor benches in varying styles, all manufactured with high-quality materials and renowned for their long service life.
If you possess the external space, take advantage of it and provide families and groups with Picnic Tables so they can relax in the fresh air. Constructed from up to 100% recycled material, the attractive Pembridge™ Picnic Table offers a robust and durable design that can accommodate up to 8 people. Its features include rounded edges on all seats and table surfaces for user comfort and safety. This product is not just stylish but sustainable too.
Safety Solutions
The expensive, delicate infrastructure required for charging points necessitates protection. To prevent damage from vehicles as they park to charge, or even vandalism, a physical barrier between the car and charger is the ideal solution. For this, bollards are a highly viable solution, particularly Flexible Rebound Bollards.
Glasdon flexible rebound bollards are tested and proven to withstand vehicle impacts or nudges. Manufactured using materials such as highly resilient Impactapol® material, our flexible bollards offer excellent recovery performance even after repeated impacts. Following on from a slight nudge or a drive through collision, these bollards will return to their original shape with minimal damage sustained.
See how the Glasdon Manchester™ Bollard in the image below is efficiently protecting a charging point. A low-maintenance cast iron style bollard, available as either a passively safe reboundable Impactapol® model or rigid Durapol® model. We recommend installing one bollard on either side of a single charging point to ensure maximum protection from impacts at multiple angles.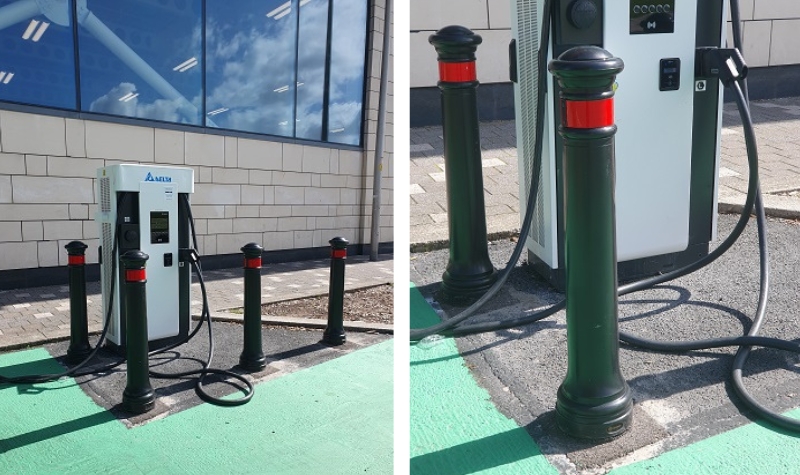 Once the point is sufficiently safeguarded, it could be advantageous to provide drivers with as much guidance as is necessary to help them use the point safely and effectively. The Infomaster™ is the ideal solution for such a matter, a sign-carrying bollard with a large rectangular face and narrow footprint, providing an optimum height for drivers to see the information.

These are just a few ways that can help boost the charging experience for drivers and encourage EV industry growth as a whole. If you require more information on any of the topics discussed or would like to discuss how your EV charging station can do more, please Contact Us and talk to our team of forecourt specialists today.
References
*https://www.zap-map.com/ev-stats/ev-market/#:~:text=How%20many%20plug%2Din%20cars,growth%20of%2020%25%20on%202021.
*https://www.autoexpress.co.uk/news/361015/uk-ban-petrol-and-diesel-car-sales-postponed-2035
*https://www.zap-map.com/ev-stats/how-many-charging-points#:~:text=How%20many%20public%20charging%20points,charging%20devices%20since%20June%20202