We are passionate about our environment and are committed to continuously improving our environmental performance. We continue to integrate sustainable and ethical practices into our day-to-day activities and aim to be an economically, environmentally and socially responsible member of the local and global community.
We strive to ensure compliance with existing and future legislation and satisfy any other applicable initiatives or statutory requirements to which the Company subscribes including ISO 14001:2015, the internationally recognised Environmental Management System. We also received a Gold EcoVadis rating in 2022 for our sustainability efforts, a rating which covers various non-financial management systems including Environmental impacts, Labour & Human Rights, Ethics and Sustainable Procurement.

In 2021, Glasdon were pleased to announce that as a Company we have committed to reaching Net Zero by 2035 (with Scope 1 and 2* to be achieved by 2025).
Our journey to Net Zero impacts on all areas of our Business, including premises, supply chain , business processes, distribution and more. We have invested and will continue to invest considerable resources into understanding our impact on the environment and how we can better this. We have established a Board level project team to map out a clear route of how to get there, as well as dedicated project teams to include employees from across the Company.
We have made many improvements over the years to improve our environmental accountability as can be seen from our Responsible Business journey so far, from integrating sustainable practices into our day-to-day working practices to using recycled and recyclable materials in our product ranges.
We are continuing to work alongside our employees, customers, and suppliers to ensure that Glasdon leads the way in seizing every opportunity to drive down emissions and to hit our goal of reaching Net Zero by 2035.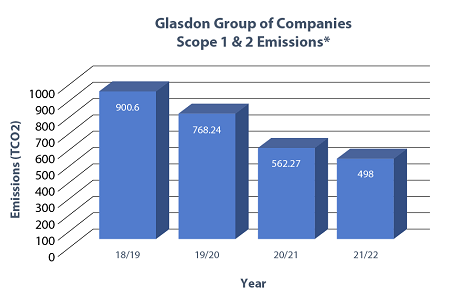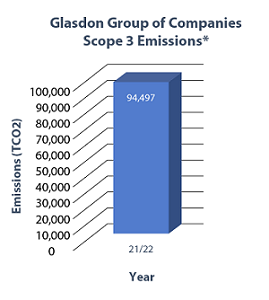 As a market leader in our field, we understand the responsibility we have to improve our environmental and social impact, and our Net Zero goals are a huge factor towards achieving this. We have work to do to reach Net Zero, but with the right dedication and experience we are confident that we will hit our 2035 target. We welcome the challenge and look forward to sharing our responsible business journey along the way!
Glasdon Group Founder and Chairman, Donald J Sidebottom MBE, FCIHT.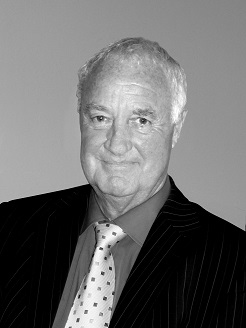 In addition to pledging to reach Net Zero by 2035, we are always looking for more ways we can invest in our environment for the future. That's why we have committed to planting at least one tree for every user who signs up to receive our newsletter, live chats with us online or requests a product quote. We have started our own forest in partnership with Ecologi and the Eden Reforestation project, an initiative which helps not only the environment, but local communities too.
View our profile where you can keep track of our tree-planting activities, and if you haven't already why not subscribe to our newsletter today to help keep our forest growing!
*The Green House Gas Protocol Corporate Standard classifies a company's GHG emissions into three 'scopes'. Scope 1 emissions are direct emissions from owned or controlled sources. Scope 2 emissions are indirect emissions from the generation of purchased energy.
The core goal of Glasdon Group Limited is to provide quality products which improve public spaces, enhance water and road safety and protect the environment. The products help communities, businesses, schools and our other customers to practice sustainability.
Recycled and Recyclable Materials
Where possible, Glasdon products are designed using recycled and recyclable materials. Continual research into new sustainable technologies and manufacturing processes allow the company to achieve this.
The recycled content in our products varies depending on the type of material and choice of colour. For example, Timberpol® Material is a sustainable option, made from 95% recycled and sustainably sourced raw materials, whereas most of our products manufactured from Enviropol® Material consist of 100% recycled plastic including post-consumer polyethylene and polypropylene.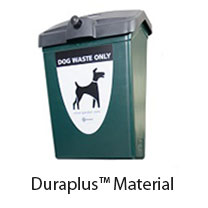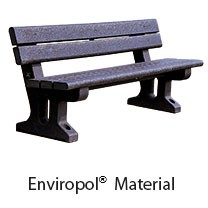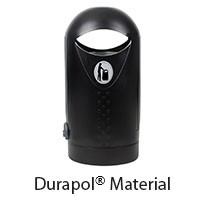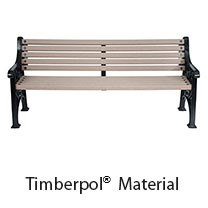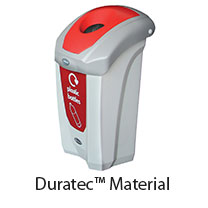 In addition to containing recycled content, we are extremely proud to say that all Glasdon products are recyclable at the end of their service life**, allowing the materials used to be put back into the economy for re-processing and reuse.
**Products are fully recyclable providing any stickers or graphics have been removed.
Product Manufacture & Supply Chain
Environmental sustainability is a key priority throughout our supply chain. We endeavour to work with suppliers who are committed to minimising their carbon footprint and have a focus on maintaining clear environmental, social and governance principles. We emphasise the importance of purchasing goods which have minimal impact on natural resources and avoid exploitation of individuals, communities and organisations.
Where materials and components are sourced from our suppliers, we focus on those that feature recycled and recyclable content and are made from renewable resources. Conservation of water and non-renewable sources, as well as the use of non-toxic chemicals are also key considerations.
As part of our plans to achieve Net Zero by 2035, transportation and logistics assessments are a necessity when choosing suppliers.
We are proud to say that the majority of our product components are of UK origin, where most of our products are then manufactured and assembled. We plan to increase this wherever possible in order to keep our carbon footprint at a minimum.
Find out more about ethical considerations within our supply chain.
Our product manufacturing process is overseen by a team of dedicated specialists who aim to put our products together in the most efficient and sustainable way possible. We work quickly and effectively to a high standard, ensuring that we achieve exceptional quality standards with minimal cost to the environment.
Longevity and Product Quality
We strive to ensure our products will withstand the test of time, offering not only longevity and value for money, but a reduction in the need to frequently replace end-of-life products.
Rigorous testing and quality assurance control throughout the product manufacturing process ensures we maintain optimal performance standards for all of our products. Properties such as vandal and weather resistance and low maintenance designs allow these products to fulfil their long service life in any conditions. This not only saves costs for our customers long term, but it also benefits the environment by reducing the frequency of products being sent to landfill or for re-processing.
Learn more about how we test and assure the quality of our products or check out the video below.
Product Innovation
Glasdon invest in product innovation for the future. When designing new products, sustainability is considered a top priority throughout the product lifecycle. We aim to produce products which not only increase safety and quality for users, but also help to improve the environmental impact of our customers.
Find out more about our product design process.
Electrical products such as the Rebound Signmaster™ Illuminated Bollards range all utilise reduced energy consumption from low wattage LEDs. These energy efficient LEDs represent a reduction in power consumption of 89% compared with fluorescent lamp technology.
Longer service life and quality is also important, which is why the Glasdon Lumino Street Lighting range offers a minimum of 50,000 hours of light. This eliminates the need for frequent maintenance visits, resulting in energy and carbon savings for local councils and our other customers.
Solar Energy Boost
Glasdon House, home to both Glasdon Group Limited and the DJ Sidebottom / Glasdon Charitable Programme, underwent an energy renovation in January 2016. We installed a 30kWp solar PV system comprising of 120 roof solar panels and generating around 25,000 kWh of electricity per year. Since the installation of the system the amount of electricity the building has imported from the national grid has reduced by approximately 40%. The surplus renewable electricity produced by the solar panels is exported directly back into the national grid.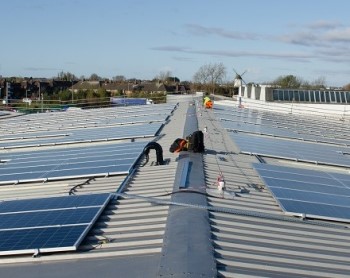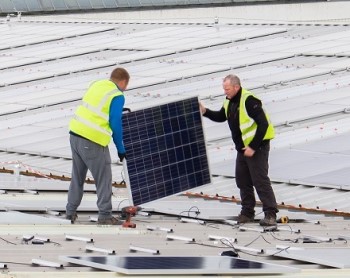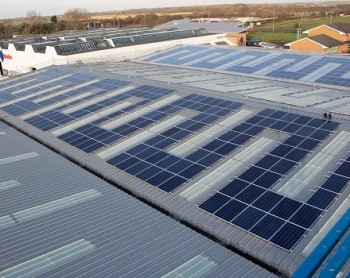 In August 2018 we completed a 21,000ft2 extension to Glasdon UK Limited Warehouse 3. Included on the new production and storage facility was a 157kWp solar PV system consisting of 584 solar panels each rated at 270kW.
In November 2019 a further 666 solar panels were installed onto the roof of Warehouse 3, controlled by the latest SolarEdge inverters. This gave us an additional 180kWp of solar panels and increased the total on the building to 337kWp.
Since solar panels were first installed at Glasdon, they have generated around 1,250,000 kWh of electricity saving around 886 tonnes of CO2 emissions being released into the environment. Every year the panels are generating around 402,300 kWh of electricity saving about 85 tonnes of CO2 emissions. Overall Glasdon use around 50% of the electricity produced from the solar PV systems and the other 50% is sent back into the national grid for others to use.

Improved Efficiency With Air Source Heat Pumps
The Glasdon Innovation and Export Centre, which won a "Blackpool Civic Trust Design in Excellence Award", was built using high quality solar glazing and utilises highly efficient air source heat pumps for the heating and cooling of the building. Excess heat generated within the building is also used to heat the hot water supply. The building was constructed to be 30% more efficient than the current Air Leakage Standards and has also been tested and shown to have an energy rating that is 20% lower than the industry standard for office buildings.
In line with our Net Zero goals, the Glasdon company travel plan encourages employees to take part in video or telephone conferencing where possible, rather than visiting suppliers and customers. We also put an emphasis on online materials such as downloadable brochures, customer presentations and our website to aid us when teleconferencing with customers. A cycle2work scheme where employees can receive a discount on bicycles also encourages employees to cycle to work.
We provide appropriate environmental training and information for our employees, helping to develop technical and personal skills whilst encouraging them to apply good practice. We continue to reduce our paper waste by emphasising the use of email rather than postal communication and we discourage printing. Our waste management process focuses on the system of 'reduce, reuse, recycle' and our offices and company grounds utilise Glasdon recycling stations.
Driving the Switch to Electric
Glasdon have pledged to upgrade all company-owned vehicles to be either hybrid or electric, with our first fully electric car having been acquired in 2020. Electric cars produce significantly less CO2 than petrol cars, contributing to reductions in air pollutants and exhaust emissions.
We have also committed to installing additional dedicated electric vehicle charging points on all Glasdon sites. We've already begun the process at our Blackpool site where a number of EV charging points have been installed.