December 2015 was officially the wettest month ever on record in the UK* leading to pooling water becoming a more familiar sight on rural roads up and down the country.
Glasdon UK launched the Drainagemaster™ Drainage Grip in March 2011 following extensive research which highlighted the numerous problems associated with water pooling on the road surface.

Help to Prevent the Dangers of Pooling Water
John Cookson, Customer Support Manager at Glasdon said:
"Pooling water can cause treacherous driving conditions. Even more serious is when pooling water freezes and black ice is created which is extremely dangerous for motorists.
"The Drainagemaster is a low cost effective offlet solution which helps to prevent the dangerous pooling of water and helps to remove the aquaplaning hazards which can often increase the risk of accidents."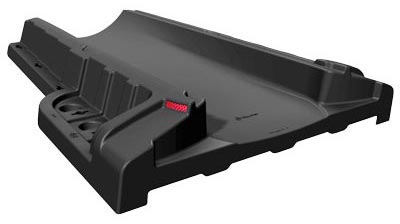 Reduce Costly Road Maintenance
Not only is pooling water dangerous to road users, but the standing water can penetrate the road structure and cause severe damage, particularly on rural roads where there are generally fewer drains.
In freezing conditions ice is created and expands creating cracks and pot holes in the road surface. Pot holes can create a major hazard and are very time consuming and costly to repair.
The
Drainagemaster
is a lightweight, moulded highway drainage product that offers a more efficient solution to draining water from the roads surface.
In rural areas, pooling water runs off the road surface into ditches that run parallel with the road via channels dug into the verges.
These channels are very easily and quickly clogged up by leaves, grass etc and just a car tyre driving over the grip can cause it to collapse and render it ineffective.
Often very difficult to find, the channels are costly to repair and maintain as a mechanical digger is required to re-excavate the channel.
Other alternative channels made from concrete are also costly and time consuming to install.

The Drainagemaster can be easily and quickly installed into grass verges to create a 'grip' without the need for any mechanical equipment. Install in just 15 minutes by one person.
External side shelves allow backfilling with soil to provide anchorage and promote grass growth. Anchor pegs are also supplied to create a very secure installation.
Once installed, the Drainagemaster efficiently drains surface water from the carriageway and its smooth channel helps prevent blockages and clogging.
The very robust moulding has been tested to withstand a drive over by a 3 tonne tractor and maintain performance where standard 'grips' would be rendered ineffective.
Quality by Design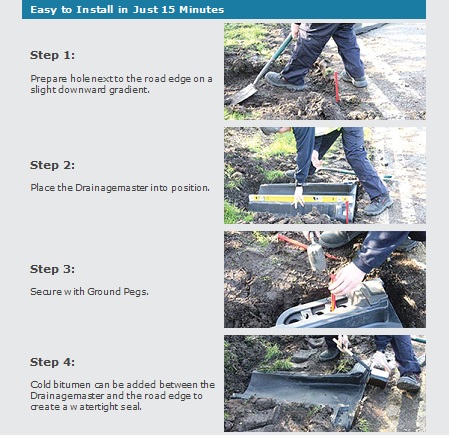 Road safety as the unit removes hazardous standing water from the road surface.
Reduces risk of aquaplaning.
Cost saving as less road maintenance is required.
Robust side ridges allow vehicles to drive over the unit without damage.
Quick and easy to install by one person within 15 minutes (no mechanical equipment required).
Requires minimal maintenance - the wide, smooth surface discourages debris build-up.
Quick to install preventing costly road closures and congestion.
Easy to locate with reflective patches available giving time and cost savings to maintenance teams.
For more insight into the innovation behind the Drainagemaster:
Talk to us now via our Live Chat feature at the bottom of this page.
Alternatively call us on 01253 600411 or email us.
Pooling water becoming a more familiar sight on rural roads up and down the country.
Thursday, January 21, 2016