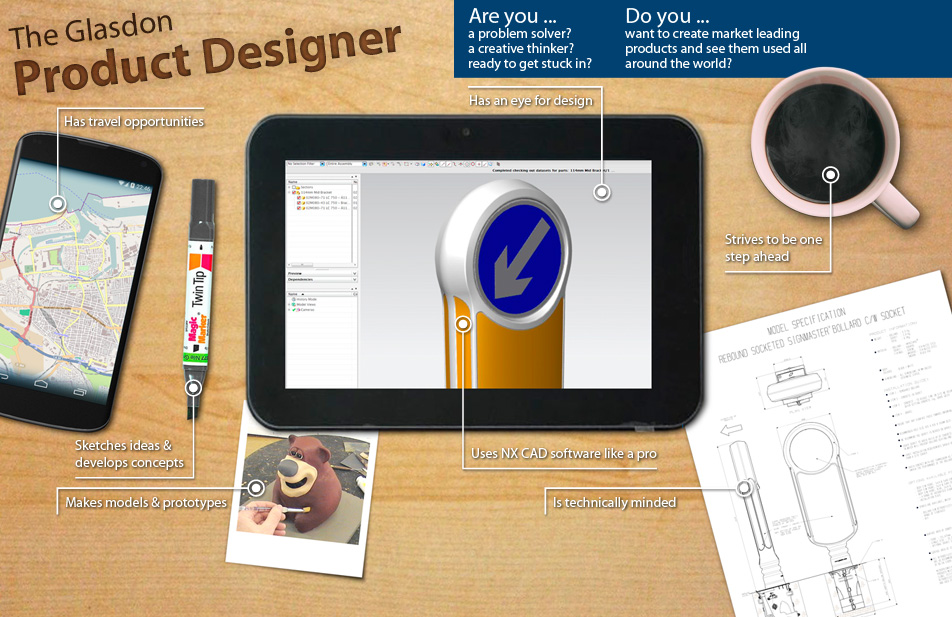 Are you looking for an exciting, challenging and rewarding long-term career opportunity?
Do you have what it takes to succeed as an innovative and creative Product Designer?
The Glasdon Group is a market leader in the design, marketing and supply of environmental and safety products including street furniture, recycling products, road safety equipment, winter safety products, water safety products, cycle shelters and modular buildings.
Our success at designing innovative new products is attributable to our commitment to excellent Research, Development and Product Design. To ensure ongoing portfolio expansion, we are looking for an innovative and professional Product Designer to help develop the next generation of bestselling products.
If you have a genuine desire to succeed and wish to join a progressive company, with excellent opportunities and benefits then look no further!
Responsibilities
Develop your ideas from concept to production.
Sketch ideas and develop concepts.
Create models and prototypes.
Conduct market research, visit clients, and gather feedback.
Use all manufacturing processes.
View and review tooling trials with potential for overseas travel.
Quality test new products.
Work individually and as part of a wider team to establish your products across the globe.
Key Facts
Title: Product Designer
Hours: Monday to Friday, 9.00am to 5.00pm.
Location: Blackpool, Lancashire
Driving Licence: Essential
Full Time Permanent Position
The Glasdon Group Limited is an equal opportunities employer.
What we can offer you:
A competitive commencing salary.
33 days paid holiday.
A comprehensive training programme.
Company final salary pension scheme after a minimum of two year's service.
Life insurance after a minimum of two year's service.
Pension through NEST within 3 months of start date.
Cycle to Work scheme.
Long service awards.
Private health insurance scheme after a minimum of one year's service.
Cashback plan for dental care, eyecare, prescriptions, physiotherapy and more.
Subsidised on-site Café / social space.
Dress Down Friday.
Free on-site parking.
Team building days.
Paid charity days and Company events.
Ideal Candidate
Have a design related degree (minimum 2.1 classification).
Ideally 3-5 years' work experience.
Creative, innovative, and forward thinking.
Proficiency with CAD software (Solidworks)
Technically minded.
Product Design or Industrial Design experience.
Practical, with the ability to create models and prototypes.
Be organised, self-motivated, pro-active and the ability to multi-task.
An effective team worker.
You may also have experience in;
Product Design, CAD, Solidworks, Drawing, Sketching, Concepts, Engineering, Production, Software, Organisation, 3D Printing, FDM, Research and Development (R&D), Innovation, Creative Thinking, Manufacturing, Model Making, Product Development, Environmental Products, Recycling, Safety, Workshop Tools, Prototyping, Testing, Fabrications, Injection Moulding, Rotational Moulding, Casting, Tooling, Pressing, Processes, Project Management