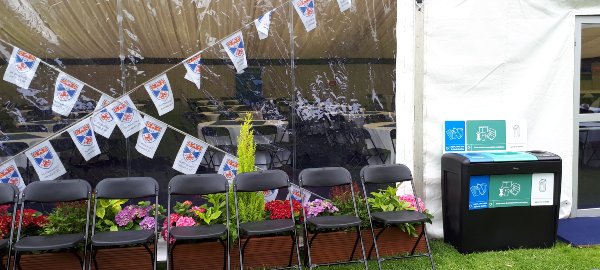 St Andrews is a university nestled on the east coast of Scotland with a world-class reputation. Founded in 1413, it is the oldest of four ancient universities in Scotland, and the third-oldest university in the United Kingdom and English-speaking world.
The university offers 900 degree courses which are organised across four facilities: Arts, Divinity, Medicine and Science, as well as offering a diverse range of social activities, including over 140 student societies and 50 sports clubs.
Boasting a number of architectural styles, the Fife university has historic buildings that are juxtaposed against modern facilities, and the town is home to many architectural landmarks.
The
University of St Andrews
also embraces sustainability, fully integrating sustainable development across all its operations with a mission to be recognised as an institution that leads by example, actively implementing initiatives that help achieve a more sustainable society.
As part of their sustainability efforts, they needed a sustainable waste solution at their Graduation ceremony.
Our Nexus® Evolution Recycling Stations were selected and utilised at their June graduation ceremony.
Gemma McNicoll-Brown, the university's Event Operations Delivered Catering Assistant Manager, praised the Nexus Evolution recycling bins and was delighted with their style, ease of emptying and their graphics, commenting that they are 'going down a storm'.
Situated at the ceremony, the Nexus Evolution Trio Recycling Bins were customised to the university's specification to collect a variety of recyclable waste.
They had chosen the bin in black, with the first 40L aperture selected for collecting recyclables such as paper, card, cans and plastic bottles. The middle aperture which can collect up to 80L of waste, was dedicated for the collection of food waste and compostable packaging, and the right-side aperture was selected to collect 40L of general waste.
They also purchased the bins complete with a sign kit to highlight the intended use of the recycling bins and to draw attention to the location of the bins in a busy area.
Key Features of the Nexus Evolution Recycling Bins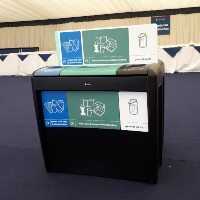 Entirely customisable with unrivalled flexibility.
Choose from a multitude of colours, sizes, configurations and apertures.
160L capacity available in 80L and 40L aperture panels.
Narrow-footprint for space saving.
Large graphic and personalisation area.
Bungee sack retention system.
Connected or free pivoting aperture panels.
Pivoting lid with stay.
Approachable from the front and rear.


Find out more
For more information contact us via LiveChat at the bottom of the page, or talk to a member of the Glasdon team today on (01253) 600410!
Tuesday, December 3, 2019