When Yankee Candle™ Europe moved their operation into new headquarters in 2012, a different approach to office accommodation in the new warehouses was required.
Four years on, the Glasdon Warrior™ modular building system continues to be the right fit.
The story of the world's best loved candle began in the U.S.A. in 1969, when seventeen year old Mike Kitteredge melted down some wax crayons to create a special Christmas candle gift for his Mother.
A neighbour saw Mike's gift and convinced him to sell it to her. He then had enough money to buy wax for two new candles, one for his Mother and another one to sell.
And so the Yankee Candle™ was created.
Expansion into Europe followed 30 years later with the first distribution centre opening in Bristol in 1999.*
Today the global brand serves over 2000 stockists, retailers, outlets, concessions and customers across the UK, Europe and Asia alone.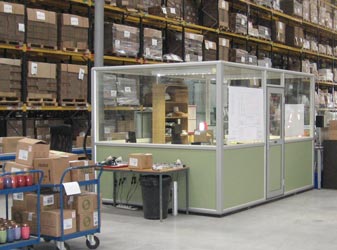 Yankee Candle™ Europe Ltd moved into new headquarters in Avonmouth, Bristol in 2012. The 170,000 sq ft premises were purpose built for warehousing and distribution and the company required an internal office solution for their supervising personnel.
Jon Clarke, Technical Support Manager for Glasdon UK explains:
"The Yankee Candle™ team were keen to provide comfortable and workable office space in their new warehouse premises at the headquarters.
"We assisted the operational team in finding an accommodation solution and the Warrior™ building's versatile modular system features and contemporary design perfectly met the company's requirements."
Following the initial installation in 2012, Glasdon supplied a further three Warrior buildings in 2014, of which two were to be used as offices and one as an office and meeting room.
To make best use of the space available, one was located next to the original on the ground floor and the other two were placed directly on top on a bespoke elevated platform.

The Warrior™ Building System Features
The Glasdon Warrior contemporary modular building is a versatile and cost-effective solution to internal and external accommodation.
It offers many flexible design features and can be designed and constructed to individual specifications up to 2.44m wide and 7.32m long.
Design features of the Warrior modular building system include:
Long term durability and minimal on-going maintenance.

The wall panels are manufactured with a tough plastic-coated steel exterior and held within a robust aluminium framework.

Choice of colours and combinations

available to achieve corporate themes

Wide range of panels and panel combinations

e.g. with and without glazing, single and double doors, roller shutters and more. Panels are 1.22m and 2.44m wide.

Roof options:

Pitched GRP roof (external) or flat fully insulated and covered composite roof (internal/undercover)

Rainwater management

with the pitched GRP roof

Attractive interiors

Range of optional interior and exterior fittings and features

e.g. External security shutters, double glazing, internal partitioning, laminated internal surfaces, electrical installation

Can be manufactured in other shapes

e.g. Octagonal
They are relocatable should your circumstances change in the future
External and internal applications of the Warrior system include security buildings, factory offices, toll booths, information kiosks, ticket sales kiosks and passport control checkpoints.
Quality Service by Design
Glasdon offer over 40 years experience of designing and manufacturing modular buildings and equipment housings for a wide selection of internal and external applications.
From initial enquiry, our Technical Support Team will be available for site visits to confirm all technical requirements and produce a sketch plan form with panel and optional features.
During the final design and build process, your dedicated Technical Support Manager will keep you informed throughout.
Delivery and Installation
Warrior buildings can be delivered within approximately 6 – 8 weeks depending on specification.
To keep installation time to a minimum and avoid major site disturbance, Warrior buildings are normally transported in fully assembled form and off-loaded by crane.
Talk to us today
If you would like more information or require advise, don't hesitate to use our Live Chat feature at the bottom of this page or contact our Technical Support Advisor Chris on 01253 600418 or via the online enquiry form.
*Source:
www.yankeecandle.co.uk