Lifebuoys (or life saving rings) for water safety are available in two standard sizes – 24" or 30" diameters. These lifebuoys are suitable for use in any location where large areas of water may pose a danger such as beaches, lakesides, swimming pools, harbours and water treatment plants.
Glasdon lifebuoys are fully compliant with Chapter III standards for life-saving devices, as per the Life-saving Appliance (LSA) code (SOLAS, 1974).
One question we are often asked is "What size lifebuoy do I need?"
To help you answer this question and choose the most suitable solution for your location, we've explored the advantages and considerations for both lifebuoy sizes.
There are three factors to consider when choosing life saving devices for water safety:
How far and accurately can the product be thrown?
How easy is it to carry the product for long distances before deployment, if necessary?
How much buoyancy does the lifebuoy offer when in use?
24" Diameter Lifebuoy 600
The external diameter of 24" ring measures 605mm and it weighs 2.7kg.
This lightweight design makes it easy to carry across distances, although we do recommend siting the rings at regular intervals near bodies of water to reduce response time.
Thanks to its smaller structure, the 24" lifebuoy can cover a large throwing distance of up to 10 – 15 metres.
This ease of deployment means it is ideally suited for rivers, lakes and shelving beaches where the lifebuoy needs to be thrown.
Although it may be small, the 24" life ring provides enough buoyancy to support a single rescuee in the water for some time.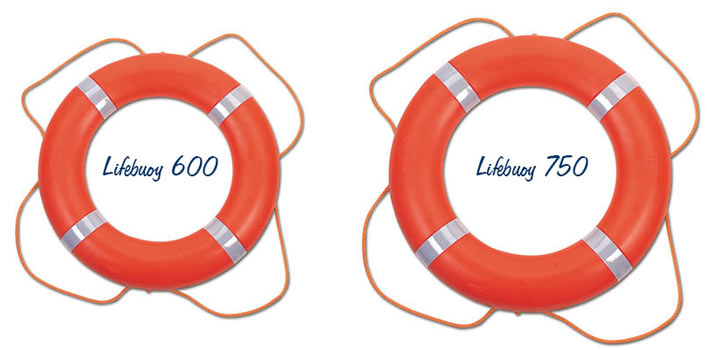 30" Diameter Lifebuoy 750
The larger 30" ring (710mm external diameter) has a more limited throwing range.
As a result, this lifebuoy should ideally be used in areas where there is a vertical drop to the water.
Sites for the 30" lifebuoy may include piers, harbour walls, reservoirs or from on board a boat.
The larger size of the 30" ring provides the additional advantage of improved buoyancy and it should be able to support multiple rescuees at one time.
Other Useful Features
Both the 24" and 30" life rings are brightly coloured and feature retro-reflective bands to increase the lifebuoy's visibility, aiding recovery during low light or night time conditions.
The international orange colour and retro-reflective bands meet SOLAS 74/83 regulations, ensuring they comply with safety standards for water safety equipment.
Constructed in tough polyethylene, which offers durability in the most adverse of conditions, Glasdon lifebuoys are hard-wearing, low maintenance and long lasting.
The life rings are also supplied with a 30m long (8mm diameter) throw line.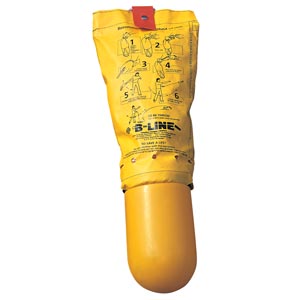 Alternative water safety devices: B-Line™ Throwing and Rescue Buoy
The B-Line throw line rescue buoy is a lightweight water rescue device designed to be thrown further and more accurately to the victim. The B-Line can be thrown to up to 30m and provides the victim with enough buoyancy to be carefully reeled back to shore using the 31m rope. This helps to reduce panic and allowing regular breathing to recommence.
Storing your Water Rescue Devices
Glasdon also provide robust housings for the safe storage of vital water safety equipment.
Guardian™ Lifebuoy Housings are manufactured from corrosion resistant Durapol™, which makes them weather and vandal resistant.

Also available in two sizes, the Guardian 600 can accommodate the 24" lifebuoy or up to two B-Line throwing buoys.
The versatile Guardian 750 can hold up to two B-Line™ throwing buoys or one 30" lifebuoy or a 24" lifebuoy.
The Guardian Lifebuoy Housing features the innovative Ropemaster™ Quick Release Rope Management System which allows the ring and rope to be quickly removed together with one hand, saving valuable seconds during rescue attempts. The usage indicator on the housing also lets you see if the housing has been opened, allowing for quick and easy inspection.
A variety of fixing options are available for the lifebuoy housing, so it can be securely placed in the most suitable location.
Download our step-by-step Buyers Guide to specifying Guardian Lifebuoy Housing below.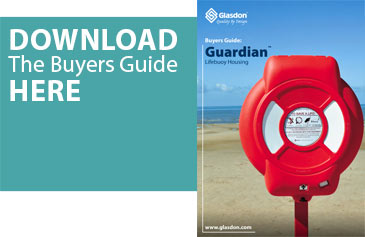 Find out more about the Glasdon range of water safety equipment.
Alternatively, please contact us or chat to us on LiveChat now!
Wednesday, August 9, 2017