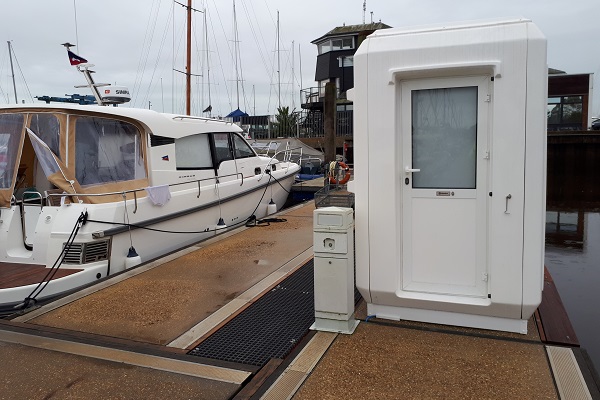 Suitable for a large variety of outdoor applications, the Genesis™ GRP 2.3 x 1.5m Kiosk is a glass reinforced plastic building often used for ticket and information points, security housing and toll booths. Available in six standard models, the Genesis range offers convenience and comfort for all requirements.
Established in 2001, Solent Rib Charter own Europe's largest fleet of Ribs. The market leading provider of Rib Hire, Commercial Rib Charter, Bareboat Rib Hire and Rib Charter, the company supplies charter services for corporate events and private charters throughout the UK and Europe.*
Based in Lymington, Hampshire, Solent Rib Charter required a versatile and weather resistant portable building solution to house equipment.
A Genesis™ GRP 2.3 x 1.5m Kiosk was selected to successfully meet their specification.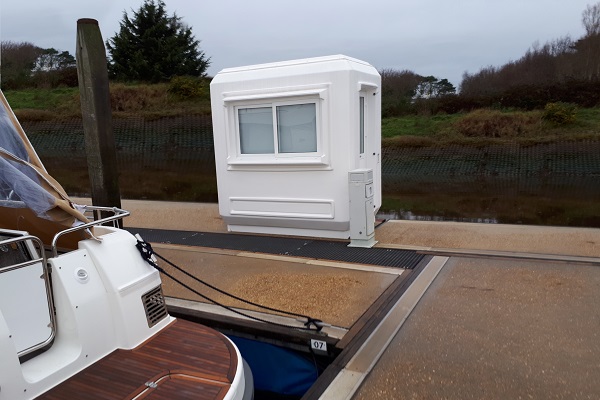 The ideal solution for outdoor applications, the robust, sturdy and adaptable Genesis GRP Kiosk features a galvanised subframe for weather resistance and insulated panels and roof to maintain heat.
Richard Ward, Director of Solent Rib Charter, commented on how delighted he was with the Genesis:
"The quality of the product was excellent, and the service from enquiry to visit, to the communication over delivery and our overall expediency was also excellent."
The Genesis Kiosks offer a cost-effective range of buildings without compromising the quality customers associate with the Glasdon name. Fitted with fully flame-retardant white panels as standard and a selection of optional extras to increase comfort, the Genesis Kiosks are a low-maintenance and affordable alternative to housing that offers personalisation if required for brand and information exposure.
Key features of the Genesis
High quality internal finish – aesthetics and maintenance.
Galvanised frame and ground fixing plates.
Built-in forklift points to aid in transporting.
Extremely flexible range of external graphic options.
Delivered pre-assembled ready for easy off-loading and base fixing.
For more information, see our Complete Guide to Genesis GRP Kiosks.
References
*https://www.solentribcharter.co.uk/
Wednesday, February 2, 2022