The Genesis™ GRP Kiosks offer the ideal focal point for visitors seeking beach wardens.
Robust, sturdy, and adaptable, the Genesis GRP Kiosks are suitable for various outdoor applications, including ticket and information points, security checkpoints and sentry posts. Insulated and weather-resistant, the kiosks are a low-maintenance and affordable housing solution.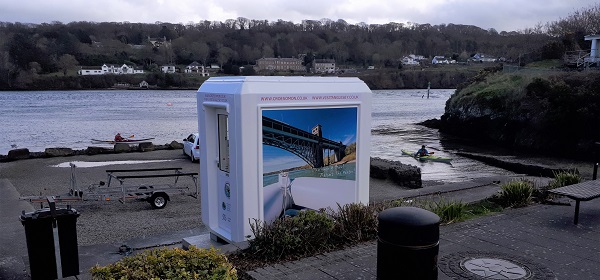 Following on from a previous delivery of Genesis Kiosks in 2017, Anglesey County Council returned to Glasdon for a further two warden housings. Pleased with the durability and weather resistance of the Genesis GRP 2.3 x 1.5m Kiosk, choosing a housing option was easy, and two Genesis Kiosks were selected to meet their needs.
Known for being one of the best slipways in Anglesey for launching watercraft, Porth Y Wrach slipway in Menai Bridge is a popular paradise for water sports. Accessible virtually 24/7, the slipway is a common destination for residents and visitors alike and, with the addition of a Genesis GRP Kiosk, provides access to wardens for information and guidance.
Located beside Porth Y Wrach slipway, the kiosk creates an accessible and durable visitor and information point. Fitted with double-glazed windows, a galvanised subframe and flame retardant panels as standard, the Genesis GRP Kiosk will withstand adverse weather while providing users with comfort regardless of the weather.
During the off-season, built-in forklift points enable the kiosks to be transported to warehouses for storage or repurposed elsewhere until required again.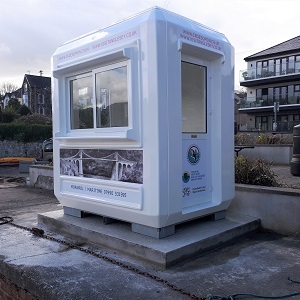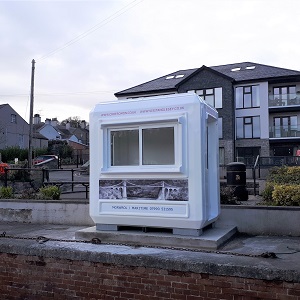 Fitting custom imagery to the kiosk, Anglesey County Council adapted their warden housing to promote local scenery and important contact information. A friendly 'Respect The Water' message is also a prominent panel feature, reminding visitors and residents to clean up after themselves and maintain awareness of their surroundings and safety when out on the water.
The Genesis GRP 2.3 x 1.5m Kiosk is also available as a double sliding window model.
Key Features and Benefits
Glass Reinforced Plastic – a robust and sturdy material that creates a strong and long-lasting building solution.
Built-In Forklift Points – allow portability between locations.
Low Cost – a competitive price creates a cost-effective solution without compromising on quality.
Reduced Lead Times – allow for quicker delivery.
Double-Glazed Windows and Galvanised Subframe – offers weather resistance.
Fully Flame-Retardant Panels – protect the kiosk from fire damage.
Versatility – provides a building option for all requirements.
Five Standard Models Available – protects against vandalism.
Personalisation Available – allows organisations and businesses to highlight important messages, increase brand visibility and promote activities and scenery.
Typical Applications:
Cash Ticket Kiosk.
Security Checkpoints.
Cark Park Kiosks.
Sentry Posts.
Warden Housing.
Toll Booths.
Information Points.