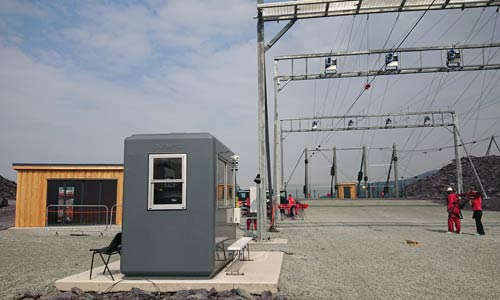 Zip World, Penrhyn Quarry located near Bethesda in North Wales is home to the fastest zip line in the world and the longest in Europe.
Opened in 2013 with the Zip World Velocity zip line, this adrenalin packed attraction has grown rapidly over the last few years and now offers the Titan a 4 person zip wire, giant trampolines in the Bounce Below underground caverns, and tree top climbing activities in the Zip World Fforest.
Perfect for thrill seekers, you can soar for over a mile at 100mph over the breathtaking landscapes and with views of Anglesey and the Isle of Man coastlines beyond.
With health and safety of paramount importance and the attraction's exposed location, the team required a strong, resilient and versatile portable building solution to house the control systems of the #Velocity2 zip line.
Another important consideration had to be the external design of the building and how this would blend well in the quarry's surroundings.
Glasdon successfully met this specification and a modular GRP building system was selected as a control systems cabin for the Velocity 2.
Glasdon GRP kiosks are versatile, durable and renowned for superior design.
Already tested by the storms over the recent Winter, the Kiosk proved its strength and robust construction remaining unmoved by the severe weather conditions due to its tough and durable GRP panels.
Its Glassfibre Reinforced Polyester (GRP) construction along with a smooth semi-gloss external surface ensures it maintains a smart appearance over many years.
The external walls and roof can be supplied in a wide range of colours on some models (at additional cost), to match surroundings or your corporate identity.

A wide choice of optional internal features are also available including lighting, heating, glazing and ventilation.
At the forefront of modular building technology and with a prestigious lineage (the original Glasdon GRP kiosk with its revolutionary design was selected for the Olympic Games twice!). Glasdon GRP Kiosks remain a firm favourite for applications across all sectors.
Typical applications for GRP kiosks include:
Ticket Kiosk
Security Posts
Modular Toll Booths
Car Park Kiosks
Check-in Booths
Learn more about Glasdon GRP Kiosks.
If you are interested in more information on our range of modular buildings and equipment housings, talk to one of our friendly advisors via Live Chat at the bottom of this page or alternatively contact us.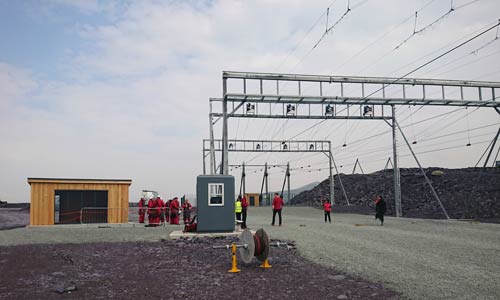 Updated: 28.11.18