Today's design brief for any modern communal facility will undoubtedly feature designated space for waste and recycling containers or multi-stream stations. However, if space is at a premium or the design and layout requires a more subtle, blended alternative, you may wish to consider an integrated solution to waste management.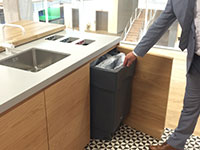 Designed to be concealed under counters and inside floor level cabinets, the Nexus Caddy is a 120 litre, wheeled waste collection and recycling unit.


Inside the Caddy, the flexible sack retention system enables the internal capacity to be divided into 2 or 3 individual collection streams, ensuring waste can be segregated to follow recycling programmes and improve the quality of the recycled materials through reduced contamination.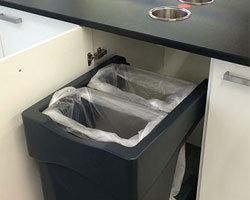 For total integration of the unit and second-nature recycling in the area of food and drink preparation or consumption, place subtly labelled apertures into the worktop above the unit. The standard size kick board recess around the base allows seamless concealment behind cupboard doors.
Day to day operation of the Nexus Caddy is also smooth.
The moulded-in handle and non-marking rubber wheels allow for easy roll out so operatives can safely remove sacks from the side or rear of the unit.
The sack retention system uses pivoting steel bands to hold the sacks in place securely and allow quick and easy removal and replacement.


The base of the unit also features an integrated drip tray with v-shaped pouring funnel for collection of any spillage or drips from the sacks and easy cleaning.
Talk to us about your requirements today via Live Chat at the bottom of this page or alternatively Contact Us.
The Nexus® Caddy was launched following a customer-led product development. Find out more about our Customer Driven Projects.