The Heritage Traditional Modular GRP Building System enrols for the start of a new academic year at Queen's University of Belfast (QUB)
The Heritage Traditional Modular GRP Building System was the ideal choice in security for this educational institute with a distinguished history spanning over 175 years. This new addition to the University grounds will simultaneously capture the antiquity and preserve the ethos of such a cultural site.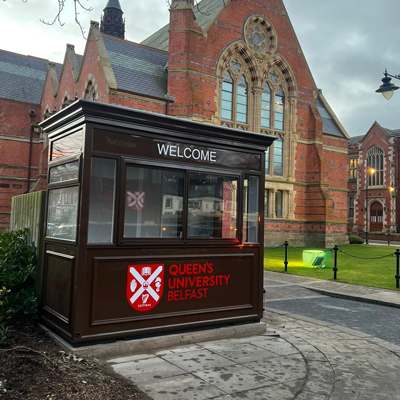 Education, Research and Society
Founded in 1845, Queen's University of Belfast is a leading public research university in the heart of the capital of Northern Ireland.
Looking into the future, the University's 'Strategy 2030' sets out how they will aim to embed the UN's Sustainable Development Goals across all their activities over the next ten years to Shape A Better World through life-changing education and research. Their vision is to be a global research-intensive university that generates internationally leading research with outstanding teaching and learning, focused on the needs of our society, locally and globally.
A+ Design
Our friends at the university reached out to replace their ageing security kiosks, and following valuable discussions with our Buildings & Housing department, the decision was made to purchase two 2.44 x 1.22m Heritage Security Kiosks for designated entrances to the campus.
The Heritage Building System features a traditionally styled semi-gloss GRP (glass reinforced polyester) gutter and fascia above powder coated aluminium framework, which contains the GRP faced wall panels with a moulded Heritage relief detail that enhances the traditional effect. The roof fascia, framework and panels are colour matched alongside the aluminium framed windows and door, which provide excellent outward visibility for the security guards within. The units were delivered fully assembled and then carefully offloaded using a vehicle mounted crane into their respective positions below overhanging tree canopies.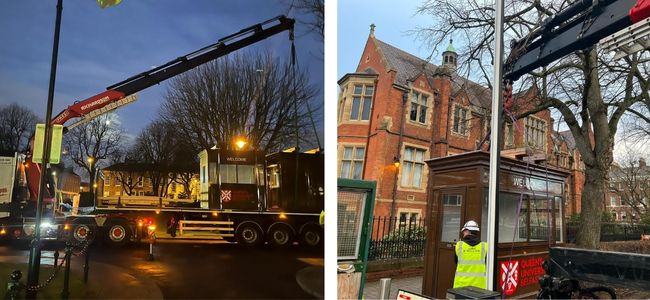 Heritage GRP Buildings are available in a range of standard and non-standard colours, within set modular building sizes with various wall panel and glazing options, making it an adaptable and versatile product that can meet an array of applications. The tough and durable GRP external finishes, together with a corrosion resistant aluminium framework, will provide a high quality security solution to meet the safeguarding demands of the QUB site and ensure bright-minded students can safely learn for many years to come.
The Heritage Range
This range of small buildings can help to create the best first impression. With a striking appearance and a light and comfortable interior working environment, Heritage can be tailored to suit your specific requirements. Create your own security kiosk, gatehouse or toll booth with the plethora of advanced design choices available.
Design Features –
Elegant roof fascia based on a period design.
Attractive internal wall and ceiling lining provides a light and airy working environment.
Concealed rainwater management system guides run-off to ground-level corner outlets.
Optional full-width panel glazing improves site security surveillance.
Tailored to meet your individual layout in sizes from 1.22 x 1.22m to 4.88 x 2.44m.
Wide choice of optional features for lighting, heating, glazing and ventilation.
Delivered fully assembled and off-loaded by crane.
The building can be relocated at a future date if required.
External Colour Choices –
Maroon RAL 3003
Dark Green RAL 6005
Black RAL 9005
Dark Blue RAL 5003
Fully customisable, the Heritage can include custom graphics and logos. A free visualisation service is available when enquiring about personalisation, to do so, please request a quote.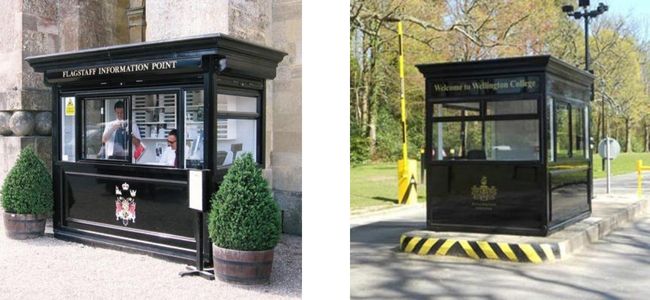 To find out more about our personalisation service, read our Guide to Personalisation and Branding.
Tuesday, February 28, 2023