A new Gateway has been helping Hartford Parish Council make a real impression on commuters travelling to and through their local community.
Centrally positioned in the county of Cheshire, the village of Hartford is bisected by the A559 to Northwich, which also connects to the busy A556 Chester Road.
Hartford is steeped in history with a record of its existence, recorded as 'Herford', in the Domesday book of 1086.*
Today the village is considered an educational hub with no less than 10 educational establishments.
This draw to the area and its geographical location inevitably brings additional traffic. In response to residents' concerns the Parish Council and a team of volunteers carried out surveys to assess the situation.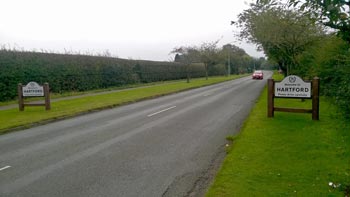 Following the assessment, councillors identified the potential for improvements to signposting and traffic calming at four main entrance routes into the village.
The smart Glasdon Village Gateway system was selected as the solution.
A Welcome Alternative
Manufactured from Everwood™ material, the Village Gateway is a versatile, low maintenance alternative to a traditional wooden gate often used to signpost the entrances and exits of towns and villages.
Everwood has a realistic wood grain effect finish that will not chip, rot or warp and will never need painting or varnishing. It has also been formulated to withstand extreme temperatures and is impact tested in our Quality Assurance Laboratory.

The Gateway is available in three different colours and with a choice of widths, heights and bar configurations, the system is easily customisable.
Add to this a wide range of signage and personalisation options, along with the option to attach existing signs, and the Gateway can be designed to create a unique and impressive focal point which informs and alerts drivers.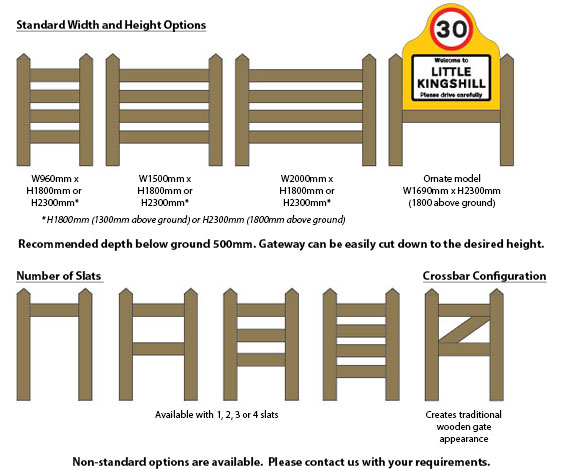 As the Gateway is so integrally strong, there is also no need for steel reinforcement poles, eliminating an additional road side danger.
Kealan Hunt, Area Manager for Glasdon UK said: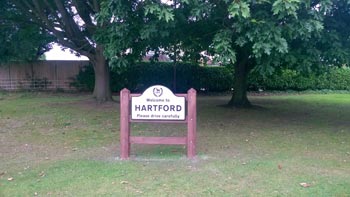 "We were delighted to assist the team at Hartford and help them achieve their objectives. The Gateway provides a highly visual demarcation which informs and reminds drivers to reduce their speed as the road changes from rural to residential."
If you would like to talk us about your Gateway requirements please use our Live Chat feature at the bottom of this page.
Alternatively you can contact us by telephone or email here.
* http://www.hartfordcivicsociety.org.uk/p/timeline.html & http://www.hartfordcivicsociety.org.uk/p/norman-hartford.html
Thursday, January 12, 2017