The tranquil Warwickshire village of Binton has implemented a new entrance to be proud of, embracing the versatility and functionality that the Glasdon Gateway has to offer.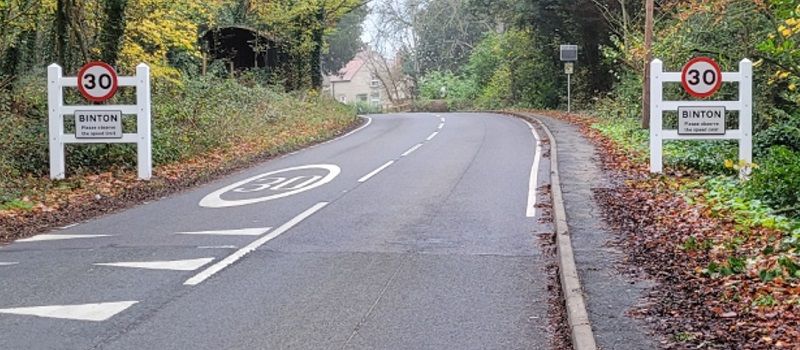 Binton is a village and civil parish located just north of the river Avon, about 5 miles west of the popular tourist destination and the birthplace of William Shakespeare, Stratford-upon-Avon, Warwickshire.
Situated on the gentle slopes of Binton Hill, this Midlands community covers 1,300 acres and recorded a population of only 311 in the 2011 census.
It is a quiet village steeped in history, dating back to the 10th century with an unusual four entries in the Domesday Book of 1086. One of the oldest structures of Binton is the village church. Whilst there has been a building on the same site since 1286, St. Peter's Church was entirely rebuilt in 1875 but still retains some of its old fittings dating back to the 15th century.
Slowing Things Down
Like many countryside villages, Binton was looking to enforce suitable traffic calming measures to ensure the speed limit was adhered to. Situated amidst a network of high-speed single carriageways, the village sees a multitude of drivers use its compact 30mph road as a popular route navigating between Warwickshire's many towns and cities.
Whilst the village had traffic calming measures already in place through traditional speed limit signs, they were starting to show their age with unsightly rust and unseeable markings. Ultimately, they were failing to slow drivers down and neither complimented what Binton represented to its proud community. This brought about the need for clear and distinguishable speed limit signs to signify the change in speed and a traditional and welcoming design to match Binton's charm.
New Gates, New Binton
After an in-depth conversation with Warwickshire County Council engineers, the best solution was the Glasdon Gateway; supplied in White and structured with 1500mm wide and 1300mm high gates and three horizontal slats. The units are complete with speed limit roundels and custom village nameplates featuring a message asking drivers to observe the speed limit. The roundels and plates have been added on both sides to instruct those entering and those leaving the village.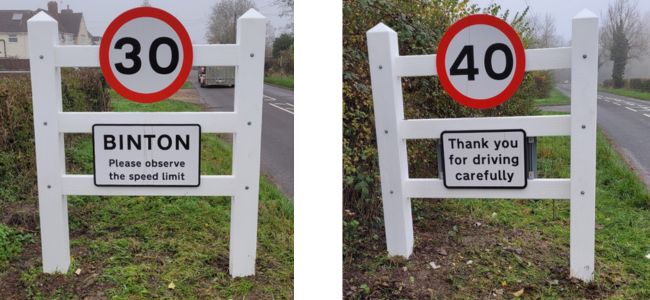 Using the Gateway in pairs is one of the most effective ways to calm traffic and enforce speed limits. In tandem with legible painted road markings such as Dragon's teeth, the Gateways seen below become an instantly noticeable feature to alert passing drivers.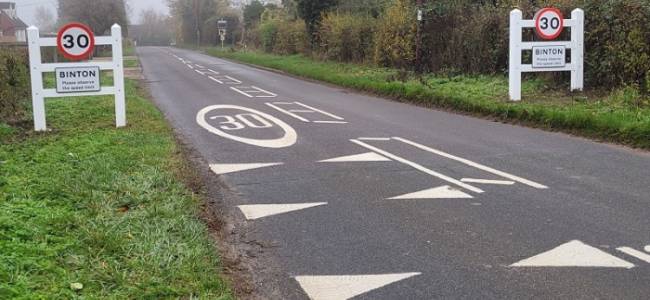 We look forward to seeing how effective these new traffic calming measures will be for the community, hoping they bring a higher level of safety to its road and a picturesque welcome to the village.
Get to Know the Gateway
Manufactured from Everwood™ material, a specially formulated polymer with a realistic timber grain effect, the Glasdon Gateway is guaranteed to suit almost any rural environment.
Whilst wooden gates require regular treatment to prevent damage, the Gateway differs. Low maintenance, highly durable and weather resistant; it will not chip, rot or warp and will never need painting or varnishing; ideal for countryside villages where they will always be subject to the elements.
Did You Know? – The Glasdon Gateway can be configured in more than 360 different ways, including L shapes, different heights and widths, and a choice of three engaging colours.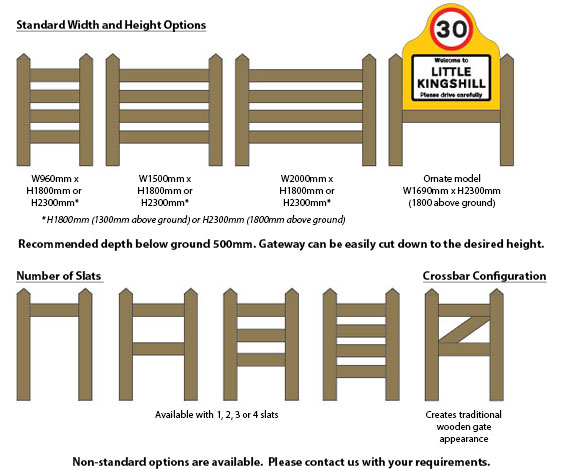 Choose from either Dark Oak, Light Oak or, White. Three traditional and distinguishable colours that can be used to accentuate the purpose of the installation.

With a wide range of specification options and a free personalisation service available to assist in the visual design, the gateway can feature whatever the customer desires. Whilst often adapted to function as entrance signs or speed limit notices, the Gateway can be turned into an array of designs including maps and brand advertisements.
For more information on our Glasdon Gateway, feel free to browse our website, or contact us today.
References
https://www.binton.org.uk/our-parish-history