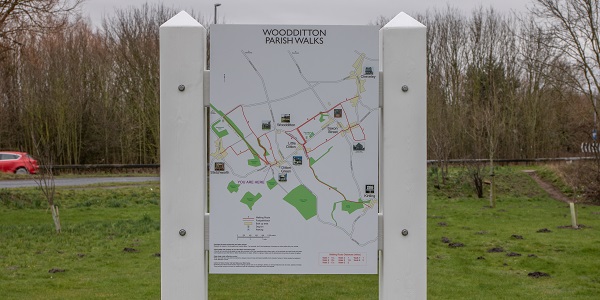 Configurable to more than 360 different styles, heights and widths, the Glasdon Gateway offers a customisable and long-lasting option for signage. Manufactured in Everwood™ material, the signs are immune to rust, warping and rot and arrive flat packed for easy self-assembly.
A parish and village in East Cambridgeshire, Woodditton's origins date back to William the Conqueror. Originally named Wood Ditton before its change to Woodditton, the picturesque village stands as a much-loved spot for rambling. As such, the community required durable, eye-catching signage to display the Woodditton Parish Walks map.*
Opting for a white colour scheme, their Glasdon Gateway stands tall, guiding parish residents and visitors along the scenic paths.
Multipurpose
Adaptable to various needs, Glasdon Gateway signage often displays speed limits, welcome signs, campus maps and community messages. A durable alternative to traditional wooden or metal signposts, the Glasdon Gateway can work with existing or new signage and arrives flat packed for easy self-assembly. A mild steel surface mount is also available, extending the available placement of the gateways from grass to gravel to concrete.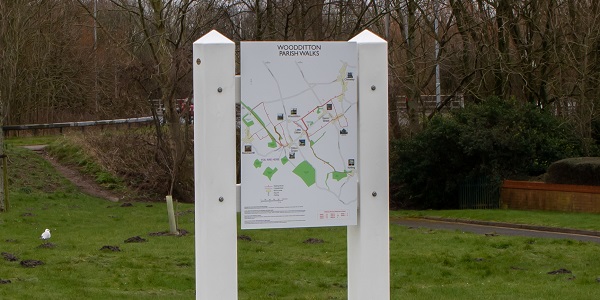 Opting for white signposts, slats, and signage, the personalised Woodditton Parish Walks Gateway, contrasts the map colours accentuating its purpose and mapping the way for walkers. Due to its placement on a grass surface, the gateway did not require the optional steel fixing mounts, and its Everwood exterior will ensure that the signage provides direction well into the future.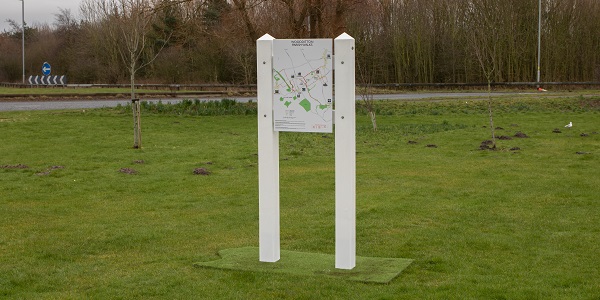 Enduring
Built with Everwood material, the gateways emphasise the grain-like appearance of timber while minimising the maintenance needs and extending durability. With no requirement for ongoing surface treatment, the signage posts and slats will stand unaffected by weather elements, rot, and insects.
The gateways undertake rigorous abuse testing to ensure a robust and resilient product. View our product testing here:
Customisable
With various colours, shapes, heights, and widths available, the Glasdon Gateway is entirely customisable to customer requirements. Often adapted to function as entrance signage, speed limit notices, maps and brand advertisements, the Gateways can stand tall or short, wide or narrow.
Due to the versatility of the Glasdon Gateway, there are numerous ways to fulfil signage requirements, and a free personalisation service is available to assist with customisation and aid product visualisation.
To find out more about the Glasdon Gateways, read our Gateway to Lower Maintenance Costs or email enquiries@glasdon-uk.co.uk.
References
*https://www.threeblackbirds.co.uk/explore
Wednesday, November 3, 2021