Flambards Theme Park in Helston, Cornwall has been a popular attraction, promising the best day of the week for all the family, for the last 40 years.
Originally opened as the 'Cornwall Aircraft Park' in 1976 (soon after to be known as Aeropark) and set in beautifully landscaped gardens, the park offered visitors a large indoor and outdoor exhibition of aviation memorabilia, engines and air-frames.
Building upon its early success and unique theme, the park was to grow quickly.
Inspired by the popular period T.V. series 'Flambards'*, it was expanded to include more indoor exhibitions and entire cobbled street scenes with shops and homes, all recreating life in Britain before, during and after World War I.*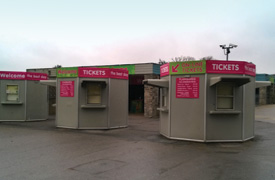 To cater for the park's growing numbers of visitors, Glasdon were approached to supply high quality portable kiosks for concessions and ticketing.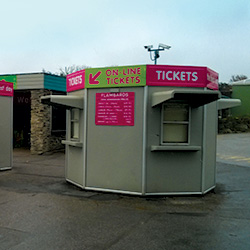 The Warrior™ contemporary steel framed building system was selected as a cost-effective modular solution with the flexibility to create the bespoke octagonal shaped ticket booths.
Warrior is available in sizes from 1.22 x 1.22m up to 7.32 x 2.44m ensuring its versatility for a range of outdoor and indoor applications.
That was in 1987 and we are proud to see that the kiosks are still standing strong and in operation nearly thirty years later, delivering on the Glasdon quality by design promise for Flambards.
For a closer look at the Warrior and other steel and GRP kiosks supplied by Glasdon view our Buildings and Housings range.
*Visit Flambards website for more information: www.flambards.co.uk
Updated: 28.11.18
Tuesday, October 18, 2016