If you're looking for a solution that provides shelter, while acting as a highly visible focal point, then this multi-purpose shelter system can fit the project brief and the budget. The Modus Shelter is modern, durable and practical and can be used for a multitude of applications in a variety of settings and locations. See what the Modus can do for you.

The Modus™ Multi-Purpose Shelter is the budget-beating adaptable shelter for areas with limited space. Available in two sizes for improved versatility of application, the shelter can be used to house and protect expensive machines, provide comfort during long waits and create designated assembly points.
Standard Design Features
Available in 2 sizes – 770 model or, 1280 model for increased depth
Robust double skinned Durapol® roof
Rear, left and right sided environmentally-friendly Ecoboard™ panels with glazed windows
Optional Features
Roof fixed Durapol® blank panel for polycarbonate graphics
Rear or either sided perch seating
Transparent roof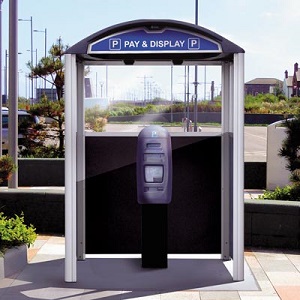 A Modus Fit For The Moment
Ticket Machines
Through the use of its roof-fixed front-facing panel to signify its purpose, the shelter can effortlessly be adapted to house a parking ticket machine, making it ideal for use as a Pay & Display station situated in car parks. With enough space for a machine and user.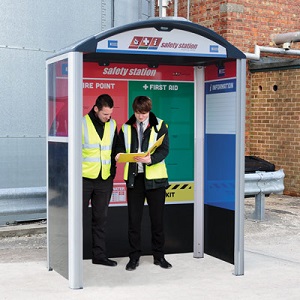 Assembly Points
In the event of an emergency such as a fire, the shelter can be used as a vital assembly point for personnel to gather. By opting for the larger 1280 model with increased depth, more personnel can gather under the shelter at once. With the Safety Station Configuration, create a general safety point which features an information board, spill kit and fire extinguisher as well as acting as a fire assembly point. This configuration is supplied as solid rear and right hand side panel with glazed window fitted to the left panel.
Waiting Shelter
To protect multiple visitors, travellers, and guests from adverse weather conditions for occasions where they may have to wait for extended periods of time. Convert your modus into the perfect waiting shelter, ideal outside bus stops, train stations or taxi ranks. A perch seat can also be added to provide extra comfort during those long waits.
Vending Machine Housing
With a height of 2,355mm and an overall width of 1,615, drinks and snacks vending machines can be housed within the shelter for use in external situations that require protection from the weather. Additionally, increase attention to the machine and boost sales using the front-facing roof panel to display wording and relevant coloured polycarbonate board.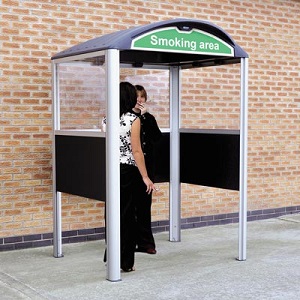 Smoking and Vaping Shelter
We offer a dedicated conversion for the Modus Shelter, turning it into a smoking shelter to fully comply with all UK smoking regulations. Ideal for outside small businesses and workplaces to shield employees from the weather during use. Includes dedicated 'Smoking Area' signage and wall mounted cigarette bin for designated and appropriate disposal of cigarette waste. As an alternative and to reduce or eliminate the encouragement of smoking, opt for an E-Cigarette designated area.
Personalisation
At Glasdon, we are proudly confident in our ability to offer our customers the opportunities to create, design and shape our products to meet their desired requirements. Using the Ecoboard panelling, the inclusion of a logo, slogan, colour change, brand name, missions statement or just a simple evocative message to invoke a positive reaction are all viable options to turn your Modus shelter into an attractive, welcoming and useful addition to a business or organisation. We also offer a free visualisation service where our in-house graphics team are on hand to prepare a visual of your desired product with chosen personalisation.
Assembly and Delivery
We normally dispatch Modus Shelters in fully assembled form as standard, ready for fixing down onto a prepared concrete base immediately upon delivery. If your site has restricted access, or you'd like to buy multiple units for a roll-out programme, we can deliver your shelters flat packed for simple self-assembly at your convenience.
If you want further advice about anything featured in this article or want to discuss how you can make your multi-purpose shelter suit your own specific type of brief, please don't hesitate to contact our team today.