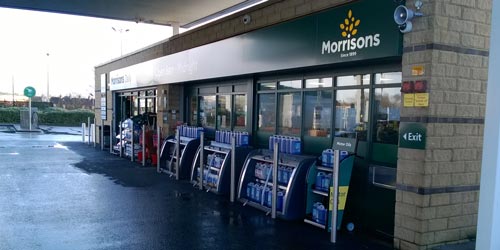 Morrisons, the UK's fourth largest supermarket chain currently have over 300 petrol filling station sites.
As part of forecourt improvements, they are extending many filling station sites to enable a wider offering to their customers. Their stores also needed a replacement for worn metal bunkers that had been damaged over time by switching to a more durable and robust model. The
Orion™ Storage Units
were chosen to take their place, as their corrosion-free Durapol® material means they offer a long service life without the risk of getting scratched or dented like the previous bunkers. As part of the improvements, the Morrisons store in Thornbury, Bradford received a number of Orion™ Storage Units to be used as forecourt bunkers to display 'driver essentials' such as screen wash and de-icer.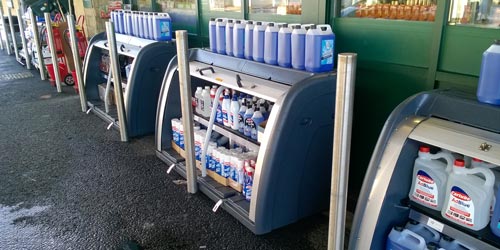 The Orion is the perfect outdoor display unit for petrol filling stations and supermarkets due to its exceptional strength and low-maintenance material. It is vandal resistant and can also withstand the extremes of temperature that forecourts often face. With a narrow footprint and user-friendly height, the unit is designed to sit against the front wall of your display area without being an obstruction to the cashier who will need an open view of the forecourt. The Orion is available in a choice of standard or special-order colours and can be personalised with your company's logo or choice of message to offer flexible advertising to customers. With the option to be configured with or without a shelf and an optional stainless-steel, padlock bracket (hasp & staple) for extra cover security, the unit offers flexibility to meet your requirements.
Discover more about the Orion here
If you would like more information on our Orion Storage Unit or want to find out more about any of our
petrol forecourt units
, please get in touch. You can email us at
enquiries@glasdon-uk.co.uk
, alternatively you can speak to one of our friendly advisors via LiveChat at the bottom of this page. If you're looking for more ways to improve your petrol station, read here for
6 steps to keep your petrol station customers happy.
Tuesday, February 27, 2018