It's a known fact that happy customers are returning customers. As well as making sure you offer competitive pricing, there are a few steps you can take to make sure customers are happy and returning to your petrol station.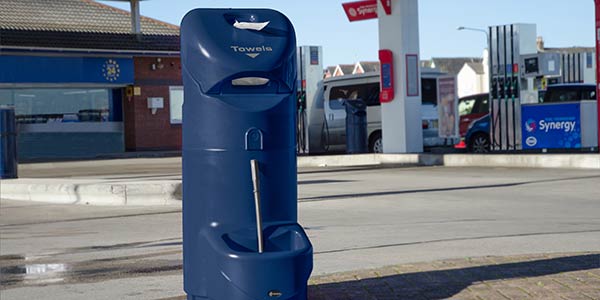 Here are our top 6 tips for keeping your petrol station customers happy:
1. Go the extra mile for customers
Ensuring your convenience store is clean and safe is certainly important, but what about your customers own safety, cleanliness and convenience?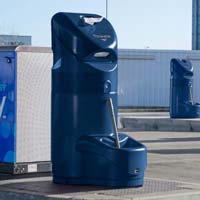 A small gesture, such as offering disposable gloves or paper towels, can go a long way. Did you know that petrol pump handles are considered to be highly contaminated with germs? In fact, one study proposes that fuel pumps have an average of 11,000 times more bacteria than a household toilet seat*.
Bearing these findings in mind, offering personal protective equipment like gloves and paper towels can put you at the forefront of your competitors as it shows that you care about hygiene and protection for your customers. The Auto-Mate™ petrol forecourt bin is a great addition to your petrol station which can be sited next to fuel pumps to offer easy-to-access paper towels, disposable gloves and a litter bin, all in one space-saving unit.
According to the NACS**, more than one in three customers go inside the store to make other purchases, including food and drinks, after they have filled up at the fuel pump. It could be argued that customers with sticky or oil-covered hands may be less willing to make in-store purchases than a customer with clean hands.
But it's not just your customers hands you need to think about. When on a long journey, windscreens can get dirty quickly and a dirty windscreen may be more hazardous than you think. Soiled or degraded windscreens can result in various hazards including reduced visibility and increased sun glare.
Offer customers the ability to keep their windscreen clean with a quick and convenient windscreen cleaning station to help them get back on the road with a clearer, safer view. The Screen Clean Station™ forecourt bin attachment is the perfect addition for the Auto-Mate or Super Guppy™ litter bin, which can be safely sited on petrol forecourt islands, to allow customers to easily clean their windscreen before continuing with their journey.
2. Maintain dispensers and petrol pumps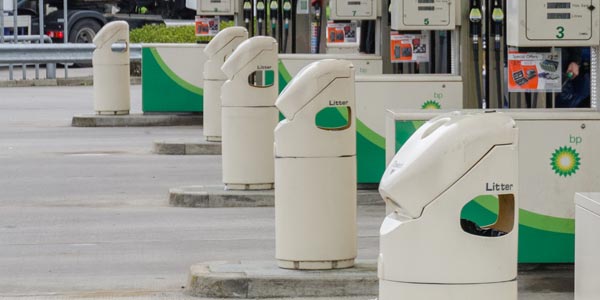 Regularly check that fuel dispensers are working correctly and ensure the nozzles, covers and handles are all clean and free from damage.
Presenting operational signage in clearly visible locations will also provide customers with confidence that you are a petrol station who cares.
In today's growing digital world, many customers will want to pay by card for ease and speed. Help keep this process simple by ensuring the receipt roll is always fully-stocked and the card machine is in full working order.
Having a well-lit petrol station will also make customers feel secure visiting your site in the dark evening hours. So be sure to carry out regular lighting checks and replace any broken or burnt-out lights when needed.
3. Use effective brand image and outside store advertising
Outdoor store advertising is a great way to reinforce your brand image and can be used to display your logo, promotional offers or store information. Posters are an enduringly successful means of advertising that are both simple and effective in attracting customers who are already close to the point-of-purchase.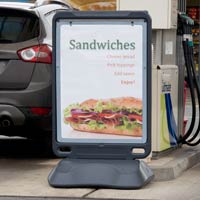 The Advocate™ poster display stand is the ideal choice for petrol stations. Its robust Durapol® construction can withstand high winds and accidental knocks (from pedestrians or cars!). The Advocate poster display stand can hold a large 30x40 inch poster to ensure outstanding visual impact and is available in a one-sided, two-sided or wall-mounted model.
If you also choose to display products outside your store, the Orion™ storage unit is perfect for keeping those products safe from weather damage and is available in three versions to suit the security needs of your site.
The Orion storage unit was designed with petrol forecourts in mind and can influence consumer impulse buying behaviour.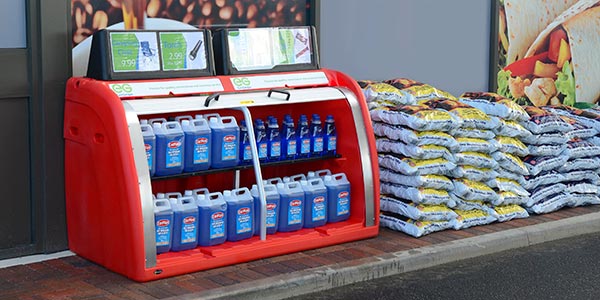 Be proud to display your logo throughout your petrol station and convenience store and customers will soon learn to associate your brand with a clean and presentable petrol station that they'll want to visit again and again.
4. Scrub up on instore cleanliness
Whether your petrol station is small or large, it's important to keep it clean.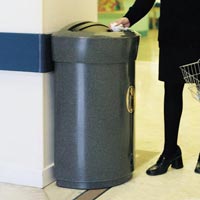 According to various studies***, customers value store cleanliness as one of the most important factors of store atmospherics.
One way you can really up your instore cleanliness is by having recycling bins to encourage visitors to recycle responsibly. We offer recycling bins in a variety of sizes to suit the smallest or largest of stores. You can also choose the waste streams best suited to your store (be this paper, batteries, cans and bottles or even pizza boxes...) and add a special touch with personalisation. If your convenience store is restricted on space, a litter and recycling bin combo is the ideal choice.
You can also place small indoor litter bins near the door or check-out counter to encourage customers to throw away any waste they may have. If your petrol station convenience store offers amenities such as self-serve coffee or ice cream machines, we recommend placing litter bins next to these to help to keep the area clean and tidy. The half circle Envoy™ litter bin is suitable for placing against a wall or desk inside a convenience store.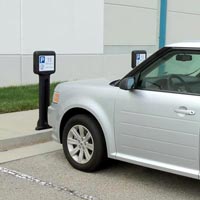 5. Create welcoming petrol station walkways
Make sure pedestrian paths are clearly distinguished from vehicular areas.
Bollards and marker posts such as the Infomaster are useful for marking instructions and separating pedestrian zones from vehicular areas to improve pedestrian safety.
Keep the pathway clear from litter and make sure the ground is in a safe and suitable condition. If any repairs are required, make sure it is fixed as soon as possible to prevent injury to employees or customers.
6. Enhance external store and forecourt appearance
Service stations are more than just a stop off point, they're becoming a destination in their own right. The AA recommend that drivers should aim to take a break from driving every two hours. So, why not use this opportunity to freshen up your service station, making it an aesthetically pleasing and enticing rest point for motorists.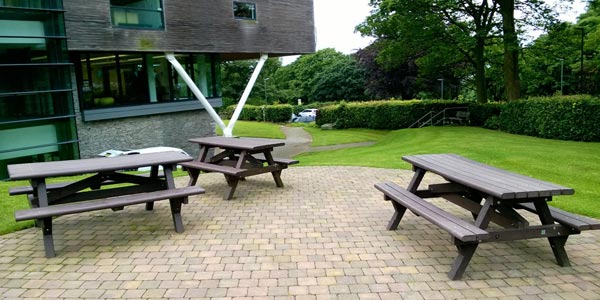 Provide visitors with outdoor seating areas - somewhere they can rest or stretch their legs before they continue with their drive.
Glasdon offer an exceptional range of seating solutions, including a selection of recycled materials picnic tables. These wood-effect recycled material picnic tables are low-maintenance, weather-resistant and durable to provide a long-lasting service life. Manufactured from recycled materials and also recyclable at the end of their long service life, your visitors can sit comfortably whilst you take comfort in knowing you're contributing towards a greener environment.
The appearance of the petrol forecourt and store exterior is just as important as instore cleanliness. A clean and well-maintained petrol station will invite customers to take care of your environment and provide them with a lasting good impression of your petrol forecourt.
Siting litter bins outside the storefront and next to fuel pumps will encourage customers to keep your site clean whilst also giving them the opportunity to dispose of any small waste items from their car. In turn, this will help minimise the risk of those small waste items being littered on roadsides.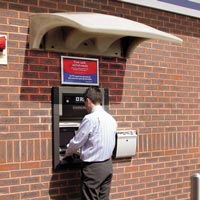 If your convenience store has an ATM, it's a good idea to have a sheltered canopy over the machine. This will help to shield consumers using the ATM and offer them some extra privacy. We also recommend placing anti-ram Guardsman bollards in front of the ATM machine for increased security (to find out more about our Guardsman bollards, contact us today).
If visitors are taking their four-legged friends on a long journey, it may also be worthwhile creating a pet-friendly area outside your service station. Provide customers with a small area to walk their dogs, along with a water station to hydrate them for the journey ahead. Don't forget to also add some dog waste bins so pet-owners can clean up after their dogs too!
Discover more products for petrol stations and speak to us today on LiveChat or by email to find out more about keeping your petrol forecourt clean.
Sources:
*https://www.busbud.com/blog/gas-station-germs-guzzling-grime-by-the-gallon
**http://www.nacsonline.com/YourBusiness/FuelsReports/2015/Documents/2015-NACS-Fuels-Report_full.pdf
***http://csgcares.com/wp-content/uploads/2014/05/Image-Enhancement-Value-of-Clean.pdf
Thursday, November 9, 2017