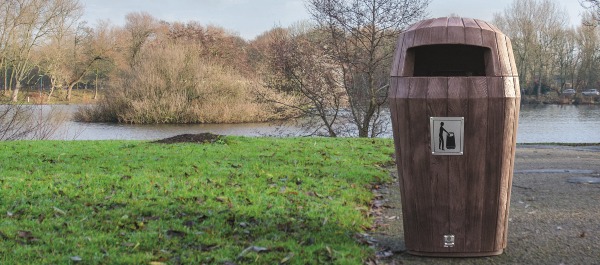 When maintaining the natural beauty of parks, nature reserves and other natural public settings, your outdoor litter bins shouldn't be a disappointment to you or your visitors.
We designed the Sherwood™ Litter Bin to not only help you combat littering and maintain litter-free public environments, but to also fit perfectly in natural settings with an attractive wooden-effect finish and low maintenance guaranteed.
Designed to Complement Natural Settings.
The Sherwood litter bin is manufactured with Everwood™ material, which is a specially formulated, heavy-duty polymer with a realistic, timber grain effect finish.
The entire body of the bin is made with Everwood material and is available in light oak and dark oak colours to complement different outdoor settings.
Not only does the waste bin look great in its environment, but it is also good to the environment too. Using Everwood material means that the bin body can be totally recycled, 100%, at the end of its long service life.
Easy Operation and Low Maintenance.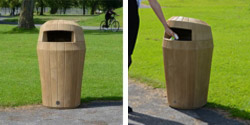 When managing busy parks, estates and attractions, furniture for public environments should be easy to operate and extremely low maintenance to reduce ongoing costs associated with time or labour.
The Sherwood is a public litter bin that offers both.
Available with a lockable twist lid, the bin offers a generous 65-litre capacity and you can choose to collect the waste in a sack or steel liner, depending on your method of collection.
Unlike wood, the Everwood material requires no regular surface treatments such as staining or painting and it will not rot. It is unaffected by salt, bacteria, mould and insects and is quick and easy to wipe clean.

Weather and Vandal Resistance.
As Everwood material is designed to withstand extremes of temperature, the Sherwood litter bin is suited to long term exposure in any outdoor location. The lockable lid features a sloping roof to stop rainwater from pooling inside the bin and prevent litter from being left on the top.
We rigorously test all of our products to ensure they meet Glasdon standards of quality.
You can watch how the Sherwood litter bin performs in the vandal test video on our product page. See our product testing video here.
Extinguish flames with Firexpire®.
Manage the risk of a fire in a public litter bin with the option of Firexpire.
Firexpire is a fire extinguishing plate that can be fitted within the top of a selection of our hooded outdoor litter bins.
Should a fire break out inside the bin, a special heat-responsive device releases the plate which then seals off the mouth of the liner and starves the fire of oxygen.
The device can then be easily replaced using only a screwdriver to reset the device on-site.

Please note: this device is designed to be used with metal liners only.
More optional extras.
Because we know our customers exact requirements can differ, we offer many other options for you to choose from.
Ground fixings

As it is essential to ensure that any litter bins in public environments are appropriately secured into the ground, we offer different fixings for you to choose from to suit the type of ground the bin will be standing on.

Metal flap

In parks and nature reserves, you may wish to prevent the local wildlife and our furry friends from entering the bin. The optional metal flap can help keep them out, while also keeping the contents of the bin hidden from view.

Stainless Steel plate with logo and Personalisation

Complete the overall look of the Sherwood litter bin with an attractive stainless-steel plaque. Alternatively, you can add a personalised plaque with public information or the organisation's logo.
For prices, to order online or receive a quote go to Sherwood™ Litter Bin with Hooded Top.
Looking for something slightly different? We specialise in the design and manufacturer of outdoor litter bins. Take a look at our full range online or talk to us about your requirements today.