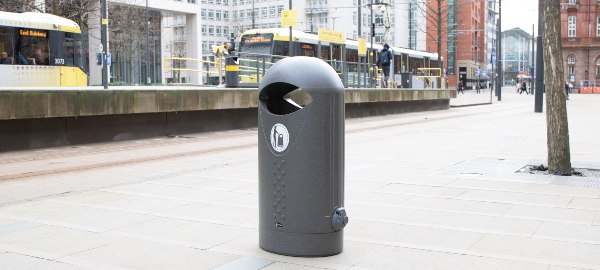 Bring some curve appeal to your waste management with the new Elipsa™ Litter Bin by Glasdon.
Offering a contemporary style, the Elipsa Litter Bin's slim and compact design makes it an ideal solution for busy public environments.
Its curved hood prevents litter from being left on top of the bin, as well as providing cover from the elements, which helps keep public locations tidy and free from unsightly overflowing litter.
Designed with a double-sided aperture and oval footprint, the Elipsa provides ease of access with minimal obstruction on pavements to enable quick and easy disposal of waste.
To reduce lifting and manual handling, the Elipsa Litter Bin features a lift-off body with a dedicated base plinth. A keyed twist locking system secures the body to the base of the container. This also provides added security in locations where vandalism may be present. The anti-fly posting recess and textured finish also reduces the likelihood of posters being adhered to the bin.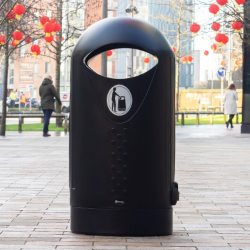 Choose from a range of colours and optional bin-it graphics. Personalised graphics are also available to customise the bin to your requirements.
Manufactured from robust Durapol® material, the Elipsa is weather-resistant and requires minimal maintenance. The bin will not easily chip or rust, allowing the Elipsa to have a long service life.
Take a look at the product testing video on the Elipsa Litter Bin product page.
Add a stubber plate kit to encourage the responsible disposal of cigarette waste. The Firexpire® (fire safety device) is also available on the Elipsa Litter Bin as an optional extra that adds another level of safety.
Neil Gilkes, Sales Manager for Glasdon UK Limited said:
"We believe the Elipsa Litter Bin offers the ideal solution for waste management in public environments. Its design means it can be conveniently located without obstructing the flow of pedestrians, and its lightweight, lift-off body makes the bin easy to operate."
"The attractive and contemporary style of Elipsa ensures it will fit into any modern public space with dedicated design features for optimum litter management."
With 60 years of waste management experience, Glasdon is renowned for quality, design and cost effectiveness.
Talk to a member of the Glasdon team today on (01253) 600410 or view the Elipsa Litter Bin.
Wednesday, February 5, 2020