Fylde Council have continued their efforts to tackle litter on the beaches with a delivery of larger capacity Glasdon Jubilee™ 240 bins by Glasdon UK.
The bins are more than double the capacity of the current bins, and 20 of them will be situated along the promenade at both St Annes and Lytham for beach goers to dispose of their litter.
Due to a continual increase in visitor numbers year on year, the Council has taken the step to try and reduce the impact litter has on the areas and is the first Council to introduce the larger Glasdon Jubilee 240 bins.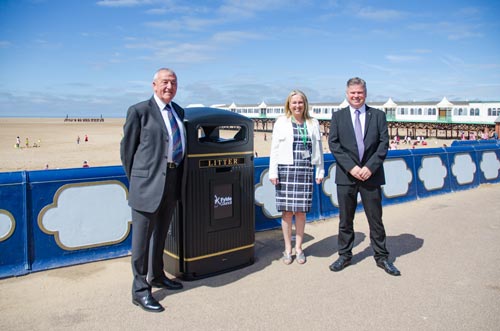 Beach litter is an ongoing problem on Fylde Beaches, and during the peak summer season the Council provides 2 extra litterbin shifts on Saturdays and Sundays. The bins are a welcome addition to the steps the Council is already taking to reduce litter.
Cllr David Eaves, Chairman of the Operational Management Committee said:
"We are always looking for ways in which we can reduce the amount of litter on the beaches, but we can't do this without the help of beach goers themselves. Everyone has a responsibility to clean up after themselves, and we appreciate that in the height of the summer season the bins fill up quicker than we can empty them. These new, larger capacity bins look to tackle this by providing more space for litter, but we continue to ask everyone to take their litter home with them or use the bins provided".
Steve Fletcher, Customer Support Manager for Glasdon UK said:
"We launched the new 240 litre capacity bin housings in May, to help local authorities meet some of the challenges of our ever increasing on-the-go lifestyles. The bins co-ordinate with our standard capacity models, but are naturally larger to securely cover the wheelie bin inside. In turn, they are more visible in areas of high footfall and tourist hotspots such as the beaches in Fylde."