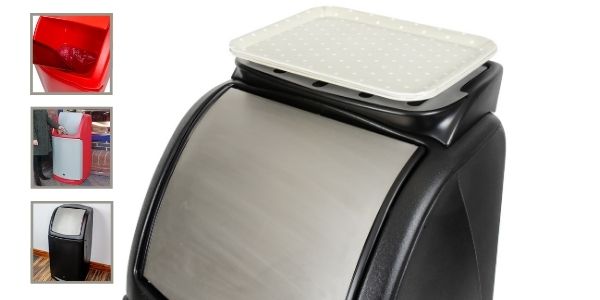 If you're looking to make improvements in your restaurant or quick service operation the Glasdon Combo™ range is a great place to start.
Large Capacity for All Environments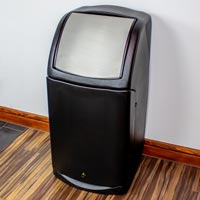 Specially designed for quick-service environments where food is prepared or consumed, Combo Waste Bins offer versatility and optional features that can really boost the efficiency of waste management for your teams and your customers.
With a large 140 litre capacity and robust design, this multi–purpose food waste bin reduces the time and trips needed to empty waste and is ideal for indoor or outdoor use.
Its smooth contours ensure dirt does not get trapped and allows for easy cleaning, while durable construction means it can withstand all weather conditions, and will not chip, rust or rot.
Create Your Own Combo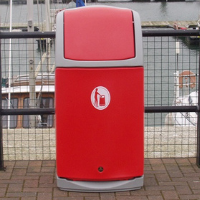 With the Combo you can easily match your branding or a chosen colour scheme to make them unique to your company.
Choose the bin body, door and aperture in one of 5 colours to create an attractive, eye-catching combination.
The colours available are Black (15% recycled content), Cool Light Grey, Dark Blue, Deep Green or Red.
Personalisation is also available, so if you would like to add a logo or need a different colour combination just talk to our team.
Optional Extras for Improved Efficiencies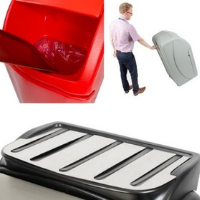 Choose from many options that can help make the day-to-day operation run more smoothly and efficiently.
Tray tops coupled with a tray restriction bar are a great addition which not only encourages customers to dispose of their own waste correctly but helps save clearing time for your team too.
A rear handle and wheels kit helps for ease of movement when relocating the bin to another location.
Choose from 5 different colours to mix and match, with optional extras available to add, such as fixings, a rear handle and wheels kit, and a tray restriction bar kit.
Go Large with Combo Delta™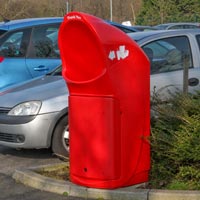 Ideal for car parks and drive-thrus, Combo Delta™ has been specifically designed for efficient quick-service waste management.
It features a large open funnel aperture and target graphics which encourages use and guides waste into the bin.
The standard 'target graphic' is also moulded into the aperture to catch the users eye when disposing of the waste.
The curved sloping hood provides weather protection and also prevents waste from being discarded on top of the bin. And Combo Delta is also available in a range of different colours and with personalisation so you can create a waste solution that suits your brand's personality.
Designed to be hard wearing, the Combo Delta manufactured in Durapol® Material has excellent strength and is impact-tested in our Quality Assurance Laboratory as part of our BS EN ISO 9001:2008 test procedure. View our product testing video here:
Advocate™ for a Big Impact
Increase the impact of your promotion and advertising with the Advocate range of poster display units.
Available as large format floor standing and wall mounted units that will definitely get your message across.
These easy-to-use floor standing display signs are ideal for pavements, car parks and indoor environments they are extremely robust, low maintenance and easy to use.
Alternative to the floor standing poster display, the wall mounted unit is ideal to display your advertisements in retail environments, supermarkets, leisure centres and cinemas.
Both signs are made from tough, corrosion resistant Durapol which offers exceptional strength and a long service life.
For more information about our range of Catering Waste Bins, Poster Display Signs or to discuss your requirements, don't hesitate to speak to us on Live Chat or contact our team today.